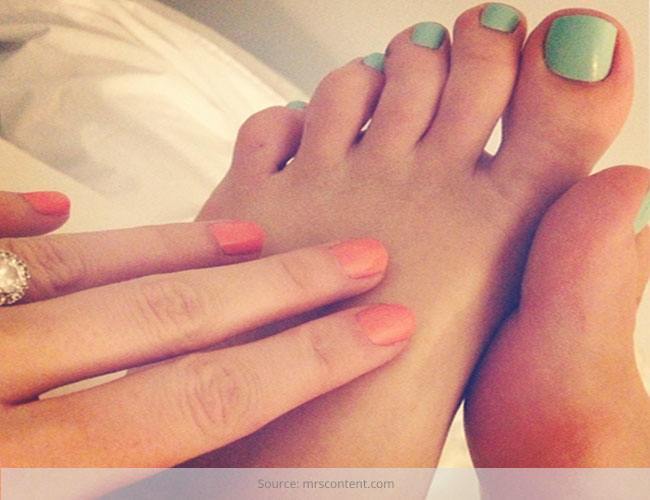 Do you believe that your manicure and pedicure should match? Well there's nothing wrong with matching your mani with your pedi, except that it is boring and unimaginative. Where's the fun in covering your fingers and toe nails in the same colour, playing it safe? You can create some attention-grabbing looks by using interesting and unusual colour combinations for your mani and pedi. It looks much more sophisticated and is definitely more fun than matching the colour on your fingernails with that on your toenails.
Here are some colour combinations that we think will look smashing for your mani-pedi.
The above chart is a beginner's guide to mani-pedi colour combos. The combinations are not too brazen or shocking, but still have enough of a wow factor to them. These will work great for winter as the palette contains many pastels. Of course you don't need the exact shade, just find something close to it and you're ready to break the matching mani-pedi rule and become naughty.
Now this colour combination chart is whack and definitely not for the faint hearted. It has some bold combinations that look like they will clash but end up creating a very Katy Perry-ish look. Words of caution – opt for the red and white combo only if you're feeling particularly adventures and bold.
Summer pairings are easily the most fun as they push the boundaries and create combos that you would normally not consider acceptable. But half the fun is in breaking the seemingly acceptable combinations and coming up with some very innovative ones.
[sc:mediad]
Let's make this even simpler and break it down according to specific occasions, shall we? Here are some mani-pedi combos that you simply must try out on the occasions mentioned.
So what are the dos and don'ts when it comes to mani-pedi colour combos? There aren't any really, all you need to look out for are some unusual colour combinations that you think will look great. You can look for inspiration from nature, like shown in the below chart.
There are some foolproof colour combinations that work really well such as matching neon coloured fingernails with nude coloured toenails, and combining a darker shade with a lighter shade of the same colour (kind of a two-toned look). You can also combine gold with pretty much any other colour. A black and white mani-pedi look is quite a show stopper; do give it a try provided your outfit goes with it.
Have fun with crazy combinations, but remember the following essential tips:
Matching your mani with your pedi can be forgiven. But what is unpardonable is having long, unkempt toe nails. No matter how much of a hurry you are in, never leave the house with long toe nails that match your fingernails in length!
Look for quality over quantity. Sure you can buy four different colours from a cheap brand instead of investing in one good colour from an expensive brand, but consider this – the cheap nail colour will chip and fade in two days while the expensive one will last you for a week or more. So would you rather paint your nails every weekend or redo them every other day? Your choice.
Allow your nails to breathe overnight between changing colours. Take off your nail polish before going to bed and massage your nails and cuticles with coconut oil or olive oil. Allowing your nails to breathe will prevent them from becoming yellow and/or breaking off.
Hope this article on mani – pedi has helped you flaunt unique color combinations that you never thought of earlier.