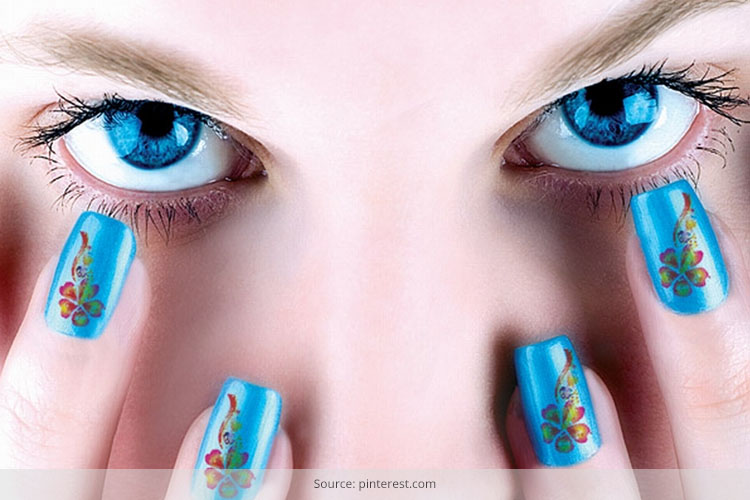 Are you bored of spring nail colors? And are your nails screaming aloud to free them from the typical beige and pastel shades? While it's spring in west, in Asian countries summer has already sprung with temperature going rising beyond 40 degrees. And in between these hot sunny days, we also get cloudy days with occasional showers.
We have come up with 6 brilliant nail art designs in metallic to brighten up your cloudy/rainy day.
And with nail art being a hot trend these days, we find it quite appealing. The best part of this style quotient is it's easy to pick up even for beginners. With an array of inspirations available online, one can pick a design that seems to be easy going.
Since metallic is always being re-imagined, and is never out of fashion, it is never less than super chic. Here are top 6 summer nail art designs in metallic you should give a try! While some are simple nail art designs other may require more patience and practice to master them.
1. Super Sleek Tips
We just love this design. This mirror-on-matte look is super sexy and oh-so-simple to pull off. You can wear a pastel shade in matte finish or even charcoal would do fine and then use the metallic shade on the tips to get the 'lady of the night' look. Simple nail art designs such as this one needs precision and perfect detailing. Also, we you are wearing something so loud on your nails, we suggest you go a little light on the clothes. You can probably wear a metallic toned shoes.
Suggested item –
OPI Moonraker for base
Sallie Hansen Chrome for tips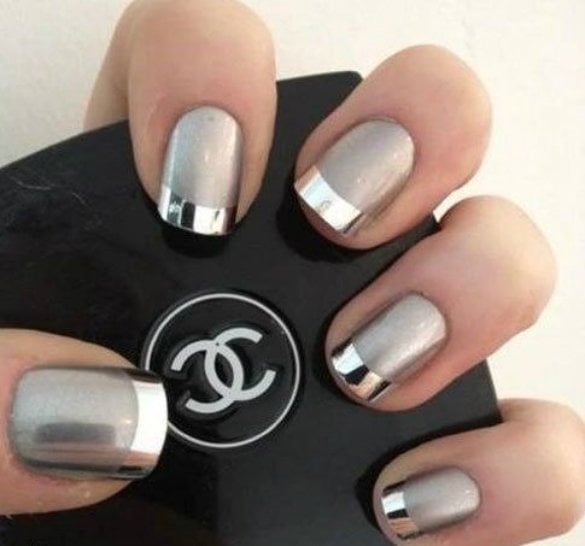 2. Chroma Effect
We will share plenty more  nail art ideas like these with you in this post and our other posts too. But do not forget to ensure that while you have colourful paints on nails, you do not ignore proper nail care.
Doesn't design take back you to the retro era? If you're not able to settle down on individual shades and worry about overlapping one shade over the other then here is the ideal option. This chroma note will help you with your DIY nail art at ease.
Suggested item –
Essie Licquorice
Kiko Mirror Sky Blue
A England Excalibur Rose Bower and Dragon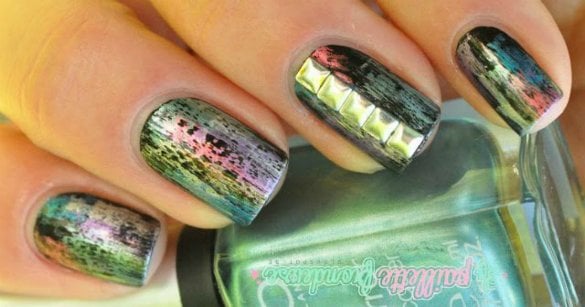 3. Metallic Note
Only if you're confident enough to pull this off then try out this style. The vibrant shine of this full-on mirrored shade on your nails will blow away onlookers. However, make sure your metallic nails do not outshine your personality. It's a bit risk, albeit you know how to pull it off.
[sc:mediad]
Suggested item –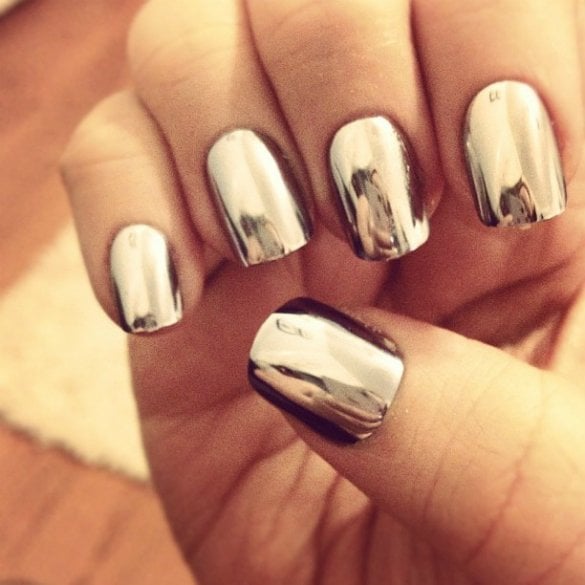 4. Marble Print
Be it your apparel or nail art, the marble design is never out of style. You can give this design a try and discover your hidden painting skills. Nail art design ideas like these are DIY. All you need is a bowl and two shades of nail colours.
Suggested item –
OPI Black Onyx for base
Orly Rage for marble design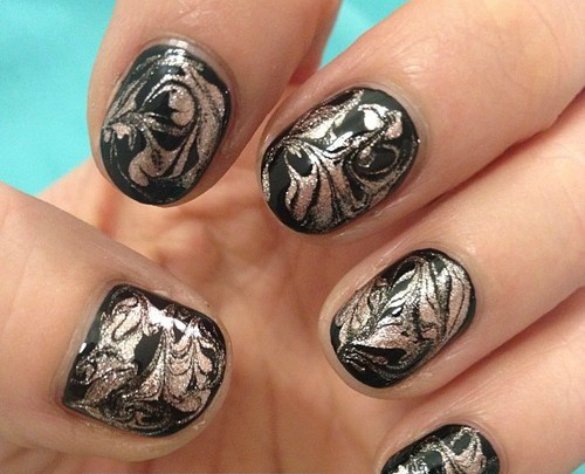 5. Subtle Matte
We just love matte effect. Sephora offers you OPI What's a Tire Jack, which can give your nails perfect matte look. All you need is to add high shine metallic in same shade for the tips. Trust me you won't regret wearing black!
Suggested items –
Sephora by OPI What's A Tire Jack for base
OPI Black Onyx for tips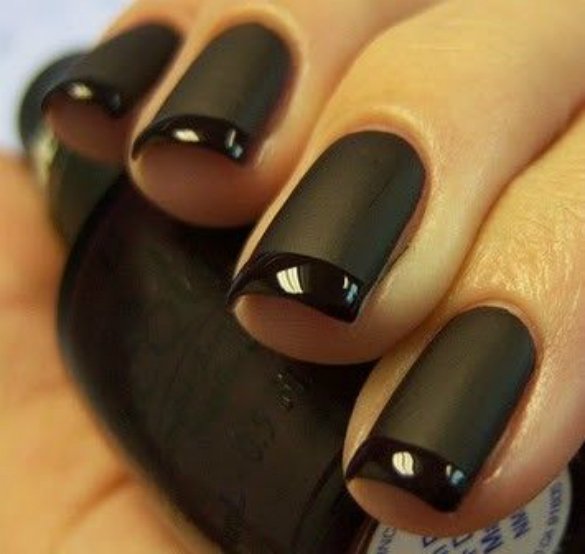 6. Mirrored Half-Moons
If you got this half-moon manicure look then I must say you'll be under the spotlight as long as you're out. This design is perfect for date in a cloudy day or rain-washed evening.
The touch of gold metallic on your lunula will make your overlook classy. Just keep the fingers nude and go for a gold bangle/bracelet to add glamor.
Suggested item –
Mentality Sailor
Minx Gold Lightning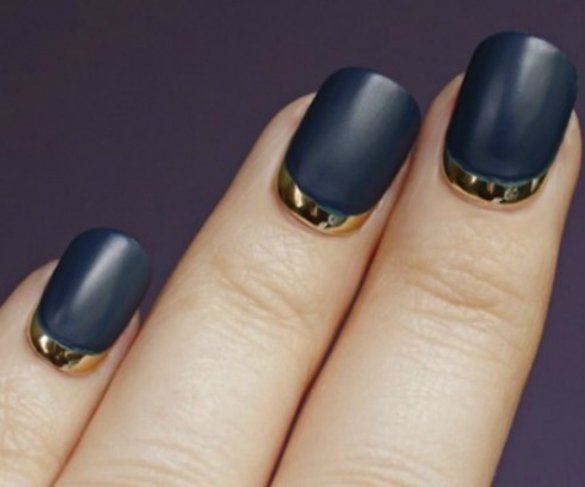 7. Black and Gold Aztec
Use thin brushes to make the glorious effects using just two colors – Gold and Black!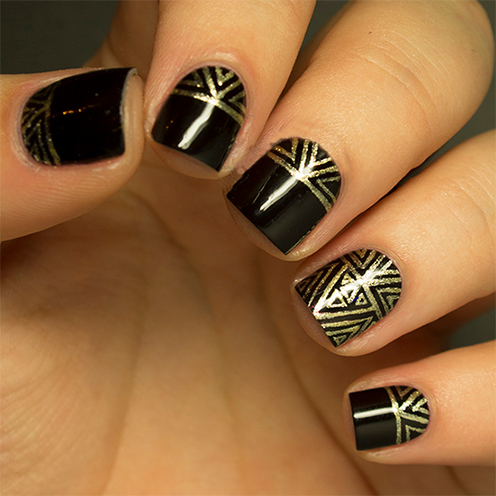 8. Blingy Metallic
Now this would need stickers to get this kind of a perfection.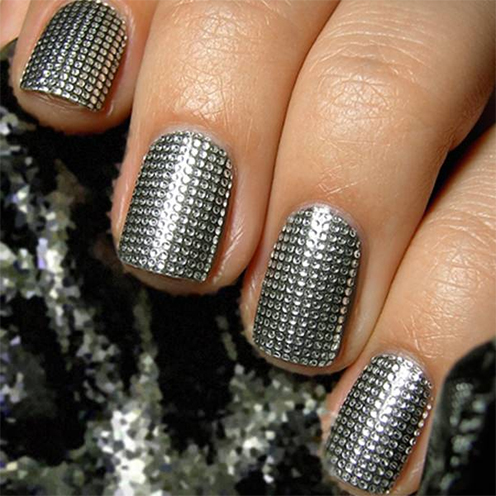 For latest nail art and new designs, keep readying our blog. If you want more ideas or have new metallic nail art designs that you would like to share with you, we will be glad to know.
Images Source: pinterest.com