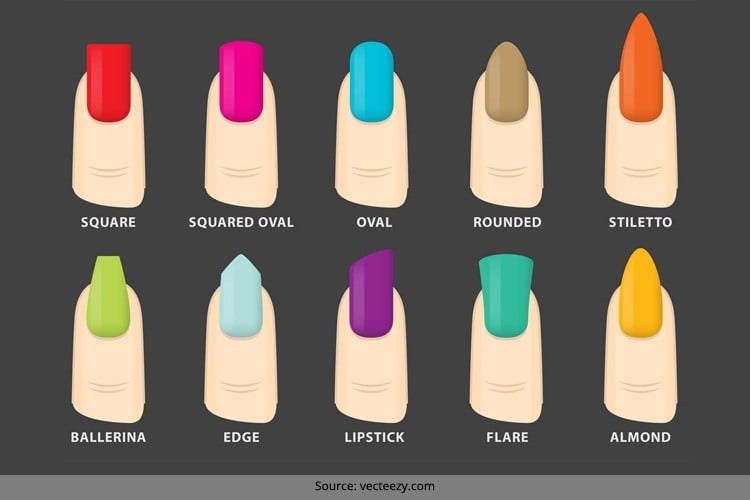 When was the last time your nails stole the show? If it takes longer for you to reply, then chances are, your nails call for some serious attention.
Just as you love to groom your hair, face, feet and body, your nails also expect the same attention and care. Two things become important – nail hygiene and appropriate nail shape. Thankfully, there are long acrylic nails designs that give you a list of possibilities to explore in nail couture. Let's check them out.
DIFFERENT ACRYLIC NAIL SHAPES AND DESIGNS
1. Round Nail Shapes
They are simple and easy to manage when it comes to different acrylic nail shapes. While acrylic nails are brittle and can easily break off as compared to other nails, round acrylic nails are short, durable and give you stability.
On the shape front, round nail shapes are a semi-circle from the top. The easiest way to cut them is do it in square shape and then file the nail edges to get a smooth circle.
[Also Read: Beautiful Nail Art Designs]
Though this pattern in acrylic nails shapes might be old fashioned but due to its durability and length, it is perfect for those of you who want short nails. Round nails gel well for those who have thicker nail beds.
The below ombre nail art would look beautiful on your round shaped nails as well as long acrylic nail shapes.
You could also ditch some time-consuming acrylic nail designs and just paint your nails a bright neon orange.
For a cute acrylic nail design, you can get a French manicure tip done which would resemble a half moon.
2. Square Nail Shapes
What does a square nail remind you of? Not the boring or complicated geometry classes but acrylic nails shapes that are very much in vogue. But to enjoy the privilege of long acrylic square nails, you need to have large nail beds so that it appears wider than before.
[Also Read: Acrylic Nails tutorial]
When you combine square nails with French manicure, you are in for an ultimate fit at any of the events.
Fashionable it is, but owing to the fact that it is fragile makes its edges prone to chipping off.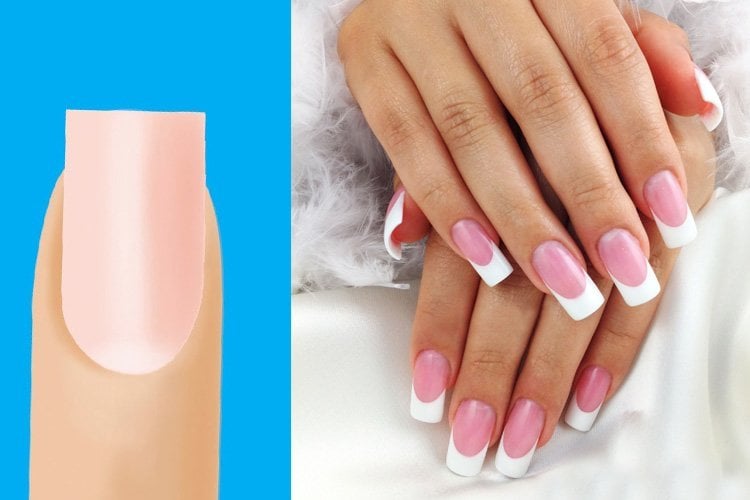 Black and white acrylic nail designs look amazing on squre shaped nails. Check out the below image for some inspiration.
Go bold with these red and golden tribal acrylic nail patters.
3. Sharp Corner Square Nail Shapes
This is one of the shapes of acrylic nails that make your hands look prominent and noticeable without changing the nail width. It also gives you the flexibility to try on different nail design paints and even accessorize them with jewellery.
The pros might look impressive but as for the cons, the pointed corners of the nails are likely to get jammed or stuck in fabrics. Also if you have a baby in your arms, then avoid going for this kind of long acrylic nails shapes, since it can cause scratches on your baby's soft skin.
[Also Read: Nail Art Tools For Beginners]
Paint your acrylic nail tips with pink and black nail paint where pink is the base coat and the black nail paint is added as stripes.
If you are a beginner in the world of nail art, then try out this easy acrylic nail design of pink and white polka dots.
4. Oval Nail Shapes
If you want the durability of rounded acrylic nails and the breadth of square shape, then oval nails happens to be one such shapes of acrylic nails that you belong to. Oval nails are suited to both long and short nail beds.
The narrow oval nails give a graceful feminine shape of a lady belonging to any age group.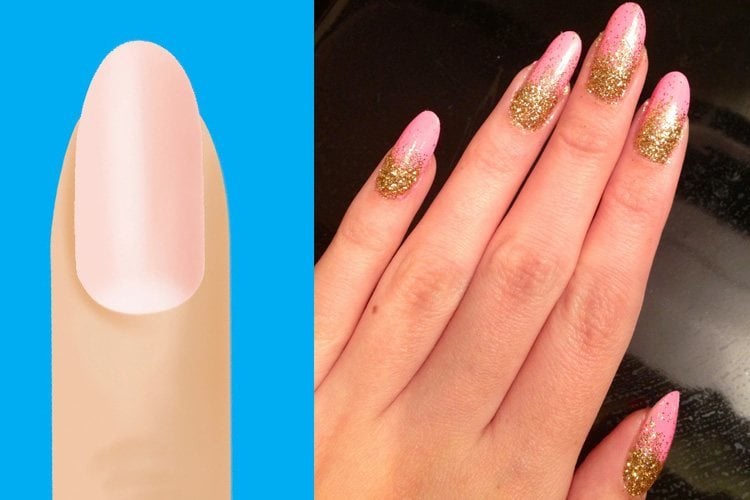 This is one of the most beautiful acrylic nail designs for your oval shaped nails.
A simple yet intricate looking nail art design for oval shaped nails. The color combination of coral, black and white s sure to grab everyone's attention.
5. Squoval Nail Shapes
When oval and square acrylic nail shapes meet, what evolves is Squoval Nails. In order to get this, first get the straight walls and then makes your nail edges into slightly oval. Smooth edges as they turn, there are no chances of your clothes getting stuck into them.
Paint your squoval nails with some Christmas acrylic nail designs like the one below.
Flaunt your love for the Fall season with this beautiful Fall nail designs for acrylic nails.
6. Stiletto Nail Shapes
This is another super trendy, extra long and pointed nails that will make you rock any event. But on hindsight, the lengthy and pointy tip of stiletto nails makes it prone to damage and harm. In fact, stiletto nails are named after stiletto heels considering the similarity in shape.
Come Halloween, and stiletto nails are the perfect thing to sport in dark black or orange colours.
[Also Read: French Manicure vs Nail Art]
A black and gold acrylic nail design for your stiletto nails. We love the cheetah print and the sparkling stones used.
Stiletto nails are perfect for heart-shaped acrylic nail designs.
7. Almond Nail Shapes
There is no nibbling around this time, just flaunting it to packed attention. Almond nail is one such shapes of acrylic nails which has all that to make your fingers and nails look feminine. Since they are tapered at the top, you need to file the sides of the nails. But never mind if they are delicate and weak, they are also subtle and delicate looking on slim fingers.
[sc:mediad]
While going through the acrylic nail art gallery for almond shaped nails, we found this gorgeous black and white geometric printed nail art.
This spring acrylic nail designs which is made of a mosaic pattern would gel well with all your outfits.
8. Duck Nail Shapes
Imagine duck like flared nails in acrylic nails shapes. The best part about these shapes of acrylic nails is that they are wide looking at the tips and then taper down when it comes to the nail bed.
A cute acrylic nail design for your duck shaped nails. We are sure you would love to flaunt this at your next party.
French manicured tips would make your duck shaped nails look elegant and sophisticated.
9. Ballerina or Coffin Nail Shapes
With stable base at the top, expect this incredible long acrylic nails designs to place you in the league. You just need to taper the sides of your nails and then square them at the top to get that coffin or ballerina shape.
Give your Ballerina shaped nails a stunning makeover with the below stylish acrylic nail design.
Bring down the starry nights onto your Ballerina shaped long acrylic nails.
10. Lipstick Nail Shapes
As goes the name, lipstick nail shapes are the one that look something similar to a lipstick. Therefore the nail shape has got straight sides and diagonal straight and curved top.
A white and pink polka dot acrylic nail design is not only ideal as a round acrylic nail design but also for your lipstick shaped nails.
Summers are all about pastel colors right! So give your nails also a summer acrylic nail design to stay in trend with the season.
Now that you have been reasonably impressed with long acrylic nails shapes, ever thought how you are going to look after them?
Wear rubber gloves before washing any dishes or tending to household jobs. They will protect your nails from chemicals and other kinds of harm.
Also dry your hands and nails after washing them. If water gets under your nails, it will cause your nails to lift up which will encourage growth of bacteria. Oil your acrylic nails daily. This will help keep them flexible.
Now which of the different acrylic nail shapes are you going to wear on Christmas and New Year eve? We are all ears.