This article is dedicated to all the Hijab lovers out there. Hijab is known for the Islamic modest dressing for women. Many wear them simply because it is in vogue while others wear it out of obligation. Whatever the situation is, you no longer have to worry about the styling. This article shall help you understand how to wear hijab with maxi dress.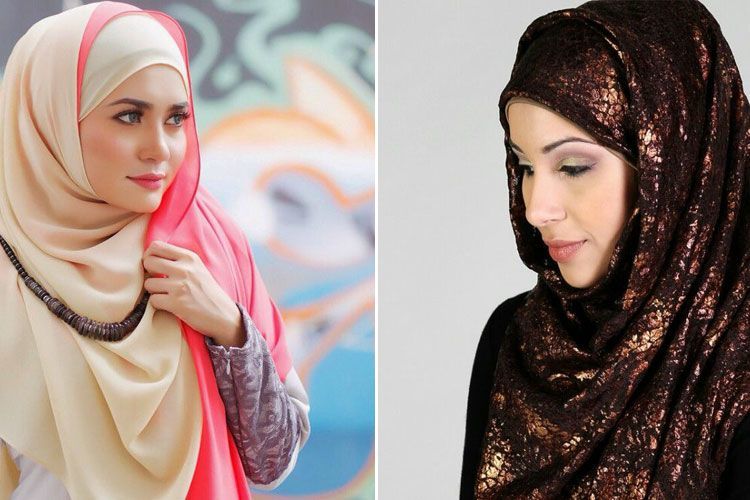 But first let us know – What is Hijab?
Hijab is a veil or headscarf which can be draped only on the head or to the whole body. A part of Islamic dressing, it conforms certain standard of modesty. There is a huge variety of simple, modern and fancy Hijabs such as printed, solid coloured, knotted or twisted, embellished etc. that you will be spoilt for choice.
How To Wear Hijab:
Take a rectangular shaped Hijab.
Place it on your head with one side longer than the other and one under the chin.
Open your mouth to form an O and pin the scarf under your chin. By doing this, your jaw will have space to move around once the Hijab is in place.
Wrap the longer side behind your head and bring it to the other side.
Secure the Hijab behind your head and at the shoulder.
How To Choose The Right Hijab For A Maxi Dress:
It can be a bit tricky to choose the right Hijab that goes well with your maxi ensemble. Your Hijab can either be solid or printed but should complement the dress. Keep in mind the colour combination of the maxi dress and the Hijab. Also, it should be long enough to cover the front part of the dress. Follow a simple thumb rule to play safe – If you are wearing printed maxi dress, choose the colour of the Hijab from the colour palate of the print used and not the base colour of the maxi. This goes for other way round too; the print of the Hijab should embrace a colour same as of maxi dress.
How To Choose Fabric For Hijab?
The impression of the Hijab significantly depends on the fabric used. Silk, georgette and chiffon work best for Hijab. However, avoid jersey and knitted fabrics or fabric which is stiff, has rough texture or is of high GSM. Choose satin Hijab for night events as it emits a hint of luxury. Other fabrics to go for Hijabs are voile, polyester and viscose.
Summers are all about colours and light fabrics and maxi dress has become hijab's best friend in this sundrenched season.
As the new season knocks the door, check out for the latest trends to wear Hijab with maxi dress.
Chic Colour Blocking:
Add interesting colours to your look. Go for chic colour blocking, such as turquoise with tangerine or pink with emerald green or marsala with mustard for Hijab and maxi dress. You can also add a third colour to the look in the form of accessories like bag, belt etc.
Charming Floral Prints:
This summer, it's all about floral prints. A sweet and dainty arrangement of floral prints and feminine colours can add a touch of vibrancy and freshness to the look. You can also go for vintage floral prints with a contemporary flavour. This look works best for daytime outings.
Going With Same Hue:
Another way to wear Hijab this season is by going matchy – matchy but with a twist. If you are wearing a peach coloured maxi, go for Hijab with one shade lighter or darker. You can play with different fabric and textures. This style calls for ultimate sophistication and elegance.
[sc:mediad]
Going For Neutral And Earthy Colours:
It is the classic way to style Hijab. From the shades of nudes to brown, blacks to khakis and many more. You can simply rely on them for any maxi – Printed or solid. To add glamour to the look, pair it up with metallic accessories such a waist belt, jewellery or footwear.
Customized Hijabs:
You can revamp your Hijab according to the maxi dress and the set of the two instinctively look chic and classy. For example, you can add embroidery on Hijab, similar to the one used in maxi dress or can add a piping of the colour complementing maxi dress. It can cost you some bucks but it is worth a try.
Metallic All The Way:
For the night events and wedding ceremonies, go for blingy metallic Hijabs. You can either go for metallic colours or sequins or for foil prints. It can set many hearts aflutter and can effortlessly add glamour to your look.
[Also Read: Different ways to Style a Maxi Skirt]
There are many styles to wear Hijab such as Arabic style, Turkish style or Spanish style. It is best to choose Hijab according to your personality.
Hope this article on how to wear hijab with maxi dress is helpful to you all. Do share your comments with us.
Image Source: outfittrends.com