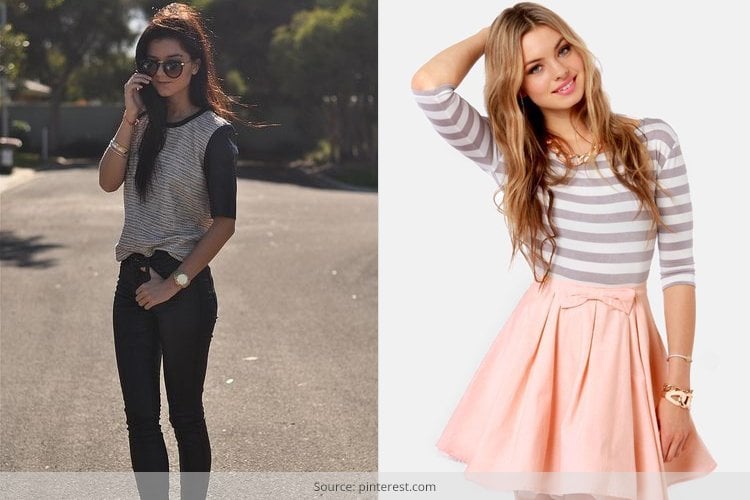 Dear PYTs in your teens,
We write this to you with total intention of helping you spruce up your wardrobe, and we understand how important it is to dress up chic and nice, but choosing the right essentials for your everyday look, makes a difference. You never know who's watching and who's eyes are on you, and in this day and age, with all the selfies you take and the instagramming you do, a potential employer following you may just want (or not) you on board working for a big name. But then again, it is all about the way you carry yourself, in minimal fashion, makeup, hairdos and more. From doting elder sisters to each of you, here are five important essentials teenage items you should have!
We shall break it down to make it easy for you
In this post, while we talk about the five most important essentials you should have in your wardrobe, let's focus on each segment with choices to choose from. Remember, the aim is to make you look chic and sophisticated at the same time; being bohemian is cool, but not always!
SEGMENT 1
For the top
One of the most important wardrobe essentials for teenage girls are crop tops, polo tees, round collar tees, halter necks and more, you should have at least four to five of them in your wardrobe, in different colours, shades, patterns and styles. With them, you could mix and match combining a range of bottoms to bring on the chic look..
[Also Read: How to Wear Crop Tops!]
Colour blocks are cool
2015 has seen the coming back of monotone fashion and colour blocks. While the former wears a very official formal look, the latter can be played around with for everyday wear. We leave that choice to you for keeps.
SEGMENT 2
For the bottoms
Palazzos, skinnies, denims, ciggy pants, boyfriend shorts, hot pants, long skirts, short skirts, flair skirts and frocks; wear them all with style and flaunt a little attitude too, but in the right way. While the Indian summers and humidity kills the souls around, stir up a little more heat with haute bottoms!
Get girly with those cute short skirts in pinks and peaches
Perfect for the summer months, to college or for a girls evening out, and you wouldn't go wrong wearing them with tees or a summer coat too!
[Also Read: The Skirt Vocabulary]
Cute printed harem pants
Comfortable for the summer months and indian climes, harem pants can be teamed up with just about anything. From crop tops to oversized tees, kurtis to shirts, wear them and flaunt them through and through!
SEGMENT 3
Every teen should have a dress
For the cocktail evenings or a special time out with your beau, a dress brings on a touch of sophistication and lady-like style. Here are your options!
A lovely floral sheet embossed dress
[sc:mediad]
A cue from Versace Fall 2014, a dress that would make heads turn at the homecoming parties
A cute floral printed dress for the coffee sessions with BFFs
SEGMENT 4
Every teen should have a box of statement jewellery and accessories. From head to toe!
Here are your options!
[Also Read: Must Have Fashion]
Chunky blingy statement head pieces and palmlaces
Chic watches and wristlets
Rings in all shapes and sizes, from simple to midi-rings!
A couple of cute anklets
SEGMENT 5
Put your best foot forward and walk like a queen, making the boys out there swoon and fall for your feet, sometimes literally! Here are your must-have's!
Heels or Pumps, we leave it to you, but a pair of these pretty ones is a must for classy moments
A pair of cute Kolhapuris to let the feet breathe
Chunky converse shoes
And a pair of flip-flops for everyday use
So here were five segments shown to you, with choices to choose from pertaining to trends that are happening now! Have fun dolling up, and now that you know how to look your classy best, go ahead and Instagram your fashion diaries!