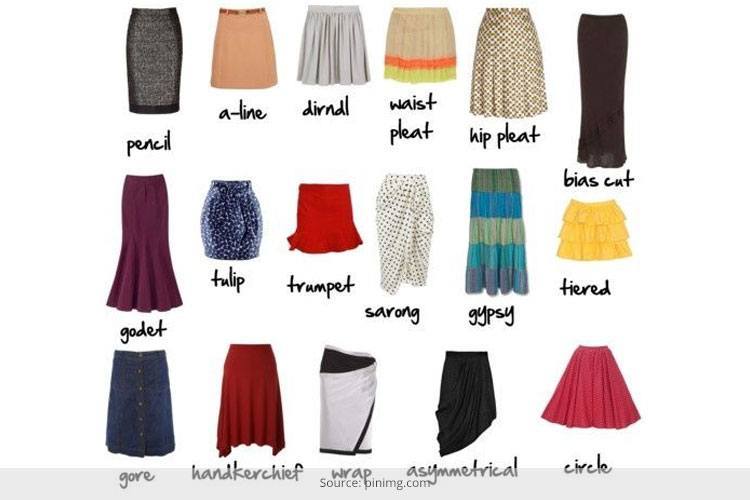 How many skirt styles can you name off the top of your head? Most of us are familiar with five or six different styles of skirts. But did you know that there are almost twenty different types of skirt styles to choose from? Depending on how tall or short you are and what your body shape is, there are some skirt styles that will suit you better than others. Let's take a look at all the different skirt styles out there and gain a better understanding as to which ones are suitable for which body type.
A-Line Skirt
True to its name the A-line skirt is shaped like the alphabet 'A', which means that it is narrow on top at the waist and then flares out as it flows down. A-Line skirts are suitable for those with pear shaped body as the flare of the skirt helps hide their heavy hips and bottom.
[Also Read: What Not To Wear If You Are Pear-Shaped]
Accordion Skirt
An accordion skirt has a lot of pleats and looks like a narrow skirt but in fact, the pleats allow for free movement. Accordian skirts are suitable for pretty much all body types and frames.
Asymmetrical Skirt
An asymmetrical skirt is one where the hem is not even. The hem of the skirt is usually shorter at the front and longer at the back or ends in uneven waves throughout. Asymmetrical skirts work well on women who are tall and have a slender figure.
Pencil Skirt
Pencil skirts are figure hugging skirts, usually made from stretchy fabric. They are perfect for tall women who want to show off their hour glass figure. (Here is the complete pencil skirt guide – Choose one for your body type)
Tulip Skirt
This skirt gets its name because its shape is similar to that of a tulip flower. The fabric is pleated at the front to create the shape of a tulip flower. This skirt adds volume to a person's figure and so is perfect for those who are too slim and want to give an illusion of curves to their frame.
[sc:mediad]
Wrap Skirt
Wrap skirts come in a wrap-around form. You simply have to wrap the skirt around your waist and fasten it with the help of a button or a tie. Wrap skirts are a good choice if you like bohemian fashion and are looking for a laidback look.
Circle Skirt
Circle skirts are usually made out of lightweight fabrics that will allow for better movement. They come with a narrow waist with a fuller skirt with lots of pleats. Circle skirts work well on petite women who are bottom heavy.
Mermaid Skirt
Shaped like a mermaid's tail, the mermaid skirt is figure hugging from the waist till the knees and then flare out to create a very pretty silhouette. Short girls should avoid this skirt type as it will make you look even more short. Mermaid skirts are great for those with a tall slender frame.
Gypsy Skirt
This type of skirt is made up of horizontal panels, usually of different colours or shades, to create a very eye catching visual. The skirt is narrow at the waist but then flares out, allowing for easy movement. This type of skirt is perfect for those who are pear shaped and want to balance out their heavy hip and bottom with their narrow legs.
[Also Read: How to Wear Skater Skirts]
Godet Skirt
The skirt is narrow on top and then flare out at the bottom, thanks to the addition of triangular inserts at regular intervals at the ends. They suit almost all body types.
Here is a run down of skater skirts for your quick reference.
With so many different skirt types to choose from, why restrict yourself to just one or two styles? Start experimenting with all the different styles and find out which style suits your body shape the best.