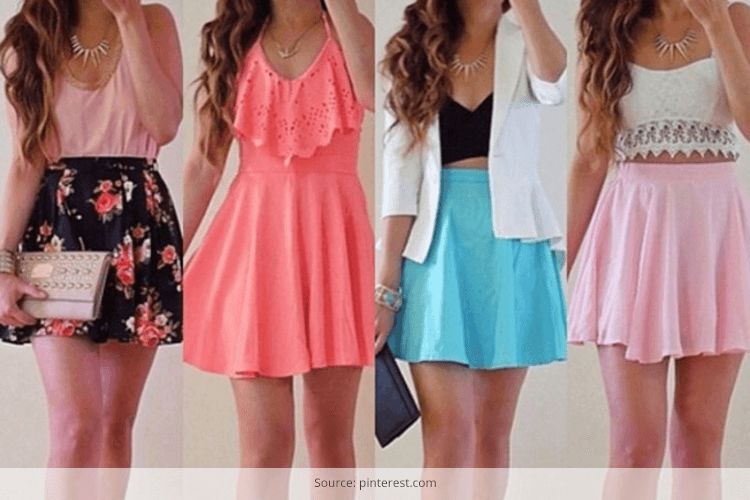 Masaba Gupta may have shown you how to alter the humble Skater Skirt in three different ways – gorgeous and cute, wasn't it? Every girl should have a skater in her closet – 'skater dress', because it's the latest summer fashion, and also because:
They are casual enough to be paired with just about anything
Wear them with a cardigan on a cold evening
Pair it with leather jackets for an evening out
Boots and sandals are its friends
Scarves in silk; pair it with skaters and you are the hottie everyone wants to tag along with – the list is endless!
Moreover, the styles and fabrics for the humble garment are a myriad range to choose from. Very feminine to wear, the skirt sits pretty above your knee and is completely circular, full too. The top fits like a tank top or a tee, and the fabric is stretchy too – plus sized girls can wear them pretty!
Forever 21 has a couple of cute ones, and there are some made with edgy cutouts, prints and patterns; embellishments with Peter Pan collars and ruffles galore. With every girl wanting to have one in her wardrobe, we think the fashion fad would fizzle out soon – but wait, you can doll yourself cute and chic wearing it in your own style and grace.
[Also Read: Flared Skirts]
It matters to you as much as it matters to us – so here are three ways how to wear skater skirts.
[sc:mediad]
For a casual evening out with friends
Here's a simple but very elegant style to try. If the winds blow a little too hard and cold this evening, grab hold of a cardigan and wear it over the skater skirt. Pair the look with white converse shoes and keep the make-up very minimal and light. The hair should be left loose, and accessories left to the bare minimum again!
[Also Read: How To Wear Leather Skirts]
Ready to party tonight and don't have a thing to wear – easy does it!
A black velvet skater skirt to the rescue – sequinned top with the hair done in an 'updo' or a 'messy bun' (try various hairstyles if you want), and the slingback shoes; girl, you'd be rocking and burning the floor tonight. Oh, don't forget chunky chandelier earrings – hot,hot,hot and the pretty pink purse (some colour please).
For a chic and a sophisticated look at the same time – polished and elegant too
The skater skirt works well with layers; a classic white or light pink shirt beneath the plaid skater skirt, a statement necklace that brings in the glam and smoking flats or shoes with animal prints, for the daring. While the winds blow cold outside, you'd be raising the heat around with your style.
There are many more ways to wear the skater skirt – get creative an innovative, Instagram it all and share your style quotient with the world. Have fun!
[Also Read: Pencil Skirt Trend]