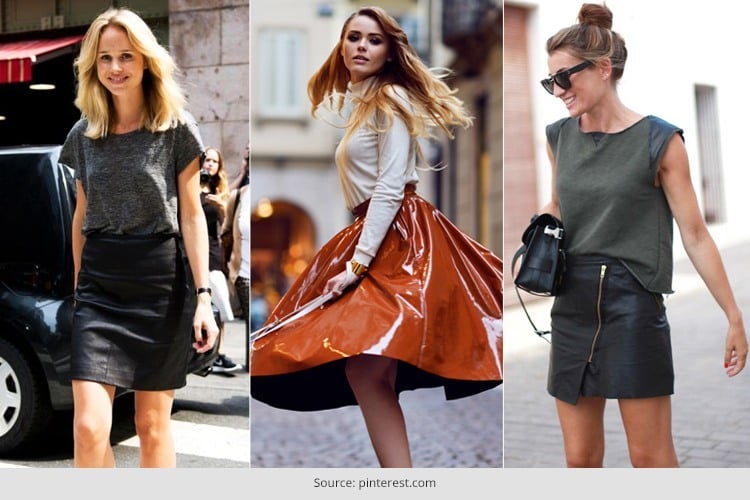 Leather skirts are cool to don and can add edge to any outfit; layer them or pair them with right accessories and ensembles for a suave and sophisticated look. Leather forms a whole category of chic fashion and you need to have it in your wardrobe to be on trend. Wear it with knee length boots or pair of sneakers? Tucked in flannel or over the top sweater? Tank tops or white tee? Leather skirts are a beautiful thing but many find it troublesome to decide how to wear it and what to match it with.
THIS IS YOUR STYLE GUIDE ON HOW TO WEAR A LEATHER SKIRT IN 7 DIFFERENT WAYS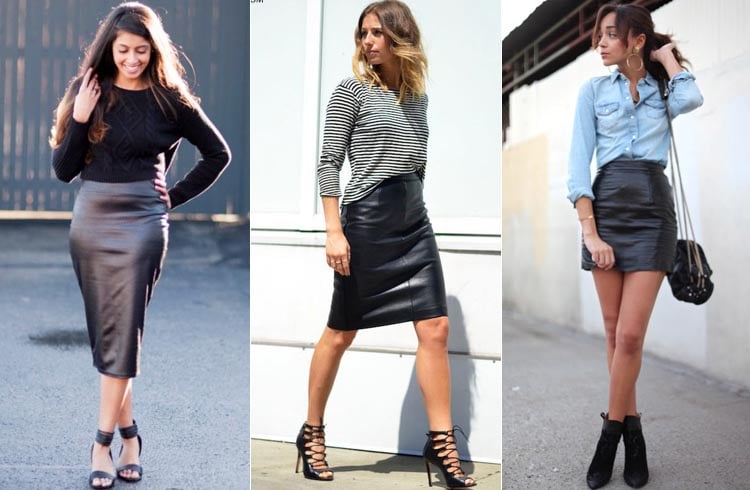 7 Ways: How to Wear Leather Skirts
1. Pleated Leather
This is an extremely high fashion outfit. A pleated leather skirt – be it mini or midi, matched with a ruffle or a high neck short top but not crop top or, if it is a shirt or a longer top, tuck it in properly and you are good to go. Match the look with heels preferably stiletto boots or stilettos.
[Also Read: Different Ways To Style Skirts]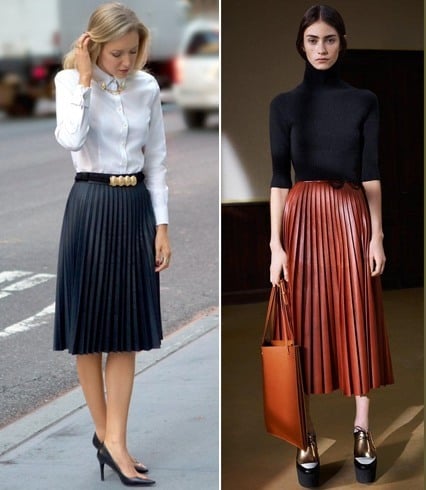 2. Formal
Leather skirt outfits can also be made formal to wear at more professional events. Get hold of a leather pencil skirt that floats past your knee length and team it up with a beautiful button down shirt neatly tucked in and pamper your feet with pumps. You can even throw on a coat or a blazer if you have one that matches the outfit. Remember to not overdo leather.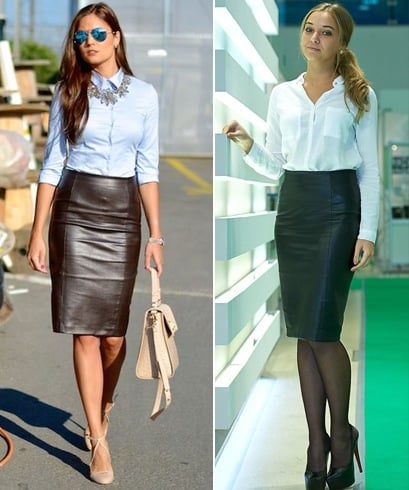 3. Leather For The Party Animal
Pair a mini leather skirt preferably split, and wear it with a sequinned top. You can go for an all black outfit and accessorise with silver or you can wear a black skirt and team it up with a vibrant colour to go with the mood of the party like a sequinned turquoise or purple or red or even silver and gold. Think bold, hang big hoops around your ears, wear a heavy bracelet, ace a sparkly stiletto and go for it. You will surely be the head turner.
[Also Read: How to Wear Skater Skirts]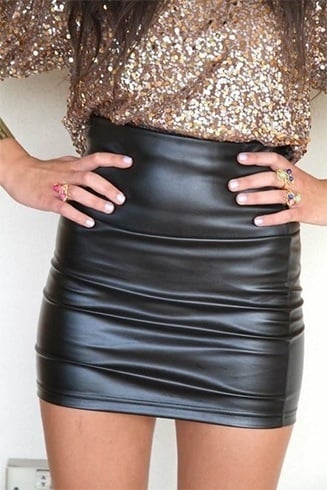 4. The Soft Look
Leather skirts have always been associated with a bad-ass look but it can surely be turned around. You can make a feminine leather skirt outfit by teaming up your strong and edgy leather skirt with a frill on the neck or a peter pan neck or any flowy top. For a more cute and naïve look team it up with a graphic tee featuring your favourite Disney character! Team up your look with a pair of simple stilettos which are not too high and accessorise the look for a suave and stylish statement.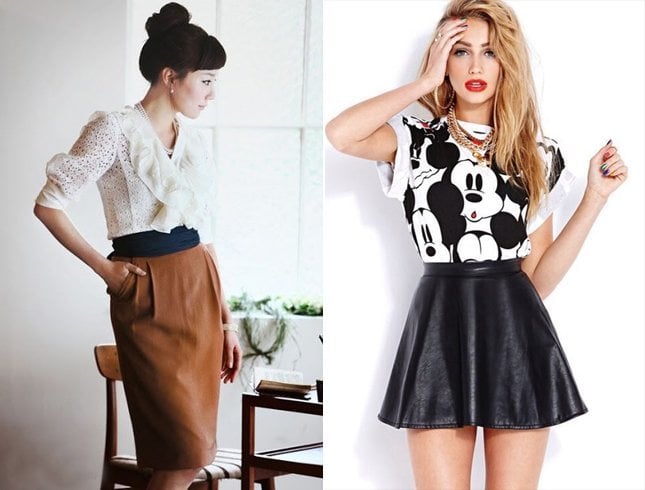 5. Cardigan And Leather
If you think cardigans can't be teamed with leather skirts, you are wrong. They can just look as gorgeous but remember to tuck them in when wearing midi leather skirts for more defined torso. Balancing out the proportions is the key here, whether you don a cozy knitted sweater or a stylish cardigan. Complete the look with stockings and team it up with boots or stilettos.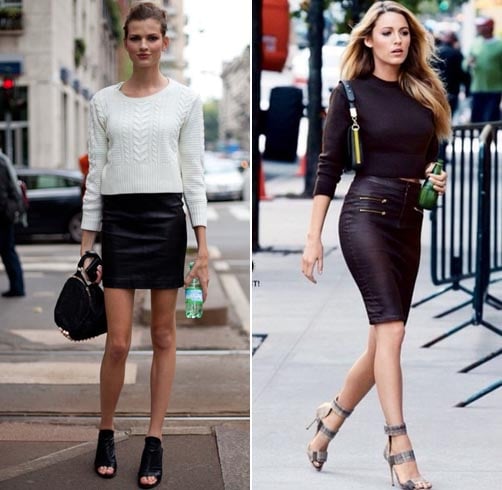 [sc:mediad]
6. Add Colour
Be adventurous and ditch your only black leather skirt and opt for coloured leather skirts. Ensure that you wear them with a top that is of a different and complementary colour. Wear colours, team it up with sling bags, loafers and look cool and vibrant in leather!
[Also Read: Grunge Fashion]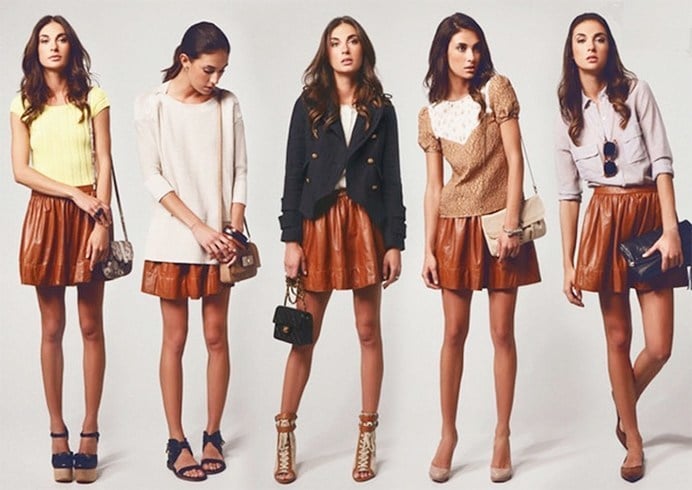 7. Denim On Leather
Wondering how to wear leather skirts with denims? Team your discarded old chambray button-down shirt for a more suave appeal or better still, pair it with a denim tiny jacket. Carry a saddle bag and team it up with your loafers or heeled gladiators for a good-to-go aesthetic appeal. Flaunt this look for girl lunches or college meets!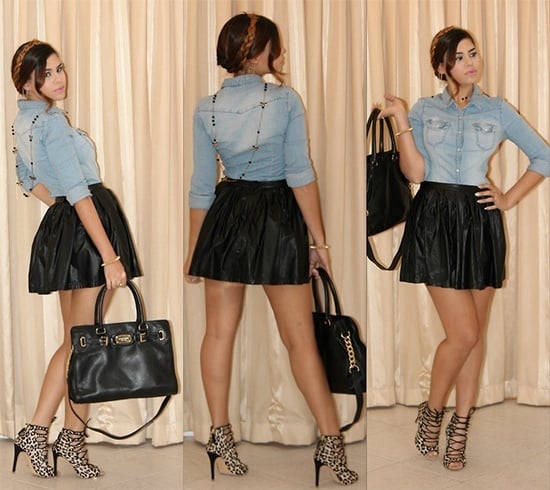 Wear leather skirts if not for its inherent trending feature then for its versatility and vanity upgrade. It will take you from grunge to glam and casual to chic. Now that you know how to wear leather skirts choose the look you are most comfortable with. Try out the styles for yourself and stay high on fashion!