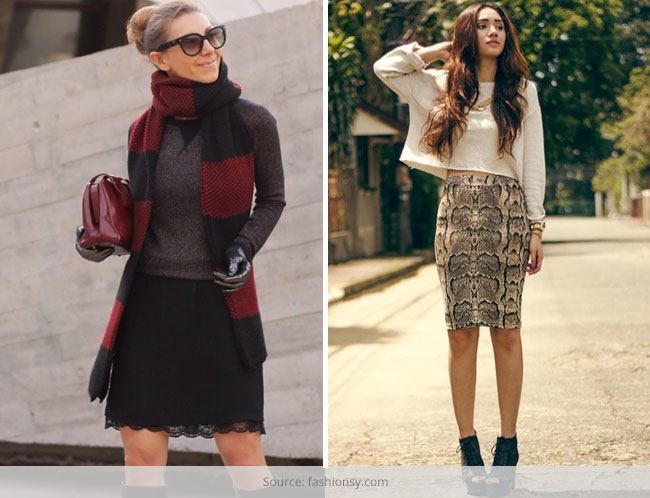 Winter brings with it its' own style guide. We have to make a transition from our Fall wardrobe and move into the winter mode. The skirt and sweater is a popular winter combination. Let us discuss some of the different combinations of skirts and sweaters to wear during winter and the other different ways of styling sweaters and skirts?
The Monochrome Look
Go in for a monochrome look. A skirt and sweater in the same colour looks understated and chic. This is a great look for work as it incorporates your winter wardrobe while still managing to look smart and professional.
The Tulle and Fluff Look
Pair a super soft cashmere sweater with a tulle skirt to create a look that is enchanting. This look is not your everyday winter look. The tulle and the sweater will create a dreamy outfit that will make it look like you walked right out of a Disney movie, living in a quaint palace with magical birds and animals.
The Cute Prints Look
Wear a cute printed sweater with a pleated skirt. Complete the look with stockings and a beanie or hat. Take this look from schoolgirl charm to sexy lady by putting on a bright red lipstick. Always be on the lookout for sweaters with cute and quirky prints. They are great at making any outfit fun and can be used to cheer you up on dull days. Here are some adorable sweaters with animal cartoons on them.
[Also Read: How To Wear A Sweater Dress]
The Boho Chick Look
An oversized sweater with a calf-length skirt and ankle boots makes for a perfect boho look. Complete the look with some heavy metal jewellery to add another interesting element to the final look.
The Free Spirit Look
This is a must-have winter look that manages to pack so much style with just a sweater and a skirt. Pair a cropped sweater with a pencil skirt for a look that is so essentially winter but breezy enough to be worn during spring as well. This is for those days in winter when the climate's not too cold and you feel like you can get away with wearing something a little breezy and light.
[sc:mediad]
The Layered Look
This is one of the classic looks for winter. Layer your sweater with a shirt and a winter jacket to create a look that is cosy and warm. A skater skirt or mini skirt pairs well with this layered look.
The Vintage Look
Go back in time with this vintage look. Pair your sweater with a full-bodied midi skirt to recreate the 60s look. Style up your hair in tight curls and wear a pearl necklace in keeping with the theme.
[Also Read: Plaid Skirt Outfit]
The Tough Gal Look
Keep it tough by pairing your sweater with a leather skirt and some grungy accessories. Take a leaf out of Rihanna's fashion book. She pairs her micro mini leather skirt with a sweater and snake skin boots. The end result is a devil-may-care attitude super tough yet stylish look. This look is not for everyone; wear it only if you are comfortable sporting leather clothing and carrying it off with full-on attitude.
The Clueless Look
Alicia Silverstone created a fashion frenzy in the movie 'Clueless'. She rocked many sweater and skirt combinations throughout the movie. Here are some pictures of her various looks. Take your pick, after all, they've all become iconic looks – right from the plaid jacket and skirt to the button-up skirt, Alicia Silverstone made a lasting impact with her fashion choices.
[Also Read: How To Wear Leg Warmers]