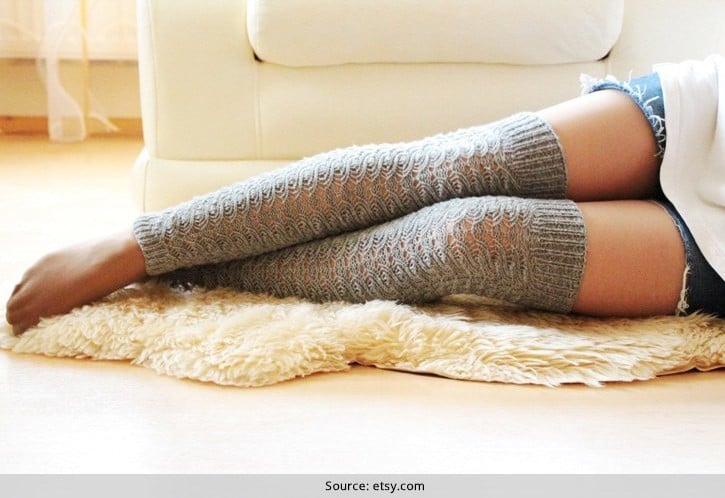 Talking about apparel accessories with respect to women's sartorial styles, leg warmers also called knee socks were all the rage during the 80s. The fact that history repeats itself can be extrapolated to the fashion industry which is evidenced by the re-emergence of various dressing styles and dress accessorial that had become passé. Leg warmers that have made a raging comeback not only help you keep cosy and warm but also lend a touch of completeness to your winter wears.
How To Wear Leg Warmers: Basic Rules To Go By
Picking on the appropriate colour should be atop the priority list of guidelines. Hues like charcoal or steel gray, navy blue and other shades of dusty or dark tints are always more sober and harmonizing, while metallic, bright and neon tones lend a cool, funky appearance. However, black is one colour that is undoubtedly the most complementary amongst all hues you can choose from.
Leg warmers are best paired off with skirts, shorts, tights, leggings, and skinny jeans. And far as the apposite textures or styles are concerned, you can opt for ones with waffle or flannel designs but cable knit or Argyll patterns are equally stylish. To mention the last but not the least, you can matchup knee socks with flats, ankle-length boots, sneakers, and canvases but never with flip-flops, plimsolls, and gym shoes. The following paragraphs elucidate on how to accessorize leg warmers with specific fit-outs and footwear.
How To Wear Leg Warmers With Different Footwear Styles
1. Wear Leg Warmers With Ankle Boots
Boots are very stylish footwear worn extensively during the cold winter months that not only accentuate your outfit but also offer warmth and protect your legs from the frosty weather. And yes, boots, especially the ankle-length ones go seamlessly with leg warmers. For affecting a riveting look, slip into a pair of skinny jeans, slide in the leg warmers and voila you have rocked the chic look effortlessly. Layer your ensemble with kaftans of jacket and don't forget to accessorise.
[Also Read: How To Wear Black Leggings]
2. Style Them With Sneakers
Sneakers are one exclusive class of canvas or runner shoes that can be perfectly gelled with knee socks. Put on a pair of blue denims and thereafter slip up complementing warmers and scrunch these neatly over your Reebok or Nike running shoes or sneakers.
3. Style Them With Ugg Boots
These ultra-comfortable boots are like marmite of the footwear world, keeping us warm, cozy and yet add dollops of fashion quotient to our style. Ugg boots have made their entry in a wicked way in our wardrobe, sending a message of devil-may-care attitude. From celebrities to street style all are opting for these comfortable slip-in boots. Pair them with leg warmers to further heighten your fashionista appeal or simply to keep warm.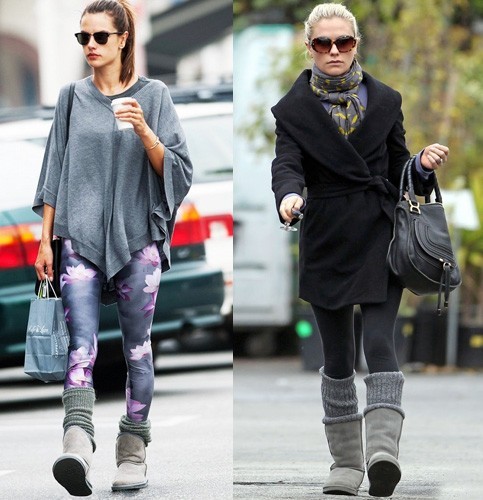 [Also Read: How To Wear A Sweater]
4. Wear Them With Combat Boots
Combat boots are exotic footwear that look splendid regardless of what you pair these off with. Adding a layer of leg warmers or unconventionally funky knee socks are always a great hit with combat boots no matter whether you roll these over or leave them as it is.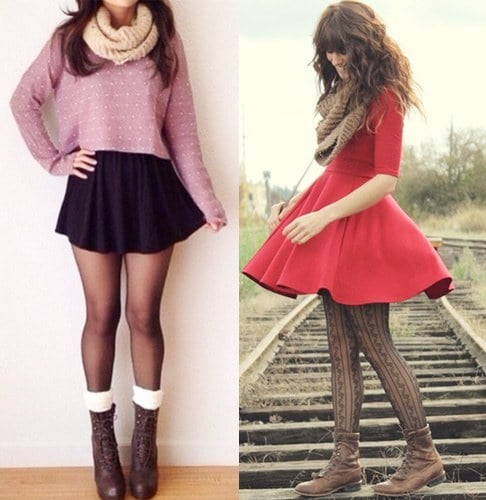 5. Wear Them With Ballet Shoes
Ballerinas had traditionally taken to wearing leg warmers to keep their feet warm during the frigid winter and also to keep them from getting cramped after an extended ballet session or performance. Soon, leg warmers became an integral part of the regular wear or uniform of ballerinas. It became a style fad that reached a crescendo during the 1980s and went on to rule the roost for years on the women's fashion wear landscape, by pairing legwarmers with ballet shoes. Smart, chic and comfortable, the trend ruled the fashion world and clicked well with fashionistas of all age, genre and bravura.
6. Pair Them With High Heels
Complementing leg warmers with high heels and stilettos is an effective way of bringing them back from the backburner. Harmonize these with skirts, tight-fitting denims, suits, maxis and spike heels. Classic T-strap stilettos and ankle-length high heels with fasteners matched with leg warmers look urbane and polished when worn with long flowing skirts, pants, and trousers. Jet black classic high heels look absolutely gorgeous when complemented with dark-coloured knee socks (think deep blue or bluish-black patterns) which you can carry off with élan. You can experiment with being a little daring by folding back the warmers a bit to brandish your calves. If dark coloured combinations bore you out, you can opt for a refreshing change by turning out in a monochrome pairing of beige or ecru coloured warmers and high heels.
[Also Read: How To Wear A Crop Top In Winter]
7. Pair Them With High-Boots
Leg warmers appear best when matched with leggings or skin-hugging jeans and high-boots! Therefore appending leg warmers to fine-tune the silhouette and give your boots a snug fit. Boots and leg warmers make for a good combination as it gives the semblance of an outlandishly stylish vibe that is perfectly befitted for metropolis conurbations. To bring out the contrast, go for mid-calf boots that are less form-fitting.
Now that you know how to wear leg warmers for boots, let's take a look at the different styles of leg warmers and how to wear them.
8. Furry Leg Warmers
Keep yourself warm and snuggle your legs in some cute furry leg warmers.
9. Dance Leg Warmers
We have shown you how to style ballet leg warmers. Take a look at some of the dance leg warmers that would go well with your dance workout attires.
10. 80s Leg Warmer
Like we said earlier, it was during 80s when leg warmers became the trendsetters, so check out how to wear leg warmers in the 80s style.
11. Cycling Leg Warmers
Ladies who love to stay fit and in shape by cycling can wear some cool thigh high leg warmers. You can pick up something simple in basic black or opt for printed designs.
12. Crochet Leg Warmers
If you like knitting, then put your skills to use and knit some amazing crochet leg warmers for yourself and your family and friends. There are scores of leg warmers knitting patterns that you can choose from.
13. Lace Leg Warmers
If you are looking out for some fashion leg warmers, then we suggest you try out lace leg warmers. A touch of lace on the upper edges of your leg warmers will give it a flirty style.
With all these ideas on how to wear leg warmers with uggs, how to wear leg warmers for ballet, how to wear leg warmers while cycling, etc., you really need to stock up your wardrobe with pretty leg warmers and flaunt them in style.
Knee socks popularly or leg warmers can be perfectly styled with an assortment of trendy outfits and footwear. Nevertheless, you'll need to abide by aforementioned rule-of-thumbs when it comes to accessorizing leg warmers with your garbs to mark ticks on the apposite style checks.