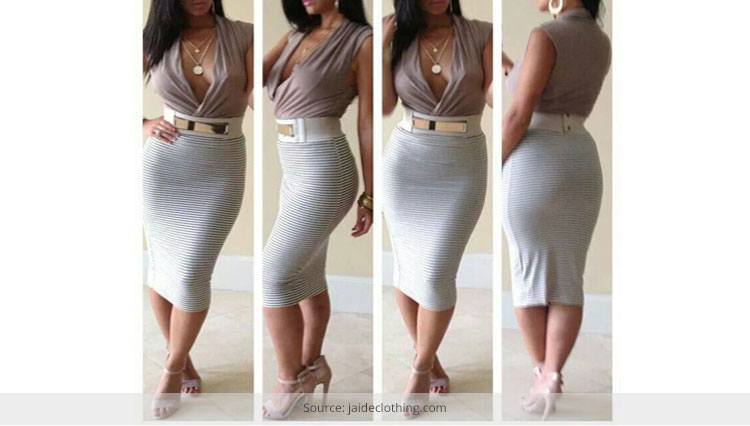 Straight and edgy, a style that most professional women wear to work, the humble pencil skirt defines feminity and fashion in one chic rectangle- rightly so!
[Also Read: Pencil Skirts are No More a Work Staple]
What can I pair it with?
It depends on the look you would want to flaunt, but mostly pencil skirts are worn with tees, sexy floral tops, crop tops for the evening out, sleeveless tops for summers, a formal shirt for boardroom meetings, with a blazer for an event, a leather jacket for a dinner do, a peplum top to church, a blouse when visiting in-laws or a cardigan to keep warm.
Versatile as they are, a pencil skirt looks crisp and well-cut, but does make you look and feel relaxed, especially if you pair it with a long cardigan or a flimsy layer, with a short tee or a tank top underneath.
[Also Read: The Kimono – Fashion Hit for the Indian Summer ]
Let's accessorise too!
For any ensemble to look good on anyone, the right accessories does all the magic. A look can be brought forth in no time, and with a pencil skirt- an attire so feminine and chic, you need the right accessories to make a sweeping statement. Keeping it very classy with minimal statement neckpieces would be a charming effect, and for the casual evening out, try chandelier earrings or head chains too.
Every BODY is a beautiful BODY
With that being said, here are four body types most common and we would like to show you how to dress to impress in a pencil skirt.
[Also Read: Prints and Body Type: A Fashionable Saga In The Making ]
How do I with full thighs and hips wear a pencil skirt?
You don't want to look like a light bulb or a square wearing pencil skirts on full thighs and hips. When you have those curves, you should be proud of them and flaunt them like no one's business.
[sc:mediad]
Our recommendation: Never opt for bulky fabrics when choosing pencil skirts- stay away from tweed, wool or brocade. Choose lightweight fabrics or cotton, which accentuates the lining of the skirt and doesn't make you look like a box.
Should I tuck?
For full hips and plus sized women, tuck the top in for an elegant and a very classy look. In addition to that, it gives out an illusion of height and makes you look lean too. Hence, choose a high waist pencil skirt and in colours dark blue to black, chocolate to deep bottle greens.
How do I wear a pencil skirt for an hourglass figure?
The look should be one that isn't too body hugging and yet brings out the slim you.
Our recommendation: Stay away from high-waisted pencil skirts, they don't do justice to the torso and makes you look bulky as well. And it would be nice to wear lightweight fabrics- silk or rayon; they accentuate the hips and make you look fit and tall too. Try the pencil skirt with a jacket or a semi-loose top or simply wear a crop top!
Should I tuck?
Yes you may- tuck in the blouse and it would bring attention to your sexy waistline!
How do I wear a pencil skirt for my straight and lean body?
For women who are thin, skinny, athletic or with bodies that have less curves, a bulky fabric for pencil skirts would do wonders. In doing so, the hourglass figure illusion would be created, and playing along with embellishments (belts on the waist or pleated hips) would work like magic.
Our recommendation: Tweeds with front pockets would work well. You could also try a peplum jacket with a pencil skirt and a tight turtle neck tee as well, for the waist to look broad and nice.
Should I tuck?
It depends on the look you want to carry off, mostly you shouldn't bother or else the faux curves wouldn't show!
Have fun girls, and if you would like to share your style tips with us, send us a line!
[Also Read: Pencil Skirt Trend]