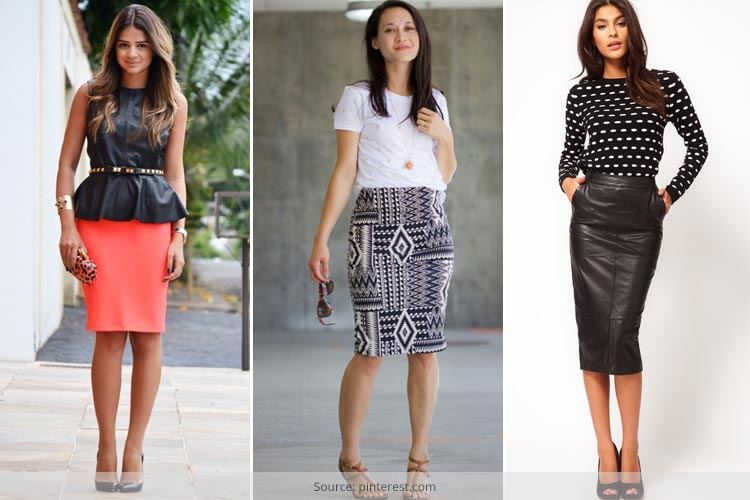 Long and slim, tailored-fit with a straight, narrow cut giving a close fit, the pencil skirt was named for its shape. The day since it was conceived by Christian Dior post World War II when fabrics became highly expensive, it has been considered as a work staple, uniform of a secretary or a personal assistant.
In western countries, this form of style is highly favored by women till date because of its slimming and sheer professional look. It is a must-have of any professional woman's (in India mostly corporate) wardrobe if not just a conventional wardrobe. This particular attire emphasizes the feminine shape. It's conservative yet timeless classy.
Tailored in a straight line from the hip to the hem, the narrow fitting attire was fashioned to save precious fabric rations which were soaring high post World War II.
Because of the inflation in fabric industry and women's desire for a revolutionary style, Dior's effortless execution of reinventing fashion led this skirt to go on to become an essential formal wear.
[Also Read: How To Wear Skater Skirts]
Despite its meticulous beginnings, nothing shone hardworking glamor like the 1940s pencil skirt. Perhaps it is because for the first time in history that women were required to go out and work while the men were still fighting.
This outfit was not only an essential outfit but became a powerful fashion fad defining the feminine power in all aspects. As we all know fashion keeps changing, this outfit has also undergone various transformations till date.
With the ubiquitous pencil skirt back in trend, Fashionlady tries to find out how this formal wear has come out of boardroom to be noticed at shopping malls, beaches and places other than work.
Ever since the pencil skirt was conceived, it has been constantly experimented by various fashion connoisseurs. When Grace Kelly had worn this attire in 1955, she displayed feminine classic style and when Alicia Silverstone wore it for her movie Clueless, it symbolized fun.
This style which was coined in 1940 started gaining momentum by 1950's. Dior defined woman's curves like no other when he paired his creation with stockings or tights and a pair of heels.
The skirt got its glamor potion from Audrey Hepburn, Elizabeth Taylor, Marilyn Monroe, and why, even Veronica of Archie comics' fame. By 80's, it has become a full-fledged corporate wear when world leader, politico giants and female CEOs were seen donning this bottom half with shirt and shoulder-padded jacket.
This sexy body-hugging piece of women's clothing is still in fashion, thanks to Angelina Jolie, Jennifer Anniston, Charlize Theron and Gwyneth Paltrow and back in India our celebs like Sonam Kapoor, Deepika Padukone and Priyanka Chopra.
[sc:mediad]
2013 witnessed a subtle modification in this attire and it has become the most wearable trend of the year. Fashion runways were seen model ramp walking in tropical, chaotic and abstract printed skirts and some were also in geometric and 3D prints. These were paired with sheer georgette blouse, broad waist belt and a pair of pumps or wedges.
You can even pair this bottom half with a dark hue tank top with a cropped jacket or a formal blazer.
These days, pencil skirts are available in huge variety of prints, colors and embellishments breaking the traditional barriers of black, grey and white. Because of the modifications, they are now considered among semi-formal attires for regular wear.
Indian fashion designer, Nikhil Thampi states that mid-waist slim-fit pencil skirts are a must-have in every woman"s wardrobe, no matter if she is a professional or home-maker. He further adds that a petite woman can go for a high-waist skirt, however calf-length skirt should only be saved for taller women.
And if you want to play it safe then you can always go for your test proven knee-length number.
You can pick a grey mid-length number and pair it with a formal blouse and top it a blazer. Accessorize your look with a good pair of black pumps, sunglasses, a multi-purpose bag and a statement watch.
You can alter the same look for evening but with a twist. You can replace the blouse for a printed sleeveless blouse to get a modern silhouette look. You can accessorize this look with a pair of wedges or stilettos, a statement neck-piece, cuff or earring and a clutch and not to mention loud lip color.