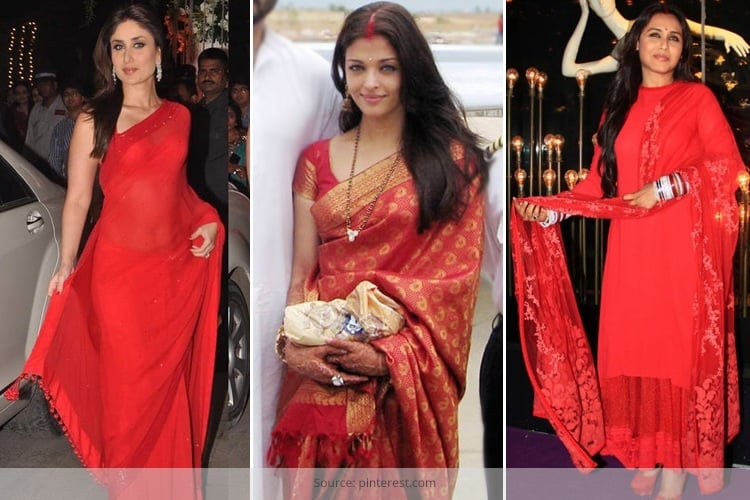 The festivals are knocking on our door and right after the festive season the wedding season starts. Certainly, all you brides-to-be must have invested some considerable amount of time in deciding how you want to look and dress up during the various rituals that surrounds the big day of your life. But have you decided on any look for the post wedding outings? Well if you answered NO, take a look at our Bollywood divas and try deriving some ideas.
[Also Read: Bollywood Actresses In Sabyasachi Sarees]
1. Aishwarya Rai:
Aishwarya has been seen mostly adorning sarees in all her post wedding appearances, in fact even after 8 years of the wedding most of her public appearances are in Indian wear. The one out of these looks that deserves a special mention was the red south silk saree with heavy golden zari work which she wore right after the wedding during a Pooja ceremony. To complete the look she had the sindoor gracing her hair's middle partition. She hadn't laden herself with heavy jewelry but limited it to mangal sutra and simple golden bangles. In her first appearance after wedding, the most beautiful woman in the world looked every inch of the diva she is famous to be.
2. Kareena Kapoor:
Red seems to be a color of affection for every newlywed Indian women, the divas in Bollywood can't escape the charm of red either. And so, it was again the color that Kareena Kapoor wrapped herself in, on one of her first appearances after marrying the Chhote Nawab. However unlike Aishwarya's heavy Kanjivaram, the Begum of Bollywood chose a light weight chiffon saree with a bra blouse of the same fabric. Sindoor was again an allure that she didn't miss to boast, let her hair loose and kept accessories to the lighter side.
[Also Read: Kareena Kapoor Wedding Dress]
3. Vidya Balan:
I am sorry if you are getting fed up of the red saree theme, but hey, it is what appeals the most to our Bollywood newlywed brides. And Vidya fell for it too. The south Indian curvy beauty chose a red south Indian saree with heavy golden border. The sindoor didn't lose its prominence here either and she wore it in between her hair which she tied back neatly. What Vidya did different from Kareena and Aishwarya on her first public appearance post wedding was to adorn herself with rich traditional gold jewelry most of which were patterned in the typical south Indian designs. Gorgeous – we say!
[Also Read: Red Isn't The Only Colour For Weddings]
4. Shilpa Shetty:
The first time Shilpa was captured in the paparazzi camera post her wedding, was at the airport on her way home after spending a relaxing family vacation. The lady, getting younger day by day was seen in track pants, no points for guessing the color – yes, red. She let her hair down, covered her eyes under huge sunglasses, yet managed to look every bit of a ravishing bride with a wrist full of Punjabi chhodas.
[sc:mediad]
5. Dia Mirza:
The latest name to be added to the Bollywood brides would be that of Dia Mirza. Though she keeps the sindoor and the bindi in place, she brings a fresh change in the monotony of red. Her first public appearance post marriage was in Delhi while she inaugurated the National Children's Film Festival. Dia Mirza wore a bright blue silk saree contrasted with a green pallu. She matched her bindi to her saree and selected silver jewelry unlike most of the new brides in India who prefer gold.
[Also Read: Bollywood Divas]
6. Esha Deol:
Dream Girl Junior might not have inherited her mother's enticing features on the whole, but she did look like an absolute dream goddess on her first public appearance as a married woman. This was during an Odissi Dance performance. Though the question of what she wore falls irrelevant as she was dressed in the traditional costume of an Odissi dancer, her color was red too. Her marital bliss shone through her radiant face. Mamma Malini must have been really proud.
7. Genelia D'Souza:
The first public appearance of Genelia since her wedding was totally different from anyone in this list so far. This was much because she was present in the audience of a cricket match in Vizag. Wearing the heavy Indian traditional attire would have been a complete mismatch between the agenda and the costume. We hence saw her in a sweat shirt flawlessly comfortable in her own skin and enjoying every moment of her newly gained marital bliss. This babe however, didn't part from her matrimonial bangles and sindoor.
8. Rani Mukherjee
Hailing from a traditional Bengali family and married into a Punjabi one, Rani knew how to blend the two cultures together. Her first public appearance after marrying producer-director Aditya Chopra, was in a floor length red salwar kameez. She wore her hair long and straight and parted them in the middle, which she adorned with a handful of sindoor. She excused herself the jewelries, however wore both the Bengali as well as Punjabi bridal bangles, shakha-pola and choodas.
[Also Read: Bollywood Movie Wedding Dresses Waiting to Be Worn Again]
Now you know that our Bollywood divas vote for the color red when it is time to make a first appearance post wedding. Well some of them experiment with colors, some experiment with attire, but whatever look they pick up, they dazzle in it. We would suggest you keep the jewelry part a li'l to the lighter side if you are going out during the day. You may wear a few large pieces if you have made some evening plans. But please, do not wear all the jewelries that you have been given on your wedding together. That just doesn't work. The best makeup after your D-day is your tranquility and harmony that shines on your face. And yes, do not forget to wear that smile.