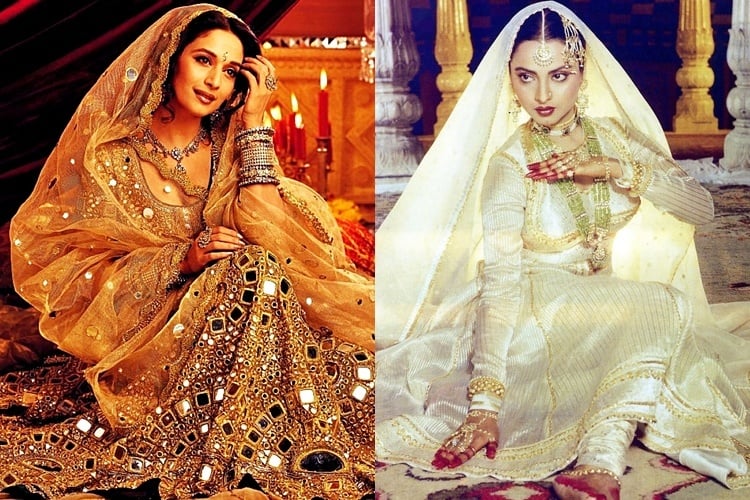 From John Keats to Shakespeare to Beatles to our home-grown legendary poets, almost all have at some point of time in their writing career have written good things about the beauty of a woman.
Needless to say she is soft-hearted, sweet looking but at the same time she is stunning, mesmerising, gorgeous and charismatic. And for that costumes have played a very important role in making B-town actresses of yesteryears till today remain timeless in memories. There is no blue chiffon saree or minimalistic clothes or Patiala salwars. When you do a voting opinion, you will find most of the dadas and naanis would vote for Meena Kumari in Pakeezah to Rekha in Umrao Jaan as the courtesans who rocked in their elaborate costumes in period films.
Let us travel back in time to find out our favourite actresses winning hearts in their regal costumes that only God could have created after costume designers. Believe you me, Hindi films have not only brought us love, romance and tragedy but plots that brought the other side of women who continue to enthral us till today.
Madhubala In Mughal-e-Azam
Not only did we all get carried away by Madhubala's role as 'Anarkali' in the period film Mughal-e-Azam and the song "Jab pyaar kiya to darna kya…" which stunned the nation as well as the film critics. It was equally hard to forget the amazing light blue and red embellished anarkali that Madhubala wore in this filmed song shot in a court.
Such was the mesmerising effect of the costume and jewellery that it became a fashion staple for Indian women across ages and barriers. Yes, Madhubala continues to stay in our minds till today all thanks to the timeless look she put on during the shooting of the film.
Meena Kumari In Pakeezah
Thade Rahiyo was as much popular as Chalte Chalte song enacted by Meena Kumari in the period film Pakeezah. What was equally stunning and breathtaking were the beautiful dance sequences and regal costumes and matching jewellery worn by her.
Even today your feet might feel the itch when you see Meena Kumari dancing as a courtesan in this timeless film directed by Kamal Amrohi.
Rekha In Umrao Jaan
Talk of Mujra look and there is no one who has nailed it perfectly as the diva of all times Rekha. Umrao Jaan made by Muzaffar Ali stood out in the pearl-hued brocade dresses and fantastic jewellery worn by Rekha.
Years later Umrao Jaan was essayed by Aishwarya Rai Bachchan but nothing can match the magnificence of the original creation, in the adas and the moves which Rekha absolutely excelled in.
Madhuri Dixit Nene In Devdas
Ek to teen…. was her blockbuster number in the film Tezaab. But there is no counting the spell that Madhuri Dixit left behind as Chandramukhi in the Shah Rukh Khan and Aishwarya Rai starrer Devdas directed by Sanjay Leela Bhansali.
The only thing that could match Madhuri's acting skills and persona in the movie was her stunning 30 kg lehenga which she pulled it off with such grace that only she in the entire Hindi film industry could have done it with such effortless ease. That could be the reason why it must have given jitters to other actresses in the Mumbai industry.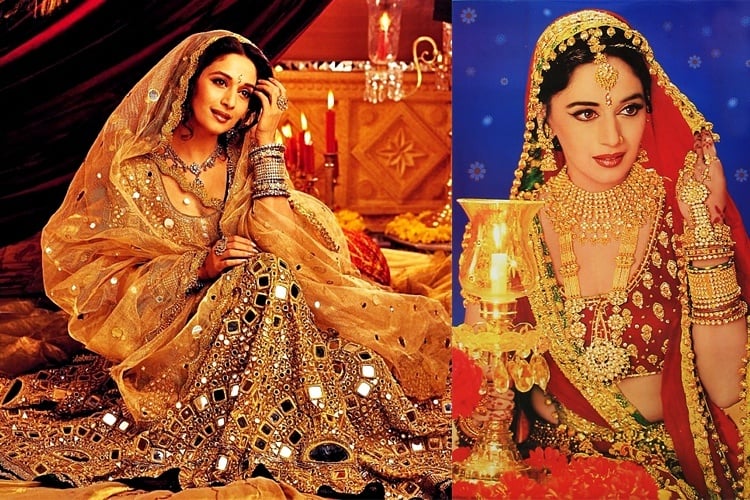 Deepika Padukone In Bajirao Mastani
It might be her first role in a period film but Deepika Padukone overpowered her contemporaries in her absolutely out of the world and iconic costumes designed by Anju Modi.
No doubt Deepika looked every bit of Deewani Mastani in her royal, strong and fearless performance.
Aishwarya Rai Bachchan In Jodha Akbar
In a similar vein, it's hard to forget Ash's costumes and getup in the film Jodha Akbar where she played a Rajput princess.
The elaborate jewellery which took you back to Mughal days and the colours of the costumes Aishwarya wore pumped up her regal look by leaps and bounds. It was double beauty at work, if you see!
Karisma Kapoor In Zubeidaa
Okay, we know Lolo stole our hearts with her histrionic performances in umpteen movies dancing away to songs but it is in the film Zubeidaa where she truly impressed with her majestic costumes as she played a Rajput princess.
Recall her fabulous traditional costume that comprised of a kanchli (inner-wear with sleeves), kurta (which is a kind of sleeveless blouse), and flowing and pleated ghagra (skirt).
[sc:mediad]
Kareena Kapoor In Asoka
The hot and beautiful Bebo who is very much present in Madame Tussauds London stunned us with a different role in the film Asoka where she looked every bit a sensational and beautiful princess.
It's tough to forget her heavy eye makeup, bustier-like blouse and inked skin which added detail upon detail to her Bohemian look as she played Princess Kaurwaki. Though the movie didn't send cash registers ringing, yet Kareena Kapoor is remembered for the costumes she wore.
Priyanka Chopra In Bajirao Mastani
Talk of period films and period costumes and Piggy Chops has only proved she can play history-backed roles to perfection.
In the recently released Bajirao Mastani, Priyanka Chopra was draped in 85 nauvaris (which are 11-meter Maharashtrian styles sarees) as she played an ordinary Peshwa wife to Ranveer 'Bajirao' Singh.
And yes, the heavy traditional jewellery and equally elegant 9-yard Maharashtrian saree that Chopra babe wore transported you back to the Bajirao era.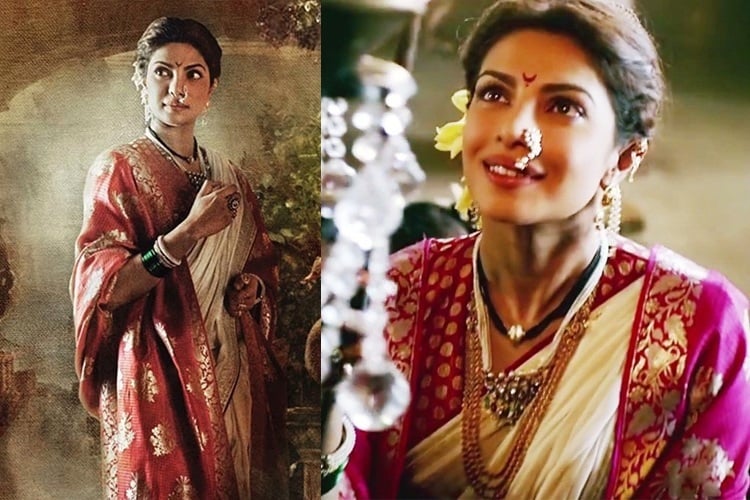 So which of the period film and costumes are your all-time favourite? We are waiting to hear your answers.