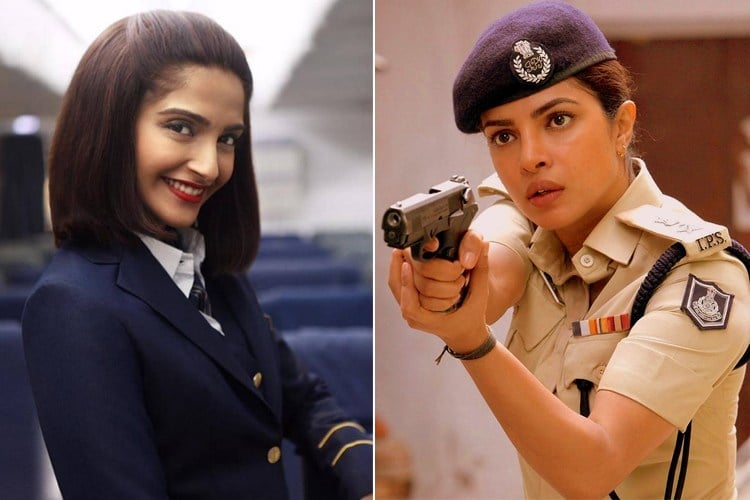 Box office clashes in the year 2015 have created a sensation in media and social media. And you know the two movies we are hinting at which were released on the same day in December 2015.
What have also created equal news value are star kids and superstar parents. But amidst all this, have you ever heard of 'girl power'? And no, we aren't hinting at a politically inclined subject, but something that is becoming a subject of attention in films of late.
Yeah, girl power is a topic that is becoming the center of attention in media and Indian cinema of late. Particularly in apna Bollywood where woman-centric movies have become popular like anything, leaving the usual song-and-dance movies and mindless comedies way behind.
The year 2016 is all set to show and showcase women in a powerful light. And we are not referring to naach-gaana, lip pouts, size zero or war over wardrobes. But something that's positive, humble, inspiring, worth watching, and pure entertainment, entertainment, entertainment (remember Vidya Balan's famous dialogue in the film The Dirty Picture).
I share with you four such clap-worthy female-oriented movies which revolve around woman empowerment and girl power. These are cinematic renditions we can't wait to watch. Make note of these in your 'must watch' list as they could change the definition of how girls fare in the Indian society and how they are super talented in spirit than their male counterparts.
1. Jai Gangaajal
The trailer of this Priyanka Chopra starrer has been released last year in December. And boy oh boy Priyanka Chopras' killer instinct and brilliance in playing the tough role of a cop is a sure delight in this movie.
Do you recall the Tabu starrer movie Drishyam where she stole the show and hearts as a hard core cop? Interestingly, Jai Gangaajal is much in the same vein, and way beyond the meek, modest and humble character played by Priyanka babe as Kashibai in Bajirao Mastani.
2. Neerja
Girl power reaches new heights of excellence and ecstasy with this upcoming flick Neerja. This powerful film narrates the story of an airhostess Neerja Bhanot, who died while saving the life of 300 passengers. The role has been effortlessly played on screen by Sonam A. Kapoor who am sure will do full justice to the real-life story. Hats off to Sonam for bringing into life the inspiring and tragic story of Neerja Bhanot! Films such as these are sure inspiration for many more air hostesses and cabin crew.
[Also Read: Sonam Kapoor Reveals Her First Look As Neerja Bhanot!]
3. Chalk N Duster
What can you expect when two powerhouse of actresses, one bubbly and the other a master in parallel cinema come together? Entertainment that's pure delight! Yeah, Juhi Chawla and Shabana Azmi play the role of school teachers who just love to teach, but for the new school principal who makes life for them tough and difficult. We are sure this is going to be one great flick for movie watchers, particularly teachers.
[sc:mediad]
4. Haraamkhor
Am sure we can decipher everything from the name. But that isn't the case, dearies. The film Haraamkhor is about a school teacher beautifully played by Nawazuddin Siddiqui who loses his heart to his reel-life student played by Shweta Tripathi. Yes, we know Siddiqui Sahab has proven his acting skills tremendously but the one to watch out for in this movie is Shweta who has an equally crucial role to play in this film.
This goes to show that our Bollywood actresses have more fire in their performance rather than just in their looks. Surely, they will add more power to the box-office, and needless to say more meat to their roles (and by that, we certainly don't mean skin show). The B-town actresses have the gall in them to fight for the societal issues, no matter how small or big, and rightly so.
So this is to all movie watchers and enthusiasts. Do not forget to book your tickets in advance for all these films. Let the year 2016 show you how girl power can change the dynamics of the society and respect towards women.