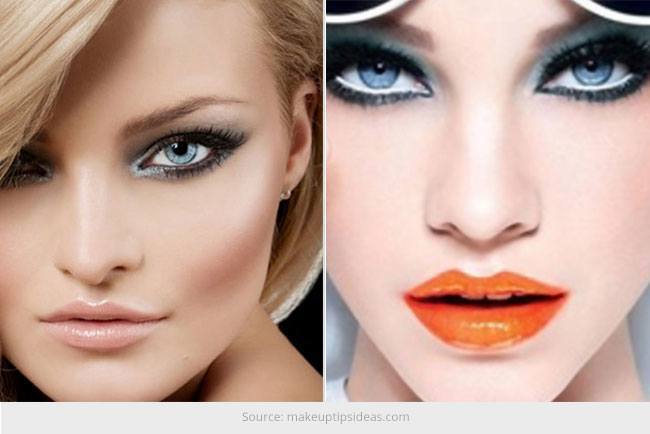 Blue-eyed syndrome it is which is something to watch out for. Yes, we mean the blue eyes in Cameron Diaz, Nicole Kidman, and somewhat in Aishwarya Rai Bachchan that leave us in awe. What a cool effect it is and sensational too. If you are fortunate enough in possessing blue pair of eyes, then get ready to adopt the make-up that would accentuate your heavenly eyes. Just like how there are fashion color tips for blue-eyed woman, there are makeup tips as well. Read on…
Sheer Shadow
Blue on its own is such a calm colour that doesn't require tons and tons of eyeshadow. All you can do is apply a little of sheer shadow or the lighter colours that will bring out the blue impact of your eyes in a dramatic way. This technique works so try doing it if you are one of the rare species having blue eyes.
Matte Shadow
If ever you feel the need to go out of a sheer shadow, then consider matte. Why because it goes well with your office look. But if you have a night out, then go shimmer and shine for that awesome look.
[Also Read: Best Eyeshadow Colors for Different Eye Colors]
Purple Impact
Now that you have out-of-the-world blue eyes, adopt purple eyeshadow as a makeup trick. Light shades of lilac colour go a long way in bringing out the blue colour in your eyes.
Overlapping Colours
The principle of overlapping means dabbing one on one. The same formula applies when it comes to doing make up for blue eyes. If you wish to apply different shades of sheer shadow, then go with light brown and copper tone. Doesn't this sound interesting as both these shades are light and would look great when combined together?
[sc:mediad]
Highlight
See to it that you highlight around your eyes. This will help in framing your eyes and brightening them as well. Better still, apply a lighter eyeshadow colour in silver or beige beneath your eyebrows and in the inner corner of your eyes to get that impact.
Navy-toned Eyeliner
With black eyes, we usually dab black eyeliner. In the case of blue eyes, it makes sense going with navy eyeliner. The impact it creates is awesome and beautiful since it brings out your colour in full mode.
[Also Read: Tips on Picking Colored Eyeliner]
Warm Hues
Blue speaks out iciness and calmness which is quite colour-enhancing. You can do that by adding a ton of warm hues such as browns, earthy shades. They would look great on your eyes as make-up trick.
Bottom Eyeliner No-No
Blue eyes look impactful and larger with no bottom eyeliner. If you are still eager to apply one, use white eyeliner instead along your lower lashline. This will help make your eyes look big and round!
Gold
With blue eyes of yours, there can be no greater pairing than gold eyeshadow. It is in fact enough to make your eyes look classy and stunning. Just apply specks of gold shadow and follow it up with a mascara coat before you step out to attract eyeballs.
Contrast
If you want a stunning look with your blue eyes, go for contrast. And so avoid using eyeshadows or eyeliners that match your eye colour. Put on something sparkly that will help you draw attention to your gorgeous blue eye colour.
Avoiding Blue Shadows
Since you are blessed with blue eyes, try and avoid another blue in the form of blue eyeshadow. However, if you don't want to shy away from your baby blue eyes, then go for a navy blue one. This will help bring out the darker shades of your eyes. Call it a trick or something, try and stay away from putting blue on blue
Whatever be the makeup for blue eyes, go for ones that suit your eyes and personality.
[Also Read: Puprple Eyes (Alexandrias genesis) Facts]