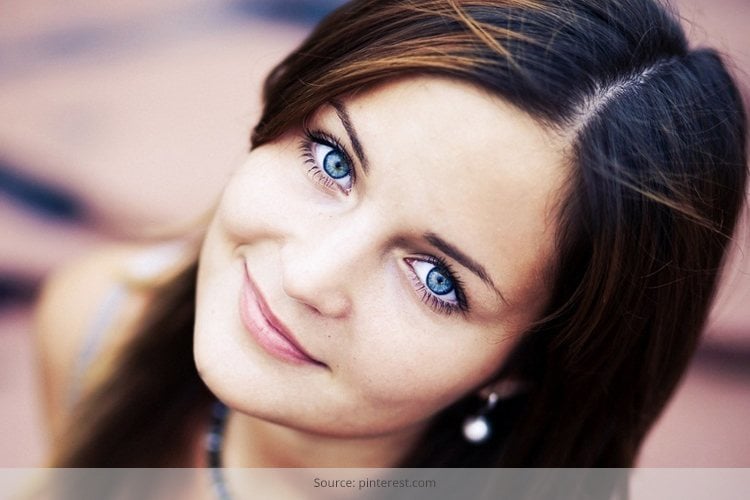 They say fair and blue-eyed women are the most beautiful and can pull off any makeup. While there is an array of blogs on makeup tips for these beautiful women, I find less to no posts on the color suggestions for them.
Since accurate color selection is very crucial, I offer you top 5 colors for your wardrobe, which can instantly enhance your personality, complementing your 'baby-blues'.
Do have a look!
White
The neutral shade – the classic white should be the fundamental elements of your wardrobe. No matter whatever your skintone is, you'll always look great in white, provided you've chosen the right undertone of this neutral hue. While you can always count upon lacy white; the floral beige can also be a great choice, which can give you a Lolita look.
What is a Lolita look?
As per Oxford dictionary, Lolita refers to a sexually precocious young girl. Lolita fashion is somewhat different. It is a street fashion originated in Japan during the Victorian era, where woman used to dress-up in a delicate doll look.
Since your major focus is on eye makeup, you can keep the rest to highlight your best assets.
The Butterfly Sleeve Embellished Off White Dress offered by Jabong is a great number to go for, if you are used to western outfits.
Even this sophisticated lacy white salwar kameez is an ideal choice if ethnic wear interests you.
Black
The classic black is a timeless fashion shade which complements almost every skin tone and eye color as well. This is my favorite color and I can just spend my entire life wearing black. You can check-out about my addiction with black here.
[sc:mediad]
That being said, here is an unbiased suggestion for my blue-eyed friends. You can blindly count upon this ebony shade, which can subdue your look thereby diverting the attention on your face. You can pick any style that best suits your body type and the occasion.
Apart from black, even deep blue or navy blue is another great choice especially of you're fair complexioned. Just like Nicole Kidman, the blue eyed Hollywood actress, who prefers black and navy mostly apart from red.
Whether it's an LBD or the floor-length anarkali, they are just going to complement the twinkle on your face.
Radiant Orchid or Purple
After Pantone has declared its official color of 2014, the radiant orchid has spread like wildfire across the globe, gearing up every fashion domain to offer their creations in this particular shade. Read here to know more about this hue.
The good news is the fashion experts have given a nod to this shade for blue-eyed fashionista. The fashioners, who are towheaded can go for this trending color to flaunt your fashion quotient at elan. This rich regal hue can instantly enhance your personality no matter whichever style you pick up; be it a gown, an anarkali, a sheath dress or even a jumpsuit.
However, you have to make sure the style suits your body type and height. For instance, if you fall in the petite group then avoid floor-length anarkalis and jumpsuits, which will make you look more shorter. Pick the outfit in rich material which will add some luxe elements to your look.
Shades of Red
Before we move further let's find out what are the shades of red.
The different shades of red are classified under hue, chroma (intensity), brightness and tone. These varied tints include pink, salmon pink, carmine red, carmine pink, coral pink, salmon, pigmented red, Pantone red, Ruby, crimson, rusty red, Imperial red and dark pastel red.
You can now pick any of these above shades to enhance your fashion take. If you are dusky or dark complexioned then avoid the dark bold red tints, instead go for the pastel numbers and also pink would do good. You can takes cues from the Valentino red as well and if you're more inclined to the ethnic style then you'll get an array of fabulous anarkalis, lehengas and saris in these shades without much effort.
Pastel colors
What are pastel colors?
As per Wikipedia,
"Pastels or pastel colors are the family of colors which, when described in the HSV color space, have high value and low to intermediate saturation. The name comes from pastels, art media characteristic of this color family. The colors of this family are usually described as "soothing","soft", "near neutral", "milky", "washed out", "desaturated", lacking strong chromatic content. Pink, mauve and baby blue are typical pastel colors."
Anything you pick in pastel and it will suit your personality. If you've blonde hair then lemon yellow and light green pastels can create wonders. For others, baby blue, beige and pink are the suggested hues. It's not a rule to only stick to the above specified pastels, instead you can always experiment with these shades to find out which one pops up your blue eyes.
While pastel was hugely trending this spring, you can easily find an array of designer styles in the the typical shades of pastel.
 Hope my blue-eyed fashionista have got some useful fashion cues for their wardrobe selection.
Merry Christmas and happy holidays!!