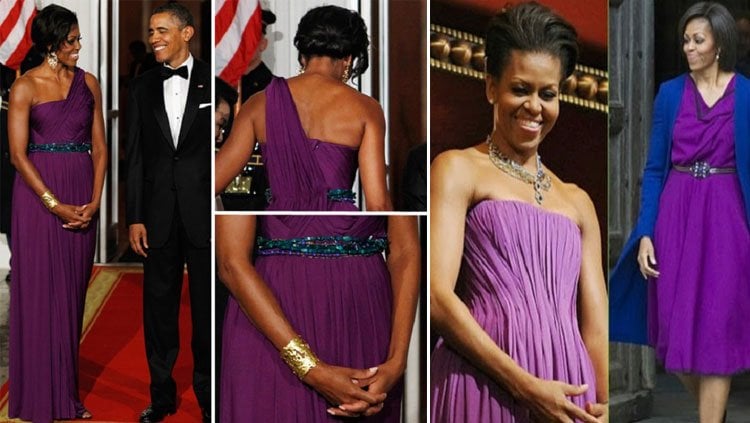 Has US First Lady, Michelle Obama influenced Pantone to choose the purple shade of Orchid as Color of 2014?
The color, which is Michelle's favorite and has been strongly associated with her fashion takes, has now become the official color of next year.
Unless you've been living under a rock, chances are you are following fashion world's news, both local and global alike. The biggest news which is doing round the corner in the fashion circuit across the globe is Pantone has declared 'Radiant Orchid' to be the color of 2014. This a color mix of fuchsia, purple and pink. The news has spread like wildfire, gearing up almost every business house that's some way or other related to colors; be it fashion industry, home decor, beauty and even wedding cakes!
FYI: Pantone is a New Jersey-based company owned by Danaher Corp, which every year polls graphic, fashion, industrial and architecture as per colors. It is best known for its Pantone Matching System (PMS), a color space restora-tive implemented in the creation of colored paints, plastics and fabric mostly.
What is Pantone Color Matching System?
This is a standardized color reproducing technique. After the standardization is carried out, various manufacturers refer to PMS theory to ensure the colors match without admixing with other colors.
In order to announce the Pantone Color of the Year, the corporation takes cue from color influences in various fields including entertainment, art, film and traveling along-with some creative contrivances by artists, at popular events and exhibitions.
Therefore, as soon as Pantone unveils its color for the forthcoming year, designs for the color are already initiated to flow with the latest trend. While home decor industry heavily relies upon the PMS colors, fashion circuit is equally inspired. This is the reason why we see a particular shade to be so much highlighted and everywhere.
Since odd paired colorings are in fashion today, so they have started a whole new era of artificial colors, which can go with almost every item right from clothes and kitchen appliances to footwear and wall color.
Let's have a look at the past decade's trending colors suggested by Pantone!
Cerulean – Color of 2000
Fuchsia Rose – Color of 2001
True Red – Color of 2002
Aqua Sky – Color of 2003
Tigerlily – Color of 2004
Blue Turquoise – Color of 2005
Sand Dollar – Color of 2006
Chilli Pepper – Color of 2007
Blue Iris – Color of 2008
Mimosa – Color of 2009
Turquoise – Color of 2010
Honeysuckle – Color of 2011
Tangerine Tango – Color of 2012
Emerald – Color of 2013
In order to announce the Pantone Color of the Year, the corporation takes cue from color influences in various fields including entertainment, art, film and traveling along-with some creative contrivances by artists, at popular events and exhibitions.
Replacing the 2013 Emerald shade, the radiant orchid is now the "It" color of the year ahead. Therefore, expect to see this peppy hue on almost everything right from cardigans to wedding cakes and from nail paint to shoes as well.
This Pantone color code 18-3224 will bring in confidence, warmth and harmony to the user. As per Pantone, this shade is enthralling, enigmatic and mysterious purple.
Leatrice Eiseman, executive director had this to say,
"Served as a symbol of growth, renewal, and prosperity, Radiant Orchid reaches across the color wheel to intrigue the eye and spark the imagination.… Radiant Orchid encourages expanded creativity and originality…inspires confidence and emanates great joy, love, and health."
This "It" color has already marked its advent through the spring 2014 runway shows of various brands including Emerson by Jackie Fraser-Swan, Juicy Couture, and Yoana Baraschi.
This fabulous mix of fuchsia, pink and purple undertones that radiate on the skin is going to be the next big thing in fashion for the coming year. Even this hue will dominate the fine jewelry world as its magical shade can make any accessory and ornament look far more attractive in typical shades of gold and silver.
This color has also become a popular topic across all prominent forum websites, especially after top fashion journals including Vogue, Glamour and InStyle have given a nod it and how we could ignore Michelle Obama's power fashion statements in this same shade.
Here is a snapshot from the forum. Do have a look!
This breathtaking tinge has already made me search for the accurate outfits, footwears, accessories and even beauty products like nail paint to ring in the new year with fashion advances.
If you're also the one who craves for grabbing the latest in the runway be it style, pattern, makeup or simply the cast, you are at the right spot going through this blog post. This edition purely elaborates this particular tint, thereby updating you with all possible fashion factors associated with it.
Extremely versatile, this magical Radiant Orchid can dramatically enhance any skin tone, making the wearer feel lively and happy. Since purple can easily complement any complexion, including hair and eye color, the fashion industry is hugely betting on this tinge. The versatile shade becomes all more encompassing and attractive when paired with red as well as its sister colors including lavender, purple and pink. Hence, beauty products such as lipstick and eye shadows can also be picked in this hue.
Even the RO's ebullience renders splendid finishing touch to nails with brilliant nail coats. This versatile cast can even go with deep green and olive numbers as well. For your more creative approach, you can pair it with teal, pale yellow and even turquoise to give more dramatic effect to your outfit.
And if your interest lies in neutral shades such as beige, taupe and grey frequencies; you can still stick to this shade for an additional effect. On one hand, RO can balance the bold hues; on the other hand it boosts even mundane undertones, thereby highlighting any color palette with a singular element to the saturation.
How to get fashion cues from the Color of 2014?
While everybody clinked to emerald last year, this year the fuchsia purple is going to dominate your accessories and jewelries.
1.  Jewelries
When we are talking about jewelries, the flamenco radiant orchid ring is already a buzz in the market. You can now choose your wedding ornaments this year in Radiant Orchid, as they are now available in pink sapphire, amethyst and rhodolite garnet, spinel and tourmaline. Therefore, this year you can buy a ring in this unique color and mark it as your statement piece attracting everyone's attention. For those, who are planning to get engaged next year, the solitaire rings are also available in this color. So, pick a dazzling purple-tinted sapphire ring and propose your sweethearts for marriage only to hear a 'Yes' in return.
Completely embracing the beauty of fuchsia, the amethyst is going to display your great fashion sense thereby leaving a lasting impression on your girl.
Not only rings, but you'll get all sorts of jewelries in this shade, ranging from bracelet, ear rings, pendants and even necklaces. Jewelry lovers are surely going to have a great time in picking up their favorite their pinkish-purple accessories. While the fashion enthusiasts have already collected these bedazzled pieces, you can also gear up and add some runway elements to your closet.
2.  Shoes and heels
For shoe lovers, this color is an absolute delight. Having gone through the array of foot wears in RO, I am now pretty sure, no matter whatever design or style you choose from heels and stilettos to suede boots and ballet flats; they are only going to enhance your look because of their brilliant hue.
Even before Pantone declared the Color of 2014, world's leading shoe brands, including Jimmy Choo, Christian Loubutin, Miu Miu, Dolce and Gabbana and Ivanka Trump have already showcased their creations in this hue at Spring 2014 fashion weeks in New York. The foot wears look amazing from classic to prints and even crocodile prints.
So, if you are thinking how to wear Radiant Orchid this year then these shoes can make a high fashion statement. You can now strut your fashion items in the Color of the Year and put forward your step in style.
3.  Radiant Orchid Bags
Visit any online bag store or handbag blogger and you will find this brilliant version of purple everywhere. Fashionlady team visited some handbag bloggers to find out what's the bag fashion world says about this color. And to our amazement, we found out their readers and customers have already adored this color and are going to score upon this shade for the coming 12 months.
A group of leading habdbag producers including Coach, Salavatore Ferragamo, Michael Kors, Tory Borch, Mulberry, MAC, Marc Jacobs, Times Arrow etc. have come up with an exciting range of bags, which are initially aimed at spring/summer 2014.
The Coach Madison Leather Satchel bag which is available at $458 highlights this orchid hue defining luminosity of Radiant Orchid. This time, Coach has not focused on the display of logo; rather its signature style canvas bag says it all. And the radio-active orchid tint just adds glamorous elements to this female accessory. Below displayed are some fabulous creations by leading brands.
These bags can spin any mundane look, pulling it off with aplomb.
Radiant Orchid Beauty Products
When talking about fashion, this edition is going to be incomplete without beauty items. While fashion runways as well as high street fashion have already geared up for this beautiful tint the coming year; the beauty world is no left behind. You will find an array of makeup items in this cast.
4.  Nail Polish
After the Tangerine Tango and Emerald, this purple tincture is all set to glamorize your nails. This ultra-chic and romantic number is already available by some of the popular nail paint brands such as O.P.I, Formula X for Sephora, Alessandro, ORLY, ncLA, Pink Orchid, Velocity, China Glaze, Illamasqua, Color Club, Plum Power and Queen Vic to name a few.
OPI offers two beautiful shades – I'm Feeling Sashy and Pamplona Purple. You can pair them with any of your outfits. They will not only jazz up your mood but can complement any occasion as well.
5.  Eye Shadow
World's leading makeup brand MAC offers an array of makeup items including eye shadow in this brilliant chroma. Apart from MAC, other top brands have also launched some beautiful collections.
The Indian Pink Eyeshadow Palette by Yves Saint Laurent Ombres, which is available at $58 looks great on Indian as well as other Asian skin tones. Even Marc Jacobs offers a splendid item – Punk 104 which is available at $42 is another superb shadow to go for.
Illamasqua Pressed Eyeshadow in Savage and Sugarpill Pressed Eyeshadow in 2AM are great summer shadows, which you can pick for the coming summer months.
6. Lipstick
While top celebs like Emmy Rossum, Beyonce, Selene Gomez and Lupita Nyong'o have already donned this lip color at various public events early this year, lipstick brands such as YSL, MAC, Smashbox, Marc Jacobs etc. have geared up to add some glamor to your pouts.
[sc:mediad]
The Sephora beauty house on the other hand offers a brilliant lipstick – Radiant Rush Matte at CAD $22, which easily blends with any skin tone and mood.
7.  How about coloring your inner fashion with this Pantone Color 2014?
Whether you're planning a beach trip or just going to swimming pool, you can go into the water in style. Even bikinis and swim suits are available in this color. The ViX St. Martin Bikini is the latest in the market perfect for all beach and surfing lovers. It comes in a beachy print, so as to keep up the mood while adhering to the color of 2014 as well.
Apart from these flashy beach wears, even lingerie are now available in pretty purple shades. The Hanky Panky lace thongs and the Natori Feathers Contour Plunge Bra can instantly set the mood in bedroom. Even the Guadeloupe Purple Full Cup Bikini is seductive lingerie you can go for.
8.  Radiant Orchid for Weddings
This beautiful shade is all set to brighten up your D day as well. Apart from the tranquil white, this orchid shade is going to dominate everything from wedding cake, decorations and drink featuring gin, lavender syrup and club soda to your wedding ring.
Even the winter brides can pack up a Catherine Deane dress featuring a scalloped V-neck and raised floral embroidery bodice and faux-fur collar Anthropologie to cozy up.
Wedding Outfit
The traditional white has taken a backseat for now, as the fashion world has decided to paint the dress with some beautiful colors for a change. If you still want to stick to the traditional white for taking vows then you can pick a ravishing purple dress for your wedding party that complements your wedding theme as well.
 You can or else add a tint of this solid color to your dress, such as a purple ribbon under your bust or even the veil in this shade.
Wedding Bouquet
When lavender is always a preferred flower for your wedding bouquet, you won't have to work much in fitting into the theme. You can use orchid to perfectly follow the Pantone's announcement. Even you can add hyndrageas and roses in pink and purple shades to create a beautiful bouquet.
Wedding Centerpieces
Since RO is extremely versatile, it can make a great centerpiece in your wedding decorations. You can create a Spring/Summer theme for your party by adding pastels or a Fall/Winter look by adding other bold shades.
Wedding Decorations
The purple orchids and lavenders are an ideal choice to decorate the venue. Apart from using those flowers as centerpieces, you can use theme-based table instead of the traditional white table or else you can use the theme shade for chair covers and table cloths. To add some more glitter to the decor, you can hang purple balloons instead of white and red and even some cute hangings in the ballroom area. If you're using trees and veils in the decoration then simply string the Radiant Orchid in between them, including other existing fixtures.
In order to avoid overdoing the hue, you can balance the wedding theme with the soothing turquoise and olive green to jazz up the interior.
Wedding cake
Apart from the bride, if something else that deserves attention is the sweet confection – your wedding cake. When you make sure your cake should be perfect and enticing just like your outfit and the theme, you can add the RO factor to make it the connoisseur of everybody's eyes. All you do is to contact your cake store and customize it as per your requirement. I am pretty sure even the cake stores would be having a catalog full of desigs in purple and pink.
Menu
Surprisingly, the wedding menu can also render you to stick to the theme. You can add cake-pops, martinis, eggplant, grapes, soup puree, juice, drinks and even ice-creams in purple shade, which not only are a delight for the eyes, but bon appetite as well.
Bridesmaid Dress
The Radiant Orchid can easily be incorporated into the bridesmaid dresses as well. You can set your gang of bridesmaids in this bold yet convincing hue to complement the theme. There are numerous designs and styles already available in the market, thereby making your work simplified and quick.
9.  Radiant Orchid Sunglasses
While the entire fashion world is now immersed in Pantone Color of 2014, the fashion eyewear is of no exception. Just like all other accessories, the eyewear fashion has always adopted the runway shade and this time it has picked the orchid version.
The Gucci GG3548/S is the latest in style. The temple of this eyewear features the Gucci logo in shape of the heart and looks ultra-chic and feminine.
The eyewear, MJ408/S offered by Marc Jacobs comes in Violet Blue. This number is rather sporty and funky with over sized frames and tricolor temples.
Even Tiffany offers a fabulous piece in violet/plum shade – TF4054B in classic over sized glasses and the frame being embellished with floral crystals as a glamorous touch.
10.  Radiant Orchid Nail Art 2014
Ever since Pantone has announced the Color of 2014, the entire fashion world has rushed for a color update, including the nail art circuit. You will these days find almost every nail blog artist to share some their nail art designs in radiant orchid theme.
Some stick to the purple hue, others rather prefer to paint the flower on the nails. Because of the brilliant shade, the nail art designs can look fabulous against any skin tone. If we look at this design, it seems to be a branch of the orchid with petals, leaves and bud on every nail thereby giving a dramatic edge to the artistry.
These were my top 10 RO factors, which are going to dominate the fashion world 2014. I hope I have more or less covered all fashion essentials. Please let me know if I have skipped anything related to Radiant Orchid Fashion.