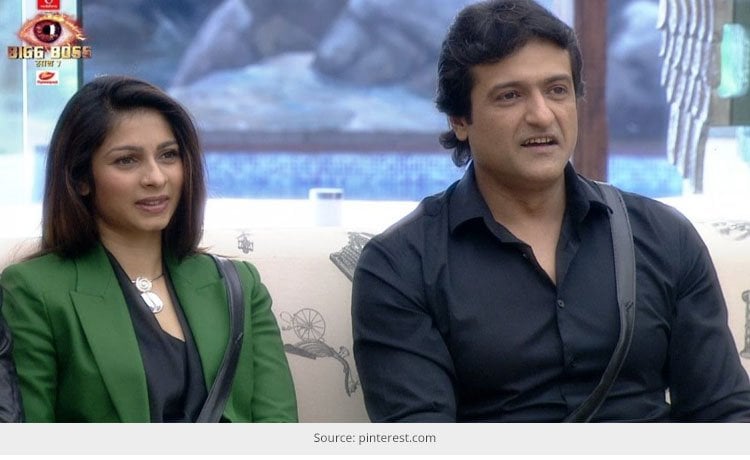 With only 4 contestants left in the big bad house of Bigg Boss Season 7, the competition gets rougher, tougher and meaner by every minute. This season has witnessed the highest number of brawls, abuses and violence meted out by the inmates of this popular house.
Bigg Boss 7 finale is going to to there in some time. We would keep you posted about the outfits contestants wear specifically Tannisha & Gauhar Khan finale outfits. We hope anyone between Gaukhar or Sangram wins this show.
Also, this season was witness to several beautiful ladies: Eli Avram, the swedish-greek model and actress ( a favorite contestant of Salman Khan)., Pratyusha Banerjee who plays the role of Anandi in long running soap "Balika Vadhu", popular television actress Shilpa Agnihotri and the current contestants Gauhar Khan and Tannisha Mukherjee.
Amidst all the hullabaloo, fights and conspiracies, these ladies sometimes manage to find time to glam up in stylish outfits. While going make-up free most of the days, they have their bad hair days, acne issues and dark circles on the show. But, they do make an effort to try out different outfits and add a pop of color with make-up occasionally apart from their track suits and sweatshirts.
Here are some fashionable moments from the crazy and whacky house of Bigg Boss 7:
Gauhar Khan has been wooed by two Mr. Right on the show I.e Kushal Tandon and Ajaz Khan. She also is perhaps one of the most glamorous ladies in the house with her hot red pouts and casual chic. Whether it be tight skinny jeans or casual skirts, it doesn't take her much to look naturally gorgeous on the screen. We noticed her coloring her lips bright in coral pinks and bold reds.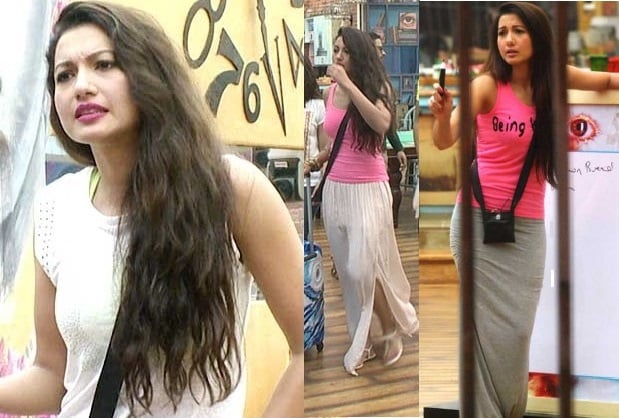 Check out her outfits on three different days where she let her lovely hair loose and rocked the casual look with pink tank tops, grey figure hugging skirt and a white flowy long skirt.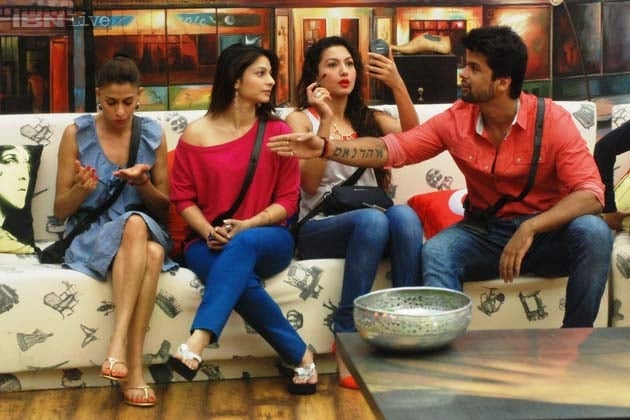 This is another fashionable moment from the house of Bigg Boss where the three gorgeous ladies are seen in different fashion and style statements. Tannisha looks cool in an off-the-shoulder pink top and blue pants whereas Shilpa's pretty, ruffled grey frock and high ponytail giver her a girl-next-door look. Gauhar adds a bright pop of color to her outfit with neon heels and bright red pout.
How about this bohemian, earthy toned maxi dress sported by Gauhar? She completes the look with a pretty, colored necklace and her long hair let loose.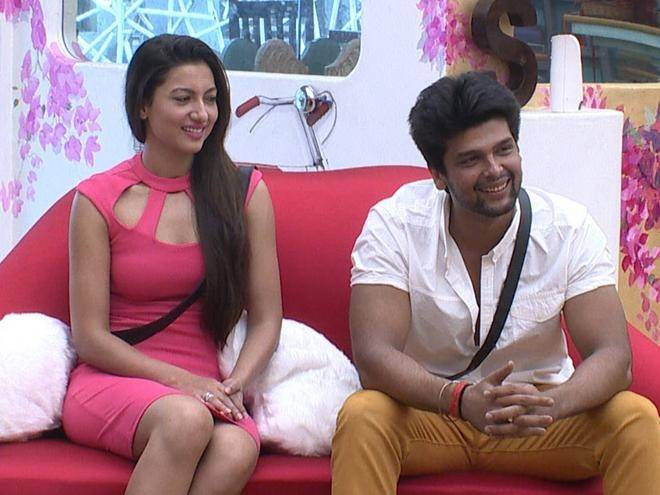 This bubble gum pink dress with a unconventional neck works well for Gauhar Khan in the house of Bigg Boss 7.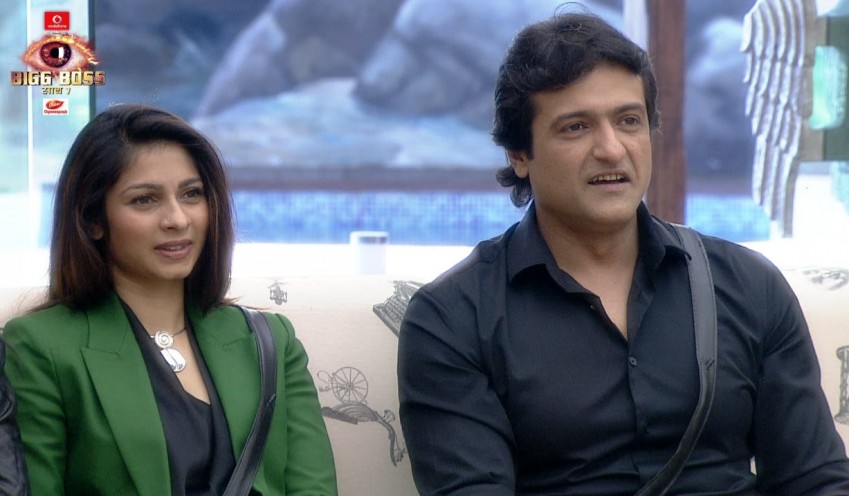 We like the green blazer sported by Tanissha Mukherjee along with a chokher style neck piece. She often highlights her simple and daily outfits with chunky neck pieces made of beads and pretty colored stones.
[sc:mediad]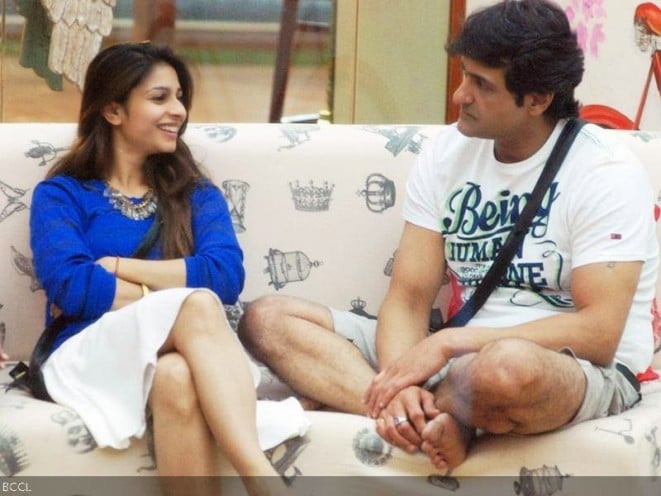 This navy blue sweater-shirt and white skirt gives a school girl appearance to Tanissha Mukherjee. She adds some drama to the outfit with a statement neck piece.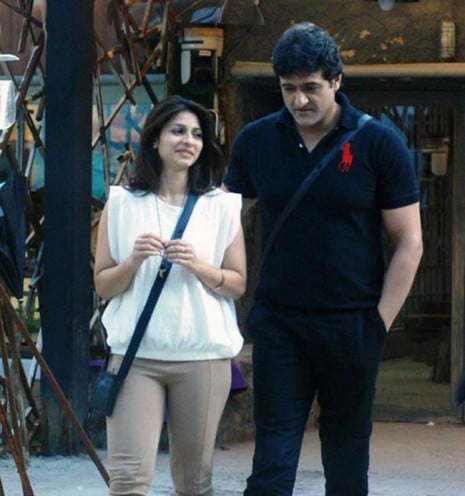 Tanissha's over-sized top and fitted beige pants are well balanced out.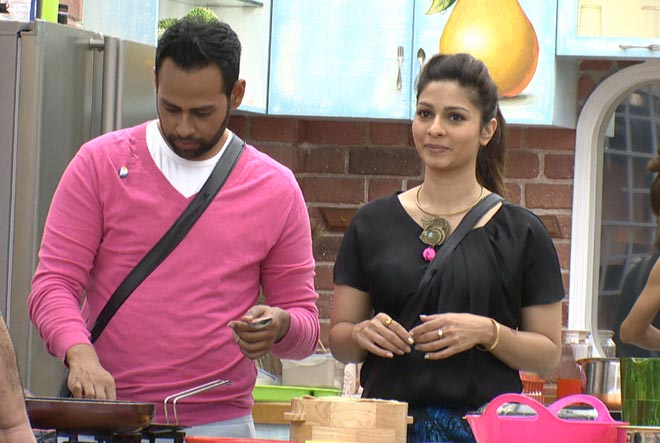 We think Tanissha looks really pretty in the black pleated top and a ethnic style neck piece. She has made an effort to do her hair and light make-up adds a soft flush to her face.
We do not know who the winner of Bigg Boss 7 would be, but can definitely say that Gauhar Khan wins the title of most fashionable contestant in the house.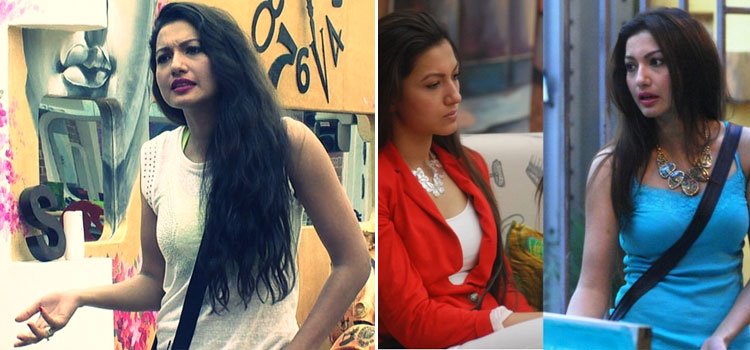 Let us wait for the latest update of Bigg Boss 7 to know who may emerge as the winner of the cash prize! The grand finale of this show will be aired on December 29 th, 2013 when the winner's name will be revealed. Who are you voting for – Gauhaur Khan, Tanissha, Andy or Ajaz Khan?
Images Source: pinterest.com