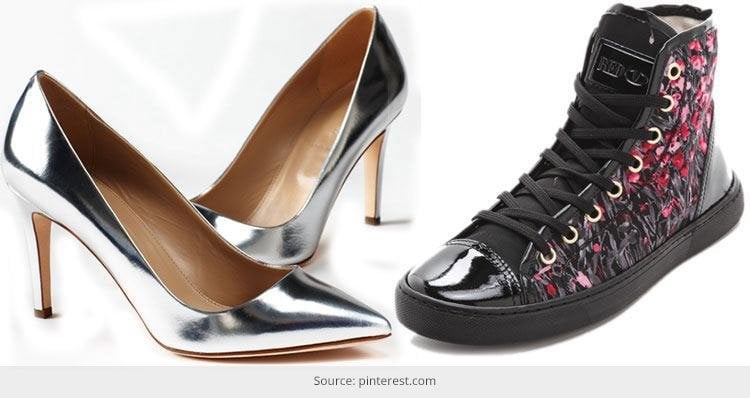 1. Color Block Heels
My shopping for Christmas is done and I hope you are also all set for the great Holiday season ahead! This time, the color block heels are one of my favorite shopping items I'm scoring upon heavily.
[Also Read: Yellow Footwear Trend]
There is no denying of the fact that the color block trend has become super popular this year and I have a strong intuition that this contagious fashion fa is also going to sustain the coming year as well. Reason being, Hollywood celebs including Rihanna, Tyra Banks, Emma Stone, Camilla Belle and Emmy Rossum were seen heavily promoting the color block trend, which is extremely versatile adhering to regular wears, shoes and even the red carpet outfits.
When it comes to footwear, color blocking doesn't mean you should pick a rainbow-colored pair. Instead, you'll get an array of deigns in subtle shades. no matter what color scheme you go for, they will add the retro flavor to your look. Being versatile by nature, you can wear them in day as well as with your evening wear. The best you can do is to pair them with a neutral shade to keep them under the spotlight. Since there are no specific rules to choose the color blocking patterns, just make sure you do not show up in color blocks from head to toe.
2. Studded Loafers
Since studs are commonplace this season, i couldn't lt go of my wish list. Studded loafers may seem to some as weird because of their mishmash of contradictions. However, this style strongly represents the rock & roll days, while being preppy at the same time. They are casual and can also greatly complement your party wear. Just like the color block heels, these shoes can easily incorporate into both "daytime" and "night life" fashion alike.
For your Christmas plus New Year bash ahead, you can ditch your stilettos, instead slip into these studded flats to give an edgy look to your cocktail dresses. Even they are a great addition for flirty skirts jeans. So, you can pair them anything except for the ethnic wears.
3. Striped Platform Wedges
The stripes are now ripe for the picking, so you can bring back the summer monochrome fashion on the wheels to enjoy the last weeks of 2013 in high street fashion. The classic black and white can go with any season. After having paired them with your nautical ensembles early this year, you can now wind up the year with a great pair of striped wedges. Even a boring maxi dress can get a dramatic makeover by pairing it with these shoes. You can also pair them with your jeans and also the cute skirt hanging in your closet which is not getting a chance because of this unforgiving weather.
4. Metallic Pumps
Metallic pumps have had some major fashion moments in Hollywood this year, taking over famous feet as of late fromKaty Perry, Miranda Kerr, Kim Kardashian and Emmy Rossum to Olivia Munn and Julianne Hough. The metallic heels in gold and silver were shining all over the past fashion runways.
The ability to instantly dress up any ensemble, be it a pair of denims or LBD, has enabled these heels to be among the top 10 high end fashion elements. Now jazz up your winter wardrobe with metallic footwear, such as Jimmy Choo which offers these pumps in both silver and gold accents.
Your fashion take can never be wrong with these trend-setting metallic numbers and moreover, let you be the spotlight in the crowd. Now dump your boring heels for this high shine glamour quotient. Let me tell you not only this year, but this metallic craze is surely going to make you walk radiantly with elan.
5. Floral Printed Sneakers
If you thought sneakers were only confined to your happy old school days then you're very wrong. Neither these casual shoes are reserved for athletes as well. The floral sneakers by Valentino can give heavy competition to other foot wears. You can maintain the spring look, whilst keeping your feet warm against the freezing winter. No more of freezing your feet in sandals and wedges, instead walk in those shoes, which complement greatly to your outfit. You can pair them with your skinny pants and even with your favorite skirt.
Hope you enjoyed this post and got some useful footwear fashion tips!