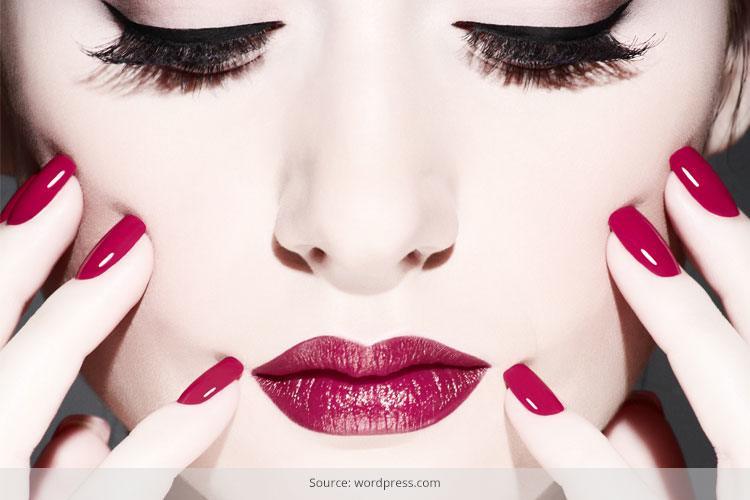 Has the trend of bold lips overpowered the nail art this season? From a recent study it is seen that the growing lip trend has apparently killed the nail art.
Let's find out how
The year 2013 was all about bold shades, be it's apparels, accessories or makeup. While the vibrant neon trend was quite a rage in the early months, it was then slowly taken over by the bold and bright shades of fashion. While there was a subtle balance maintained in colors for apparels and accessories; the beauty world on the other hand witnessed an enormous demand for bold makeup elements, bold lips being the most popular.
The 2013 Google search has shown that the lipstick has surpassed nail polish, thereby becoming the most searched for makeup item of this year. This ultimately confirms the growth in sales of lipstick while a decrease in nail polish sales. Well, hold on there is also another receding factor involved in it. Because of the launch of new age glitter nail products with special effects and not to mention the nail stickers, the basic polish ahs therefore taken a back seat for now.
Now having said that we can't even deny the fact that the bold lip trend is a huge rage these days, thanks to the high end fashion runways, where models of every leading brand were sent down in cat eyes and bold lips. So, it's for sure this trending beauty element will be around for some time to come.
The bold lips were all over the runways. Several makeup artists from leading runways across the globe including New York Fashion Week, Paris and Milan Fashion Weeks were interviewed and almost everyone came up with classic red and berry for pouts and black for smokey eyes. Apart from the classic red, other pretty shades of purple, oxblood and orange-red were also played upon on the runway! I specially liked the trend of bold lip paired with some fun textures of fall such as metallics, tweed and leather.
Like the perfect pair of heels, an amazing red lipstick can transform even a mundane regular outfit into something startlingly chic. You can take cues from this year's Oscar Red Carpet as well. Do a rewind and check out how Angelina Jolie's red lips and Rooney Mara's matte lipstick gave a classic twist to the new age look.
Here are some fabulous tips
Do not let in the chapped lips this winter. And take this as a thumb rule
In order to get the pitch-perfect crimson pouts like those of Rihanna, you'll have to exfoliate your lips regularly with a wet cloth and then dab them with plenty of lip balm before going to bed
Always go for a lip liner that matches the natural color of your pouts rather than matching it with the lipstick you're going to wear
Now after defining your pouts, fill them using a tiny brush. Start at the center of your mouth and blend in outward direction
[sc:mediad]
Suggested products
The Nude Liner by Smashbox is a great product to go for as it is easy to blend, plus it lasts for long hours and is available in 4 beautiful shades
To get the runway look, you can go for MAC's Red, a blue-based crimson like shade, which can dramatically brighten up your smile. Plus, this particular shade can suppress any discoloration of your teeth through its cool undertones
Even 318 Retractable Lip Brush from MAC is another great product, which gives a seamless finish, and because of its compact size, you can carry it all the time for touch-ups on the go
Suggested shades for dark complexion
You can either be dusky or have a darker skin tone. You should always choose red with a brown base i.e. brick or rusty red. And if you've skin tone like that of Bipasa Basu then go for deep rubies with a hint of pink, like the Rouge Allure Velvet by Chanel. Even burgundy would suit you. You can get a variety in this shade from Lakme. Always remember to go easy on eyes when your pouts are dramatically set up.
Suggested shades for fair complexion
Fair complexion is always prone to redness. In order to avoid this, you should prepare your skin with a little foundation. And when looking for a lipstick shade, go for sheer or blue-based reds. Revlon's Color Burst lipstick in True Red is one of the best lipsticks for your skin tone. Even though the shade is bright, it doesn't look harsh against pale skin tones like that of Gwen Stefani.
Suggested shades for olive complexion
If you have an average skin tone like Sonam Kapoor then you can easily pull off any red — even a super-bold hue like NARS's Heat Wave can complement your look. Because of your complexion's warm undertones, red becomes your best friend be it makeup or outfit. To have a clean look, avoid wearing bronzer, as you would end up overdoing it when paired with intense lips. A touch of concealer and a quick swipe of mascara or black liner will look good.
What if this bold red looks harsh on me?
If you're naive of too much of red then you can try out a lip stain instead like the Rouge Pur Couture Glossy Stain in Orange de Chine from YSL. All you have to do is to dab a bit of it on the center of your pouts and then smack them together. The resulting effect is a youthful and soothing rosy finish just like a cherry Popsicle.
What eye makeup should I wear with bold lips?
As I have already suggested you to go for a clean makeup so as to keep the focus on lips, that doesn't mean you have to keep all other makeup essentials at bay. Unless you want to channel a retro look with bright shades all over the face, you can stick to sheer neutrals for eye shadows and blush. There is even no harm in going for full lashes, provided you're wearing soft metallics and earthy shades.
Hope I have convinced you enough to try this runway look! Now is the time to get on board! Pop up your pouts with some classic red and flow with the trend.
Stay tuned!