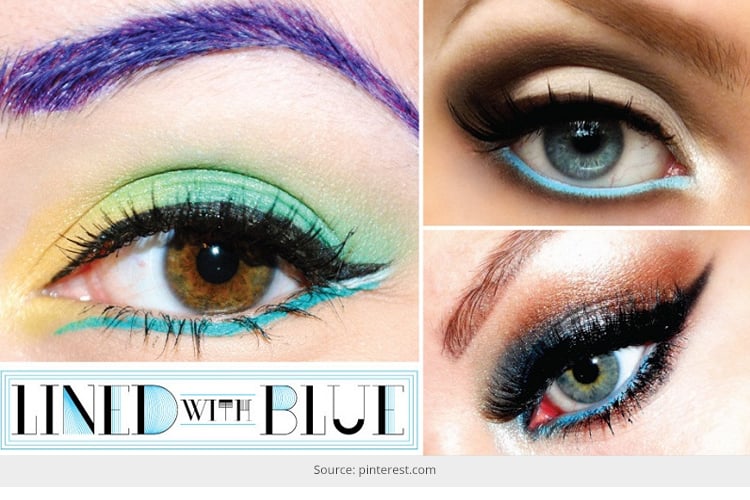 Colored eyeliner is one of the trending fads this year. Even though nothing looks sexy than in black, this shade has taken a back seat for a while, as the fashion domain is keen on sending down their models in different shades in various fashion runways. Apart from the fashion weeks, celebs are going daredevil with bright shades on their upper as well as lower lids at red carpet events to public appearances.
So, if you're still struck to the black shade then it's time to go for a little makeover to help you dazzle like a diva. And I assure you'll fall in love with the colored pencils, in the same way you love your traditional black eye liner. I am also not asking you to replace your black pencil with a red or purple one, but it's just a glamorous addition to your makeup kit.
How to apply colored eyeliner?
When it comes to applying makeup, we usually follow the same basic steps i.e. a primer followed by tan eye shadow, we then apply our eyeliner (in different intensities i.e. thick or thin) and curl our lashes and finally a goodbye kiss with mascara.
Here are few hot tips on colored eyeliner to help you adopt this latest trend at ease. Do have a read!
1.  Don't pick a color say red only because it's your favorite
I know when it comes to color selection, we just can't hold our temptation and pick the color that is our favorite. For instance, "Oh, I love red, let's do red!" You can take this privilege when it comes to apparels, but I'm sorry you do not have that liberty when it comes to makeup. You should always pick a color than compliments your skin tone and if it's eyeliner then you should choose that color that suits your eye color; say if you've sea green eyes then you can go for olive green eyeliner to create a flattering look.
If you have hazel eyes then you can opt for a dark rose shade and for blue eye balls, the matching shade or a copper color will do. If your eyes are brown then olive green is a pretty color to go for.
The Makeup Forever brand offers 24 beautiful eye liners to match every eye. You can pick one and use it both as liner and eye shadow. The brand claims to give a long lasting effect, so you can give a try!
2.  Do not get carried away
It's human nature to easily get carried away when we come across some attractive pictures in any glossy magazine. When you see a supermodel or your favorite celeb wearing a color, do not pick that color blindly. Instead, it's suggested to be practical with your style. So next time if you come across a teal cateye makeup, do not make it your choice if it's not your type.
[sc:mediad]
3.  Keep the rest of your makeup simple
Just like you wear a nude lipstick if you've gone for smokey eyes, in the same way you should keep rest of your makeup minimal when you've highlighted your eye lids. The colored eye makeup either look tacky or is hidden, when paired with a glossy lipstick, bright cheeks and teased hair. The best way to flaunt your colored eyeliner is to pair with a high ponytail and natural makeup.
4.  Don't play too much with colors
You have been using eye shadow for years, which have always enhanced your beauty quotient, making your eyes look more glamorous and beautiful. This time, you've to keep it aside when you've decided to highlight your lids with colored eye liner. You can however go for some neutral shadows for your brow areas and not to mention stick to the traditional black mascara. In this way, you can be saved from over-doing your look.
5.  Picking eye shadow
As I have already mentioned that colored lids can look great when accentuated with neutral shades, so pick a light shade for eye shadow. A creamy color can work best. You can either go for a shimmer-based or just keep it simple to let your lids do the talking. Your eyes should not end up looking like a painter's tray.
Hope this helps! Do share your preferences and likeness and we'll guide you with some appropriate beauty tips!