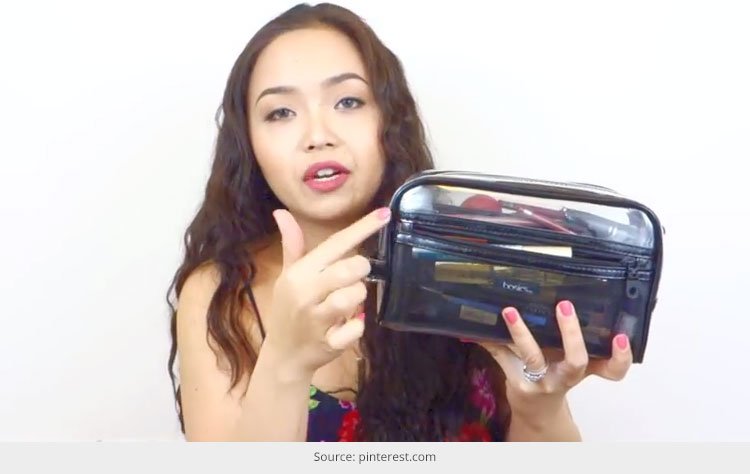 The holiday season is here, which indicates lots of traveling. With airfare rates along-with limitations to luggage soaring high, it has become quite difficult for the travel fashionista to carry all of her preferred ensembles and beauty staples without paying extra bucks. While we all visualize the glamorous fashioners traveling with style, ask them and they would tell you they have just become a smart traveler rather than a fashionable jet-setter.
These days, traveling has become the flip side of fashion & beauty, as you could see a hike in baggage fees, long queues of security checks and the lengthy rules on carrying beauty staples. I feel so annoying when I have to pack my stuff as per the limitations set by the airport rule book. I am not the only person and I know there are several other women out there, who have to sacrifice their concealer over shampoo or foundation for perfume.
This is the reason I decided to share with my darlings a few tricks to help carry your makeup kit without any compromises.
So, before we jump into the tricks let me just give you some important info on what all you can carry in your makeup kit on board. Do have a read!
Firstly, it purely depends where you're flying to, as baggage regulations vary from one country to another. However, countries like US, Canada, Australia and European nations follow strict regulations as compared to Asian and African countries.
If you're traveling to US for instance then these are the guidelines you need to follow –
A strict no to oils, gels, liquids and anything that exceeds 50 ml. While your perfume should not exceed 3 ounces, your makeup items should not exceed 1 liter as a whole.
Your makeup kit should be a plastic bag and transparent with a ziplock. When it's said you cannot carry more than 50 ml of any liquid that does not mean you can carry a 100-ml oil half empty. The rule says the original capacity of your container should be within 50 ml
So, the bottomline is you can carry makeup on board until and unless they are within the set weighing values.
Now some smart tricks to help you carry your beauty staples without any sacrifices. Continue reading!
Trick 1 – Create a list
Creating a packing list doesn't mean you've to scribble on any piece of paper you come across. Sometimes, we plan out things long before our travel date. And such piece of paper may be easily lost. So, it's better if you save the list in your smartphone or iPod if you're carrying. This list will save you from the last minute rush and keep you organized.
[sc:mediad]
Trick 2 – Condense the foundation items
I am not asking you to leave you concealer and foundation, but you can opt for something that is always light and compact when it comes to traveling. How about carrying a foundation stick instead of bottle? Apart from blending all of your dark spots smoothly, these sticks also get a green signal from the security. So, you can think about them.
Trick 3 – A multi-tasking eye shadow and mascara
Instead of carrying the entire painting stuff, how about using eye shadow for highlighting your cheek bones as well? The same you can do for eyes as well. You can simply carry a mascara and a convenient brush to use it as eye liner as well.
Trick 4 – Less is more
Try collecting some miniature cosmetic samples for your shampoo, conditioner, oil, face wash, exfoliators, serums and anything that you need for your daily routine and available in miniature sizes too. These products are not meant for your travel bag but for your quart bag. I am only helping you to keep the weight of your luggage to minimum to save you from baggage fees.
Trick 5 – Customized compact
If possible go for a custom-made compact. i know it will cost you bit more, but be assured it will only save your space, time and the stress during custom check-in at airport.
Your travel compact should be a 6-pan refillable box. You can get it from brands like M.A.C, Bobbi Brown, Elf and Urban. This should be your one-stop solution, in which you can carry shadow to highlight your cheek and brow bones.
Hope you found some cues for your next trip. Cheer up! You do not have to compromise with your beauty staples anymore!