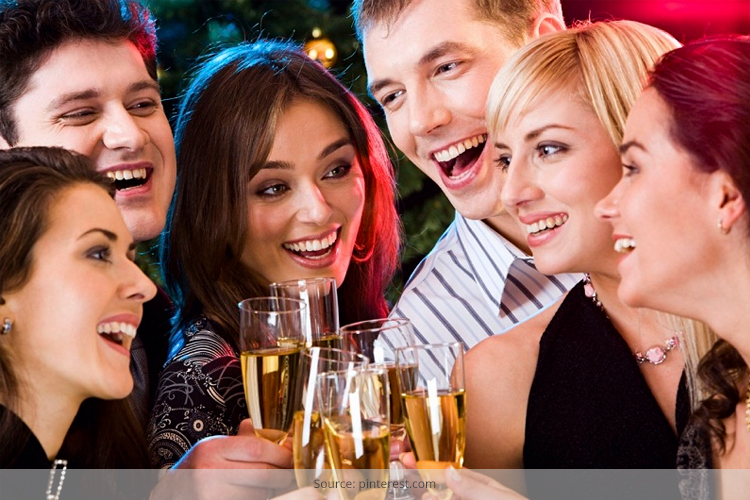 The festive extravaganza continues all the way till January! With Christmas and New year round the corner, you would be flooded with invitations for parties, evening galas, family get-together and office parties!
Just when you have figured out what to wear for these never-ending succession of house parties and evening get-together, the biggie invite arrives all of a sudden! You have been invited to a holiday party at your workplace. Though initially excited, are you now having apprehensions about attending this holiday party?
The biggest question is: What will you wear to this office party? Will you be able to pull off a glamorous dress in your usually conservative office? Or is it better to play safe and go easy on the choice of outfit? Or how to be the show stealer at a workplace full of stylishly dressed women?
What is the dress code?
Firstly, my dear ladies, you need to find out what the dress code is at your office holiday party. There are varieties of office party theme: Black tie, white tie, creative black tie, semi formal, cocktail attire, festive/informal and casual!
Black tie & White tie: Dress up in elegant long gowns, exquisite jewelery, stylish heels, light make-up and elegant hair-dos.
Creative black tie: As the name suggests, it leaves scope for experimentation with cool and chunky accessories, bright long gowns or smart black cocktail dress. Keep the make-up understated and paint your lips in bright shades like hot pink or scarlet red.
Cocktail attire: Jazz up with a short evening number, eye-catching accessories and high heels. Keep the dress a respectful short length to keep away wagging tales, questioning glances and wrong attention!
Festive: Flaunt the colors of thee festive season: Go for fitted denims and stylish pants with party tops. Opt for cocktail dresses and accessorize well.
Casual: Its time to relax and actually breathe! Bring out the sassy tops, pretty skirts, fitted jeans, tees, khakis and stylish flip flops!
[sc:mediad]
You could also give a party twist to your office outfit by replacing the blazer with a cashmere wrap, replacing the regular earrings with pretty pearl studs  and pairing the corporate pant with a dressy top.
Indian Wear for Office Parties
While the long, elegant gowns and short, glam dresses are great western wear for office parties, how about incorporating an elegant saree this festive winter? There could be nothing more elegant than a graceful saree for an office party.
Avoid the blingy, heavily embroidered and garish sequined sarees. Instead, pick up light and breezy fabric sarees with soft prints and pleasantly vibrant shades. Small floral patterns, paisley prints and  elegant motif based sarees will look elegant, classy and  make you look stylish. Bring out the glamorous chiffon and soft Georgette to wear this winter office party.
You can team up these sarees with mega-sleeved blouses or thin strap blouses which are stylishly cut yet decent enough to be worn at an office party!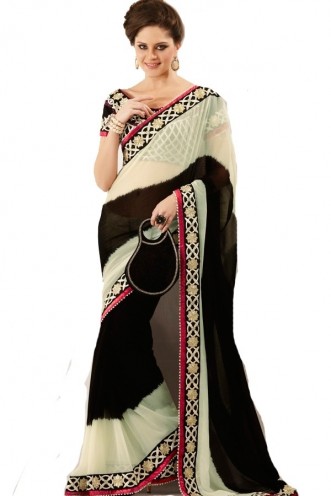 Pair it up with sleek and elegant jewelery in gold, diamond or silver. Do not go for loud, chunky and heavy traditional gold jewelery. Go for light make-up with a hint of blush, kohl lined eyes and pretty shades of lipstick.
Finish the look with high heels or stilettos – There's nothing more better than looking tall, stylish and absolutely gorgeous in a figure-flattering saree.
Salwar Kameez To Wear
Now, we know that heavy, sequin and jewel encrusted, floating anarkalis are in vogue and your wardrobe is chock-a-block with those! But, my dear, you office party is not the right time to parade these! Instead, bring out the smart cut, light fabric and figure flattering salwar kameez. Go for A- lined salwar kameez in pretty hues and light embroidery.
You could wear Lucknawi chikan work salwar kameez which look elegant and can be accessorized with pretty silver jewelery to complete the look.
Keep the make-up basic/minimal and wear heels!
What not to wear at office party
If you want to know what will not work in your favor at the office party, here are somethings to look out for:
Do not go for teeny-weeny, short dresses which leave nothing to the imagination! Remember you will be in a room full of colleagues, peers and most importantly seniors who might not be too pleased with your sartorial choices. After all, you don;t want anyone to take you aside and give you an unpleasant talk on the alarming shortness of your dress.
Figure-flattering and fitted is definitely in; tight is definitely out! Avoid fabrics like silks and satins which reveal the problem areas and can make you uncomfortable.
Keep the low-cut tops and plunging necklines for your house parties! It is important to look nice/ stylish and not a desperate attention seeker.
Most importantly, wear what you are comfortable in. There is no point in wearing outfits which would make you uncomfortable or feel out of the place.
Well, hope we have helped you decide on appropriate office party wear. But, girls and ladies, what is more important is that you have a nice time socializing with your colleagues and peers, enjoy the feast and participation in performances/events/engaging conversations/ holiday games. Looking nice is just a part of the game!