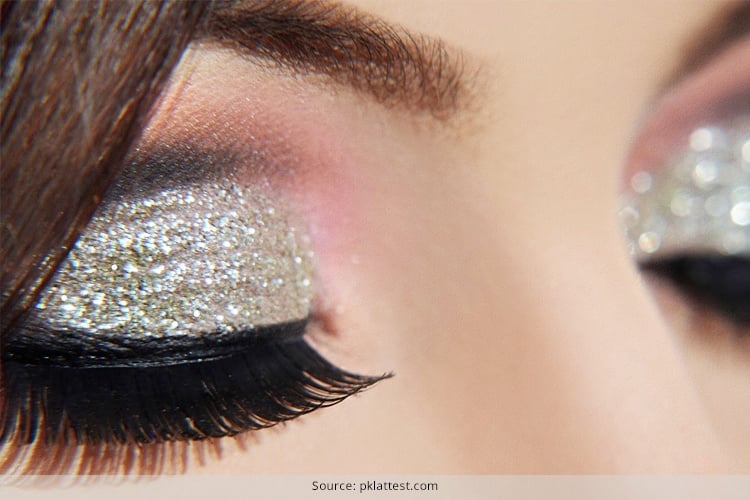 If you love sparkly things and are always finding ways to add some bling to your look, then it is time for you to rejoice! Glitter eyeshadows are in trend right now. You no longer have to wistfully look at glitter eyeshadows and think that you cannot wear them because you are too old for them. The idea that glitter eyeshadows are only for little girls went out the window with the sudden blast of glitter on the runways. Models have been spotted walking the runway with sparkly glitter eyeshadow framing their eyes. So, if you love glitter then it is time for you to get in on the glitter eyeshadow bandwagon!
[Also Read: Best Eye Shadow Palettes]
What Are Glitter Eyeshadows?
Glitter eyeshadows are eyeshadows that contain glitter particles. Unlike matte eyeshadows that are flat and do not reflect light, glitter eyeshadows catch and reflect light. They add drama to the eyes and work great as party makeup.
There are different finishes that can be achieved with glitter eyeshadows based on how big or small the particles are. For a subtle sheen, eyeshadows with fine glitter dust work best. If you are going for an OTT sparkly look, then you would do well to opt for eyeshadows with chunkier glitter that will give off a more shimmery effect.
Why Is Glitter Eyeshadow So In?
Glitter Eyeshadows have taken over the runway. When the fashion world is taken up with a trend, we all know that it is the next big thing. A few years ago, nude makeup was all the rage. Now it looks like it time for the glitter eyeshadows to shine! We are not complaining; who wouldn't love to add some sparkle to their makeup?
[Also Read: Eye Makeup Tips]
Gel Base or Powder Glitter Eyeshadow?
You can opt for either gel based glitter eyeshadow or you can go for a powder form. The basic difference between these two is that the gel base is easier to handle. With the powder form there is more fallout. Also, if you're an amateur when it comes to makeup, then you might face some trouble applying the powder eye shadow the way you want. But on the flip side, gel based eyeshadows are more likely to crease after a while and settle into the lines on your lids. So depending on your level of comfort and weighing the pros and cons, you can opt for either of those forms.
[Also Read: How To Apply Eye Shadow]
Tips for Wearing Glitter Eyeshadow
The one major problem with glitter eyeshadow is the fallout. After wearing it for a couple of hours, you will find that some of the glitter has moved and gotten all over your face. In order to avoid the disaster of having your face looking like a shiny disco ball, always opt for good quality eyeshadows. Also make it a point to apply a base of eye primer so that your eyeshadow will stay put for longer.
Keep The Rest of Your Makeup Minimal
Of course you need to keep the rest of your makeup subtle. Pairing glitter eyeshadow with bright red lipstick will make you look gaudy. So since your eyes are going to be bright and sparkly, practice restrain and keep the rest of your face simple.
[Also Read: Best Eye Shadow Colors for Different Eye Colors]
Use it with a Matte Eyeshadow
Instead of using glitter eyeshadow by itself, use it with a matte eyeshadow. The matte eyeshadow will actually help make the glitter eyeshadow stand out and look more obvious. You can also create some interesting eye makeup when you use your glitter eyeshadow in accordance with your matte eyeshadow.
Glitter eyeshadow can be way too intense if overused. So always use it sparingly. The aim is to play up your eyes and not to drown your eyes in too much glitter.
[Also Read: Best Eyeshadow for Grey Eyes]
We'll leave you with some glitter eye shadow ideas to get inspired from
[sc:mediad]
Below are 2 simple glitter eyeshadow tutorials for you to try.
Now that glitter is 'in', you no longer have to reserve glitter eyeshadow as something only your little niece could wear. Experiment with some different colours and combinations and you'll end up loving this best glitter eyeshadow trend that allows you to instantly jazz up your look.