What can be as pleasant as to chat with friends, dance and enjoy snacks & drinks in open-air? Garden parties do have an exquisite ambience with a picturesque backdrop and ample of sunshine.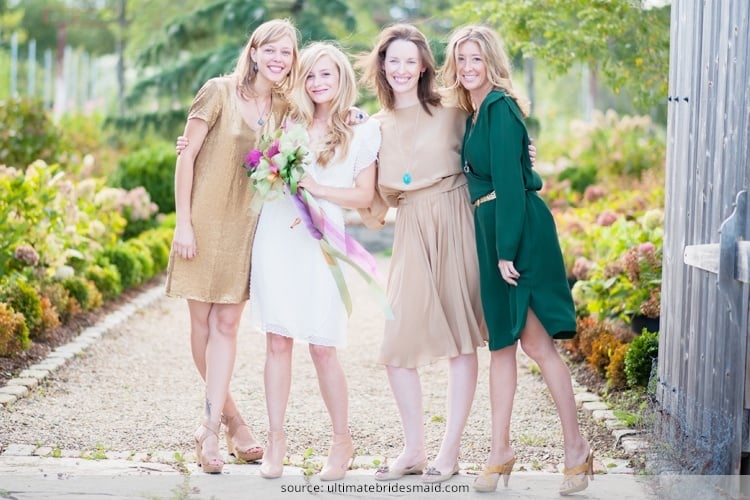 [Also Read: Pool Party Outfits]
Usually, garden parties take place any time from morning to late afternoon, when the sun is on rise or is beaming down. They can be a casual hang out or formal event. If it is a casual happening, you can choose from everything nice and fancy, and if it is a formal affair then you should adhere to certain dress code.
We know how much you would love to flaunt your vivid garden party outfits with complementing accessories for zillions of selfies at a garden party. We have answers to your questions on what to wear to garden party.
Here are some basic fashion tips to follow for a garden party:
Avoid knits and choose from lightweight woven fabrics such as georgette, chiffon etc. Also, keep your satin and velvet outfits for evening parties.
It is advisable not to go for embellished and blingy things such as metal beads, sequins etc.
Say 'no' to animal prints trend for garden parties. You surely don't want to look like a jungle beast in such a scenic ambience. Instead, you can confidently go with floral, abstract or geometric prints. (But, make sure your floral prints are not too vivid to clash with natural garden flowers.)
Avoid wearing too tight or too loose ensemble. It should be halfway between flowing and fitted.
Go for pastels or bright vivid colours, instead of going with natural, earthy and dull palette.
Modesty is a requisite for garden party events. It is sensible to avoid wearing revealing clothes such as spaghetti strap and backless dresses.
You can carry a chic hat such as fedora style or a summer umbrella with your ensemble as an ode to the surroundings and weather. In fact, it is a classic trend for garden parties ever since 1940's.
[Also Read: Fedora Hats you Must Own]
Dress Ideas for Women's outfits for Garden Party
Kimono Sleeved Dress
Kimono-style sleeved dresses are trending big this season. Whether the outfits are chic and colorful with oriental prints or graphically modern, you will stand out at the garden party.
[Also Read: How To Wear Kimono]
Floral Shirt Dress
You can go for any length from mini to midi to maxi, floral shirt dress ought to give you an uplifting experience. Make sure the floral print is not too vivid to clash with natural floral beauty of the garden.
[Also Read: Party Wear Stylish Dresses]
Pastel Lace Dress for a Garden Party
Lace dresses in soft pastels are ideal for summer days. The breezy and feminine dress is a great pick for a garden party as it perfectly sync with the scenic beauty of the lawn, making you look more photogenic.
Marsala Pencil Dress
Accentuate your natural curves with a pencil dress and that too in 'Pantone Colour of the Year' – Marsala. They create a wonderful silhouette that gets you noticed. Sophisticated and flattering, a pencil dress works wonderfully with sky high heels.
[Also Read: Make the Best Of Marsala]
Printed Crop Top and Skirt
Look your best in a crop top with a printed skirt for the garden party. The subtle top helps the prints stand out. The golden rule to don this ensemble is to remember that less is more.
Pleated Maxi Dress for a Garden Party
The pleated maxi look is definitely a refreshing way to keep your summer wardrobe in check. This ensemble is worth adopting for a garden party, as it is universally flattering, feminine and versatile.
[sc:mediad]
Crop Top and Palazzos
Palazzo pants were extremely popular back in the '60s and '70s. And now they have recently made a comeback, simply because they are amazingly comfortable and stylish. Team it up with a crop top to look ultra stylish at the garden party.
Accessories for a Garden Party
Hats and Sunglasses
Don't forget your classy hat and shades for the garden party. You can carry a chic fedora hat or a floppy hat. But make sure that your hat and sunglasses should sync with your entire look.
Summer Umbrellas
Girls love everything fancy, isn't it? So, why not flaunt a summer umbrella with your ensemble. Other than being in vogue, it also protects you from direct sunlight.
Hope this article solves your wardrobe dilemma for an upcoming garden party. Enjoy the sunshine in style and do share your experiences with us on what garden party dresses have you been contemplating of wearing.
[Also Read: Hen Party Ideas]