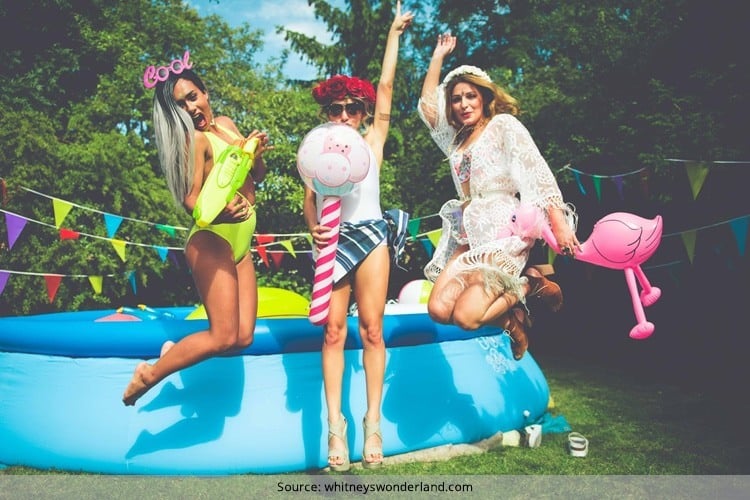 This summer, throw some attitude around and wear the chicest of pool party outfits to make heads swoon and turn. You can do that a billion ways for sure, and for the same, you need to get all creative. pool party outfits have no rules to doll up in as such, whatever rocks your boat is the mantra here. This is why we wouldn't want to lay down commandments on how to wear pool party outfits, rather we would like to show you a couple of pool and beach party outfits to wear at the bikini party. Read on please!
[Also Read: Haute Bikini Styles To Stir The Hotness Up This Summer]
What And How To Wear The Skimpiest Beauties At The Bikini Pool Party!
When attending a bikini pool party or a bikini beach party, you sure would want to wear the right bikini tops, so here's how to wear bikini tops with just about anything you have in your closet.
1. Wild prints on the beach bikini can be worn with overflowing printed sarongs or coats for the beach and pool parties.
2. Get to be the outstanding pool party girl wearing a solo bikini top with a long skirt in the same shade.
3. Wear your bikini top with a neutral toned long skirt and with your hair tied into a knot or a bun. It's the perfect lazy beach party outfit, don't you think?
4. Never been to a pool party? Wondering what to wear to a pool party? Just remember that bikini tops can also be worn with denims and jeans.
5. A striped hat and a printed mini skirt, makes an amazing beach fashion statement you cannot miss.
6. Knot the bikini top, wear it flat or wear it simple, pairing it with denim shorts and tanning away under the summer sun on the beach is chic!
7. Wearing printed bikini tops with knee-length boots and denim mini skirts or denim hot pants, calls for some serious sensual moves!
8. Bikini tops can we born with bland shaded boyfriend shorts, and a pair of flip-flops for the pool party moments- Selena Gomez shows us how!
[Also Read: Leak-Proof Bikini Bottoms To Wear During Your Period]
9. Black bandeaus with tassels can be worn with black bikini tops, however, you can play adventurous here wearing neon bikini tops and black for the evening pool parties.
10. For formal pool parties, you can wear a strappy crochet dress over your bikini tops, to make an elegant appearance at the social do!
11. Go boho chic chick types wearing a short mini skirt in minimal embellishments and a head wreath for company with your striped bikini top
12. A little vintage and retro here, wearing latex polka dotted bikini tops with the same bottoms for the pool party, why not?
[sc:mediad]
13. Bikini tops paired with stripper high heels and a flare white skirt, makes a seductive fashion statement too.
14. Lace ups for the feet and a high slit side skirt with a same hued bikini top saves the day!
15. Wide-legged pants can make the pool style absolutely comfortable. Pair it with cool sunglasses and statement piece to give it a boho twist.
16. Cover-ups are pretty common with pool party swimwear, don't you agree? But how about wearing a sheer maxi cover-up that works as a lovely pool party dress.
17. Go floral with your beach wear by topping your solid toned bikini set with a nice pretty cardigan. It will definitely add charm to your pool attire. Yeah and don't forget your shades and hat.
18. The most recent Coachella festival inspired us with sheer pants as the beach party dress code. Check it out!
19. Pool party fashion surprisingly included kaftans too. Interesting isn't it? If you are out of outfits for a beach party, take out the sexy kaftan that sits in your closet and pull it over your bikini wear. Comfortable and chic!
20. If you wish to keep yourself to the bay at the pool party, we have one more interesting suggestion for you. Pick a lovely crochet bikini style to go with. Piece it with a pair of gladiators to neutralize the skin show.
So here were easy and comfortable suggestions to wear the cutest and prettiest bikini tops. We would now want to tell you how to doll up for the party with makeup and hair.
Makeup Wise
The look should be nude to neutral toned with peach lips and no blush, use bronzer instead to make the tan look come through. Keep the eyes sultry and nicely dark rimmed as well. When choosing bikinis for women with moderate to tan and dark skin, your makeup should be cool toned to matte cool. When choosing for light to moderate skin, your makeup should be warm to glossy warm toned.
Hair Wise
Long to moderate hair should be salt sprtiz sprayed and then left loose. Short to moderate hair should be crunched and left loose. Accessories to wear with hair and that which match the cute bikinis worn are neutral to oxidized chunky charms!
We hope you loved our suggestions and tips!