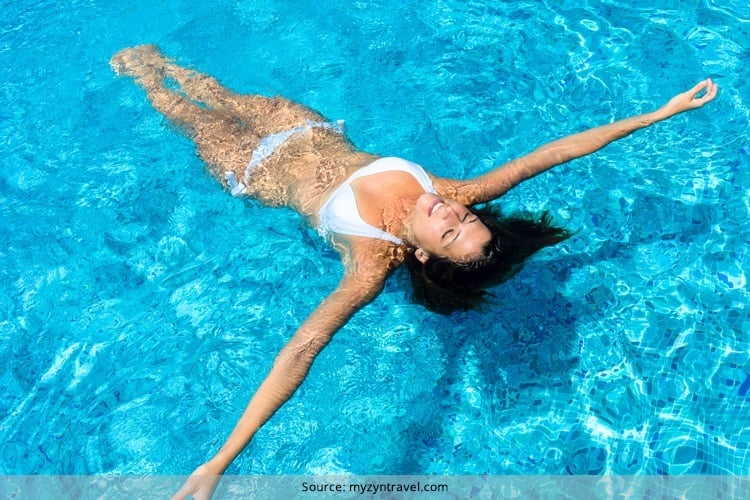 Summer time is already here and each one of us is dreaming of the pristine blue waters of our swimming pools to chill out in. Unfortunately, for most of us women, there will come a week in our summertime when we would have to forgo the pool. For years people have wondered why even after technological advances there hasn't been something which can help women during their periods. Sure there are tampons, but they are not entirely leak-proof and also they are pretty cumbersome. But looks like our prayers have finally been answered.
The company called PantyProp (which came up with leak-proof panties) now has come up with leak-proof bikini bottoms. These life saviours can now be actually worn at the pool during your period days and you can be rest assured that everything is going to be sealed and locked. Women all over the world can actually heave a sigh of relief!
The specially designed bikini bottoms can be worn comfortably in water and are designed to come with a section which can be used for putting sanitary pads very securely. The biggest advantage of these leak proof panties is the fact that it also has a very absorbent lining and can act as an extra protection for tampon and even for cup wearers.
[Also Read: Bikini Styles]
What's more, they are not just any other bikini bottoms. They come in a dazzling array of prints and colors. You just have to buy a matching top and you are set. Although they have been launched in various countries and are getting rave reviews, they are not yet available in India. But you can surely order them online. Online they are available for $35 and $ 37, which translated to about Rs. 2340 and Rs 2374. We think this is a pretty decent price for something which will allow you to beat the summer blues in the pool without leaving behind a bloodied mess.
Right now, as PantyProp's website suggests, the bikini bottoms come in one standard size but they are made of a stretchable fabric which can easily fit women from sizes two to 12. The point of the panties, the CEO of the Brand Etienne says, is to help women lead a normal life exactly as they would like to. Swimming is a great way to lose weight, to keep fit and is extremely essential for women who participate in swimming competitions that they exercise regularly. So during those days when you get your period, it becomes almost impossible for the athletes to swim. This is where PantyProp can be of great help. Not only are the bikini bottoms extremely trendy and fashionable, but they are also extremely useful and serve a very important purpose!
[sc:mediad]
Though PantyProp's bikini bottoms are an amazing item, there are certain things you need to keep in mind in case you are using them. These are very small limitations and we agree, as long as we are comfortable swimming, we shouldn't have a problem following a few golden rules. The Bikini Bottom will securely carry your pad, but the problem is the pads will absorb water after a while. So they suggest that you should not be in the water for pretty long to prevent oversaturation issues.
This might be an issue on the beach because sometimes bathrooms are not easily available and you may have a problem changing into a new pad! So unless you want to get bogged down with the heavy and soaked pad, we suggest you keep the time factor in mind.
[Also Read: Sexiest Celebs in a Bikini]
Another problem that the PantyProp's Bikini Bottom has is that it can only be worn with chlorine-free or chlorinated pads. So depending on the activity that you're taking part in, make sure that you check your pad's labels before jumping in the pool. Yikes! Leak-Prof, but yes, you need to make sure that you are following these simple tips.
We sure do understand the limitations, but it's a great invention and we are sure PantyProp will do a lot to make their bikini bottoms even better!