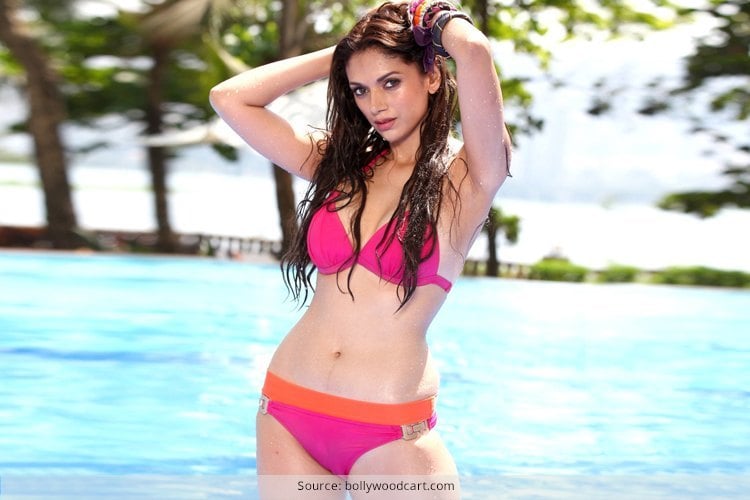 Everyone knows the story of a bikini. The two piece or sometimes even a one piece can turn quite a number of heads. The perfect beachwear, it really takes a lot of courage to actually wear a bikini and flaunt your body. For years, bikini-clad actresses, whether in Hollywood or Bollywood have flaunted their bods and shed their coy images. They are what you call the showstoppers in a movie. Let's check out Hollywood and Bollywood's sexiest bikini clad celebs.
Sonam Kapoor's Rad Avatar
This was quite a surprise entry to our list. Sonam, who was always a chubby child, finally left her coyness behind and donned the two-piece for one of her upcoming movies (Bewakoofiyan). Check her sizzling in her rad/red bikini.
[Also Read: Ways to Wear Your Bikini in Style]
Priyanka Chopra's Golden Bod
She has always been our favourite. The former Miss World has wowed one and all with her bombshell figure. Whatever she wears she turns tons of heads. She flaunts a saree as well as she flaunts a bikini. She literally scorched our screens when she came out of the ocean in one helluva bikini in the movie Dostana!
Alia Bhatt's Mellow Yellow Bikini
The newest and one of the youngest entries in Bollywood, Alia Bhatt sizzled in Student of the Year in a beautiful yellow bikini. It was her debut movie and though it didn't do that well in the box office, she did manage to create her mark in the industry.
Bipasha Basu the Bomb
She is one of the fittest stars in Bollywood. Bong beauty Bipasha Basu, who was also a model managed to look smoldering in her itsy bitsy red bikini in the movie Players. Not a newbie to bikinis, she managed to look very fine for her age!
[Also Read: Best Bikini Moments of all Time]
Smoldering Shilpa Shetty
Shilpa Shetty has a body women could kill for! The curvaceous actress is known for her good looks and very hot body. She has worn bikinis in several movies and is especially remembered for her gorgeous bikini in Dostana.
Now that you have seen Bollywood's hottest bikini babes, let's check what Hollywood has in store for us.
Halle Berry The Hottie
No one can forget Halle Berry emerging from the ocean in her orange bikini in Die Another Day. She has literally stopped aging and looks even better in her bikinis. The fit mom is an inspiration to one and all!
[sc:mediad]
Jennifer Lawrence on Fire!
J Law as she is affectionately called maybe very covered up as Katniss (from Hunger Games) but when it comes to flaunting her bod, the young actress has quite a fabulous body!
Jessica Alba's Flawless Look
Jessica Alba just turned 34 and manages to look still fabulous! Her bikinis are on point and she always managed to look great! Check her out in her latest bikini photo! Looks like she too has decided to stop age in its tracks!
Jada Pinkett Smith
The mother of three can put any woman to shame with her flawless body. She is way above 40 but still manages to look fit and fabulous. Will Smith must be very proud of his 5 feet 3 inches wife! Somebody please look at her taut tummy! Did she even give birth to three gorgeous kids?
[Also Read: Top Bikinis for Different Body Shapes]
Megan Fox
Even when she was pregnant with her first kid she was blossoming in her bikinis. Megan Fox looked utterly gorgeous in all her bikini looks.
Phew! That was all very hot! Don't you think so? We sure need a chilled drink now!