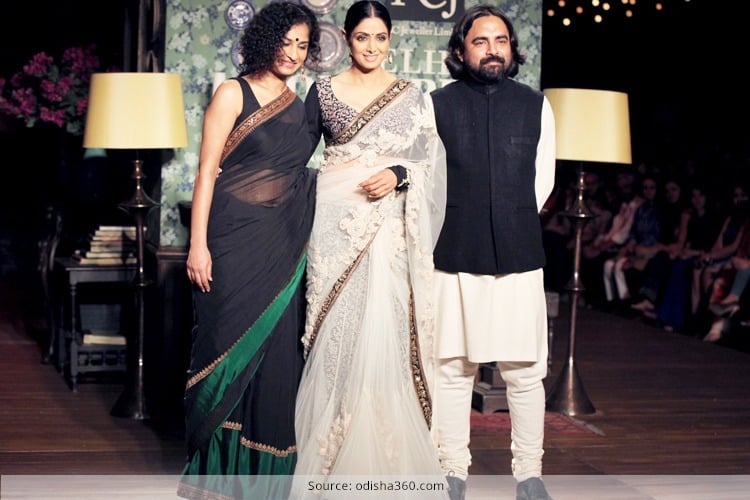 He is the Pied Piper in couture designing who hails from Bengal. His creations have draped several heartthrobs of the Hindi film industry. He's perfect in weaving magic on materials. His discerning taste and innovative experimentation with fabrics has taken him to the fashion capitals of the world. His sense for aesthetics and eye for detail have won him standing ovation. That is why, owning a garment from his collection is a dream most women aspire for. And what does he wear for the fashion shows where he showcases his work? Simple kurta pyjama to shirt and denims. He is God's chosen one when it comes to draping a woman with sensual and extensive anarkali, bridal lehnga, saree and much more. He is Sabyasachi Mukherjee.
[Also Read: Sabyasachi Mukherjee – A Connoisseur of All Things Vintage!]
Sabya, in short, who has left an indelible mark on fashion ramps in India and abroad by selling designer merchandise using the label 'Sabyasachi'.
His legendary journey
It was in the year 1999 when Sabya finished his graduation from the prestigious National Institute of Fashion Technology (NIFT). Bright and intellectual, he was no ordinary student. He went back home with three awards.
And you thought he would be just happy with this achievement. In a span of four months, Sabya went on to design his clothing label, in partnerhsip with just three people. His understanding of the Indian fashion nuances and customer preferences was not ordinary. Success was very much on its way. He is now favoured by the global Indians on the same level as much as the socially under privileged.
As time passed, Sabya kept proving his artistic talents on cloth. Awards had to happen. It was in the year 2001 that he won the Femina British Council's most outstanding young Designer of India award. This egged him to take the next flight to the world's fashion capital London, where he got the opportunity to do an internship with designer Georgina Von Etzdorf based in Salisbury. After returning to India, Sabya ventured into retailing, that too in India's leading and premium fashion stores.
As time went by, Sabya's accolades kept on building up. In 2002, Sabya put up his debut collection at the India Fashion Week (IFW), where he won rave reviews from the audience and press (both national and international).
One can safely say that Sabya had arrived, so much that he came to be seen as the future of Indian fashion on the cover of a prestigious international trade magazine.
From walking in shows to winning awards
It's difficult to think of one fashion week or festival where Sabya hasn't left his footprints behind. We would almost lose count of the fashion gatherings where he has proved his mettle through his intriguing collection.
His pristine designs shown at the London Fashion Week, New York Fashion Week, Miami Fashion Week, Kuala Lumpur Fashion Week, Bridal Asia, Mercedez Benz New Asia Fashion Week held in Singapore bear testimony to his excellence in the field.
On the Indian front, Sabya has walked the ramp while displaying his signature collections in Wills Lifestyle Fashion Week, Couture Week, Amazon India Fashion Week 2015 and Lakme Fashion Week 2015.
It's a privilege for any artist in India to get the Natioan Award. Sabyasachi won the National Award in 2005 for the Best Costume Designer for the landmark Hindi feature film Black directed by Sanjay Leela Bhansali where Rani Mukherjee had starred opposite Amitabh Bachchan.
Apart from this, Sabya's creations have been worn by Bollywood heroines in various movies such as PAA, Guzarish, Raavan, No One Killed Jessica, Kahaani, Babul and Laaga Chunari Mein Daag.
Sabyasachi's clients
Being the master craftsmen of fabrics and dreams, Sabya has wooed the hearts of many filmi heroines within a short span of time. Acting superstars such as Vidya Balan, Rani Mukherjee, Aishwarya Rai claim to be die-hard fans of this visionary designer who is an active supporter of ethnic craftsmanship of India. Playing with unusual fabrics and colour codes is his pet passion that leaves everyone stunned in awe.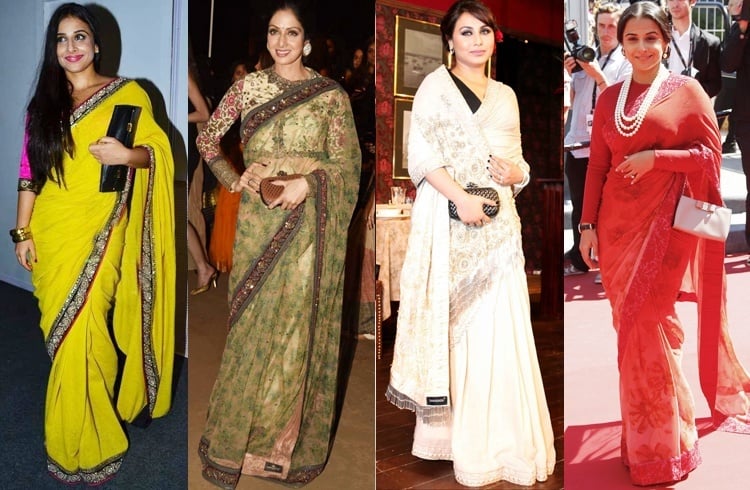 Design philosophy of Sabyasachi
Sabya's inspiration is loud and clear – antique textiles, fusion of styles and patch work carrying breathtaking embellishments. All these combined go to make his creations 'internationally styled with an Indian soul'. This speaks out his pioneering efforts in using Indian textiles but in a modern contemporary context.
Sabya's creations are meant for those audiences who don't want to get lost in the rush of many. This somehow reflects his preferences of using indigenous styles such as gota work, block printing, hand dyeing and bandhini while putting modern silhouettes.
[sc:mediad]
Sabya's expansion beyond couture designing
Not the one to stay still, Sabya's creative mindset has made him foray into jewellery designing as well in 2008 in partnership with GAJA brand.
If you thought, this was the end of his creative hunger, there is more coming. Sabya launched an exclusive menswear collection of kurtas, sherwanis and headgear at the Lakme Fashion Week Spring Summer 2009 – Grand Finale show.
Since the past two years, Sabya has been in the thick of reviving cotton Banarasi sarees in vegetable block prints and khadi from Bagru (Rajasthan).
Year 2009 turned magnificent for Sabyasachi when he inaugurated the first of his flagship store in none other than his hometown, Kolkata.
Currently, Sabya is busy selling his designed creations from five flagship stores and multi-designer stores in the country.
His future plans sound all the more lovable as he plans to start an Indian kidswear brand. We hope it becomes hottest selling just as much as his fanatical experiments in couture designing.