At this moment, the world of fashion is in a state of shock and is mourning the tragic death of fashion designer Kate Spade on Tuesday, the 5th June 2018. Kate Spade is a name all the fashion lovers across the world have loved since 1996. Yes, that's the year when Kate Brosnahan Spade created an "iconic" handbag line (and "accessible" too).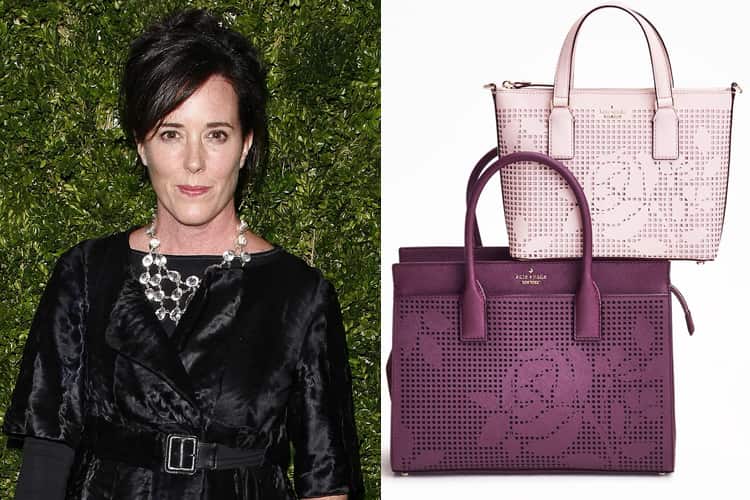 Want to know more about the extraordinary journey of Kate Spade the fashion designer? Read on!
The Genesis of The Label Kate Spade USA:
During her tenure at Mademoiselle as an accessories editor, Kate Valentine (alias name) had noticed one thing – that the market was in need of stylish and sensible handbags. It is then that she decided to create her own label.
Kate after leaving Mademoiselle in 1991 soon joined hands with Andy Spade (her husband and brother of actor-cum-comedian David Spade) to launch the New York-based design company "Kate Spade handbags" in Jan 1993. And soon Kate Spade bags took the world of fashion accessories by storm.
Initially, Kate Spade USA sold handbags mainly. Over the years, the product portfolio of the brand extended to include clothing, jewelry, eyewear, shoes, fragrances, baby items, bedding, gifts, and stationery!
Come 1996 and Kate Spade the designer opened her first "boutique" – a 400-sq foot shop located in SoHo district of Manhattan. Soon she shifted her brand's headquarters to a 10,000-square-foot space in West 25th Street.
In 2004, came the home collection brand "Kate Spade at home" which offered everything from exclusive bedding, bath items, wallpaper, and home decor.
Kate Spade's Journey To Becoming A Household Name:
Oh yes, the main aim of Kate Spade was to design the perfect handbag. Which explains the fulfillment of her goals from her first store launch in 1996 to running over 300 stores worldwide today.
There is a method to the madness in the logo of Kate Spade bags – the distinctive logo has the symbol of 'spades' we see in the playing cards which symbolize her surname.
The bright and colorful patterned design became a trademark of all the products offered by the Kate Spade group.
When Spade started her own venture, this is what she said (as mentioned on her site):
"debuting with just six silhouettes, she combined sleek, utilitarian shapes and colorful palettes in an entirely new way. and so Kate Spade new york was born."
Kate Spade New York – the brand best known for its colorful handbags – has more than 140 retail shops across the US and more than 175 stores internationally.
The Duchess of Cambridge, Kate Middleton, loved her Kate Spade bags. She has been clicked many a time with a Spade bag in hand.
Frieda Pinto loved to carry Kate Spade bags too.
Launch Of The Brand Frances Valentine:
In 2016, Spade and her partners launched a new brand called Frances Valentine – which was all about luxury footwear and handbags.
Interesting is the background behind the brand's name Frances Valentine.
Frances is a family name on Spade's "paternal" side for a long time, which is why she selected this name. Frances is also the name of the daughter of Kate Spade the designer (and it was used by Spade's grandfather, father, and brother as well).
The name Valentine came from Spade's "maternal" side. Valentine was the middle name of Spade's grandfather – because he was born on the Valentine's Day.
Lo and behold, Spade legally changed her surname to Valentine (her grandpa's middle name) in the year 2016 to "separate the two worlds."
Celebs Who Spoke On Kate Spade's Tragic Demise:
Death is imminent, and that's why hated the most. Many fashion designers and celebs took to Twitter to express their sadness on hearing the news of the untimely demise of Kate Spade the fashion designer.
Chelsea Clinton, former US First Daughter shared on Twitter on how her grandmother gifted her the iconic Kate Spade bag while she was studying at the university.
Chelsea tweeted "My grandmother gave me my first Kate Spade bag when I was in college. I still have it. Holding Kate's family, friends and loved ones in my heart."
Ivanka Trump tweeted saying "Kate Spade's tragic passing is a painful reminder that we never truly know another's pain or the burden they carry. If you are struggling with depression and contemplating suicide, please, please seek help."
Reese Witherspoon wrote "My heart and prayers go out to Kate Spade and her family. What a wonderful, talented woman who will be dearly missed."
[sc:mediad]
CNN White House reporter and former fashion editor Kate Bennett said "Everyone remembers their first Kate Spade. (The brand) became one of those accessible but quirky fun, timeless labels that everyone had to have, and her rise was synonymous with her name."
The Council of Fashion Designers of America said they were devastated to hear of Spade's demise.
The statement said, "She was a great talent who had an immeasurable impact on American fashion and the way the world viewed American accessories". 
The designer's company shared the "incredibly sad news" of their founder's death in a press release.
"Although Kate has not been affiliated with the brand for more than a decade, she and her husband and creative partner, Andy, were the founders of our beloved brand," the statement said. "Kate will be dearly missed. Our thoughts are with Andy and the entire Spade family at this time."
The company said in a tweet, "We honor all the beauty she brought into this world."
Our deepest condolences to the family members, fans, and well-wishers of the legendary designer and the creative brain behind the brand Kate Spade USA.
If you too are a fan of Kate Spade bags share your thoughts with us in the comments box on the iconic fashion designer who colored our mundane world in every way for 25 years.