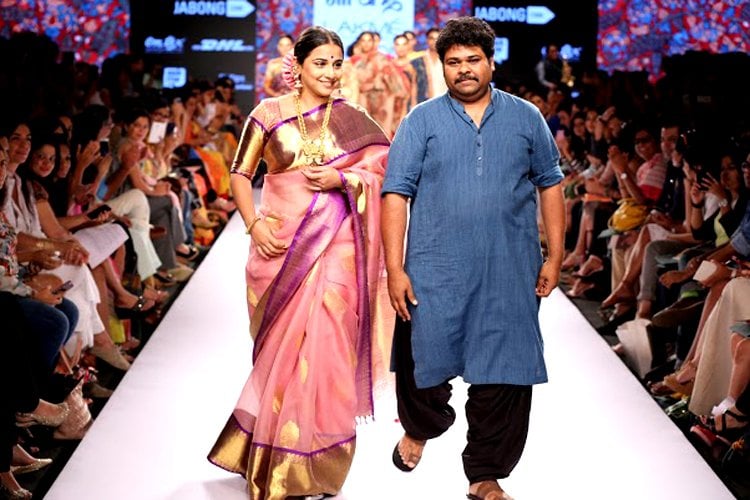 South India has always been known for its fineries, jewellery, ethnic garments, and silk saris, including kanjeevarams. The traditional weave of the kanjeevarams saree are a common sight at weddings. It brings about a rich grandeur to any wedding silhouette. And in recent years, most of these have been invested in clothes manufacturing on a large scale with modern approach.
On the hindsight, there is absolutely no doubt, that South Indian designers are moving the sartorial conversation for new-age kanjeevarams this year. Whether it's their bold and unregulated address of society or their reinterpretation of the classic designs, these designers are making waves and creating their own path.
And their talent is an example of what happens when their creations is as diverse as the rest of the country. The categories they exemplify are varied, from rich cultural opulence crafted to modern sensibilities. And while the stats are still being tallied about how much Kanjeevarams are faring, we're taking it upon ourselves to recognize these designers you absolutely need to pay attention to.
Born of this rich cultural heritage coupled with incredible style vision and business savvy is the following 5 South Indian designers that are perfect for new-age kanjeevarams. We're obsessed with them and you should be too!
1. Gaurang Shah
More than likely, you may have seen Gaurang Shah Kanjeevarams on a celebrity or on runway images. Lauded for his use of traditional designs with modern sensibilities, this South Indian designer pulls from his rich cultural heritage to make Kanjeevarams. His design aesthetic marries traditionally feminine garments with luxurious fabrics.
Gaurang's collection Chitravali showcased at the Lakme Fashion Week Winter/Festive, 2017 was high on rich texture and paid tribute to Kalamkari. Each of his design was either organza which is custom made using silk with satin finish. With that, the Kanjeevaram silk fabric and the Khadi were customized to bring out the rich designs by allowing the natural dye to seep in.
With that, Gaurung Shah has dressed a gamut of celebrities in his Kanjeevaram creations. Here are few of them:
Vidya Balan attended an event wearing a Gaurang Shah's brown and orange Kanjeevaram saree. She finished her look with gold jhumkis from Kishandas Jewellery and a neat bun adorned with ghajra.
On another occasion of Kausalyam 2017 event, Vidya Balan was seen in a stunning Kalamkari Kanjeevaram saree by Gaurang Shah.
Taapsee Pannu wore a kanjeevaram lehenga paired with a handloom peplum top and Kalamkari dupatta from Gaurang Shah's Chitravali Collection for Judwaa 2 promotions. She completed the look with matching set of antique jewellery.
At an audio launch, Shruti Hassan was seen in a Gaurang Shah's traditional heavy silk drape in baby pink, silver, and gold tones. The saree also featured zari borders and butis.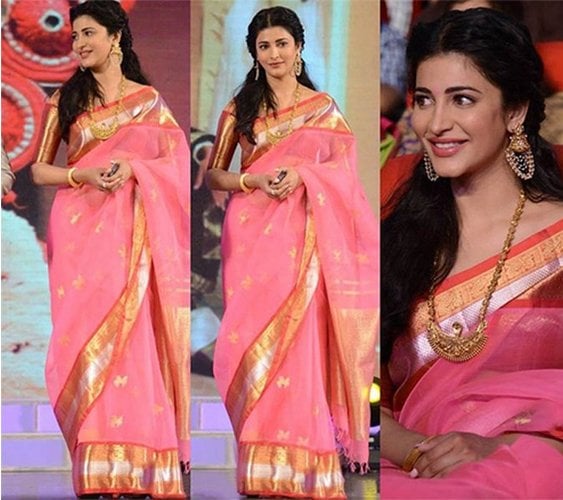 2. Kanakavalli
The essence of Kanjeevaram weaves can be depicted in Kanakavalli Kanjeevaram sarees. Starting from their multiple weaves and patterns Kanakavalli Kanjeevarams are a total standout. Simple and thoughtfully designed, their subtle pieces make for a perfect addition to their rich collections.
3. Shilpa Reddy
For a bride, browsing through stunning kanjeevarams for their wedding is probably the most excited part about getting married. Shilpa Reddy knows this as a well-seasoned designer who's been in the business for designing contemporary kanjeevaram silk saris for over a decade. Trained at Academy of Design in Toronto, Canada, she runs a successful design house, too.
Known for her languid shapes of kanjeevarams- this South Indian designer whose clothes have adorned the likes of top celebrities is playing with modernism this season. Her new collection of kanjeevarams comes with both traditional meet contemporary silks featuring rich colors and designs. She believes in injecting rich, opulent color, and textures so that a women feels powerful in her creations.
4. Bhargavi Studio
While Bhargavi Studio isn't new, per se- they rose to fame with their bridal collection of Kanjeevarams. It is a great source of pride for them. That said, as a brand they feel it is important that their consumers know they offer so much more. They feel while people will recognize their brand's irreverent and feminine ethos, it'll be spun into newer designs, shapes, and silhouettes.
At Bhargavi Kunnam, one will find Kanjeevarams in the most unique color combinations and gorgeous drapes.
[sc:mediad]
5. Sailesh Singhania
Sailesh Singhania shies away from common forms of traditional mayhem in favor of classic interpretations. To call them a tastemaker would be an understatement, as their incredible designs can start a fresh conversation in fashion. One of their notable collections features the stunning line of Kanjeevarams which support handloom weaving since long. In addition, their Kanjeevarams are known for their traditional and modern motifs allowing brides to experience a bit of both worlds. Bride-to-be's looking for a mix of contemporary and traditional wear should definitely pick Sailesh Singhania for their bridal trousseau.
These are our pick of top 5 South Indian Designers who made the return to form. They are reminiscent of the industry upstart standing in contrast to their long shadows. South India is fast becoming the center of the fashion scene and represents a gateway to the wider market with their unique textiles and designs. Their designers have the ability to create Kanjeevarams look so effortless and promises everything that made them a success in the fashion market. We cannot wait to see what these new breed of designers come up with next! This season we are keeping our eyes out for more of signature kanjeevarams and modern motifs which will be worked into elegant, modern silhouettes.