No movie that we see on celluloid is possible without costumes. Whether it is masala flicks or biopics, costumes need as much attention as the storyline and the locations. The recently released biopic 'Mahanati' is one such film, which could never have looked so epic and memorable without the workmanship of Gaurang Shah.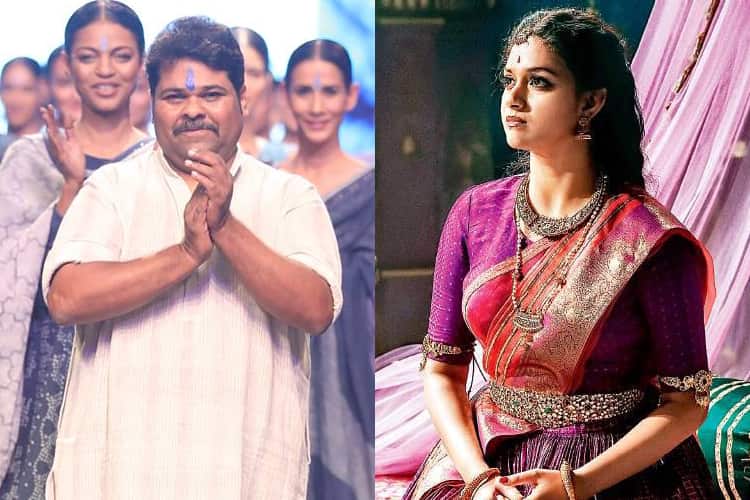 Profile Of Gaurang Shah:
And who is Gaurang Shah?
He is an award-winning Indian textile designer who specializes in using Indian handlooms and creating magic. He is the one who does exquisite work using Jamdani weave to create a unique fusion of fabrics and textures. Talk about Gaurang Shah designer saris and India's "handloom" man has designed for Vidya Balan, Sharmila Tagore, and many more Bollywood ladies.
This Mahanati costume designer has explored and virtually recreated textiles to weave the story of the legendary actor Savitri from her childhood to her stardom days until the time she breathed her last.
Hats off to designer Gaurang Shah for putting up the comparison so subtly:
"For me, Savitri is the Meena Kumari of South Indian cinema. The kind of clothes Savitri wore — Kanjeevaram blouses and chiffon sarees — are what I'm known for. For Mahanati, we recreated a lot of outfits that Savitri wore in her films, by getting exact replicas woven again." 
Gaurang Shah: A Champion Of Indian Handlooms
Do you know designer Gaurang Shah who made his debut as a costume designer for the film Mahanati had a team of 100 artisans who slogged for over a year to make the costumes of the lead stars and supporting cast?
Hard work and diligence comes naturally to Mahanati designer who had to study the past of the actor Savitri (played on-screen by Keerthy Suresh) to be able to portray her vintage fashion and style choices perfectly.
Gaurang Shah's research efforts involved interacting with people and industry folks for 6 months, and he spent over a year on weaving, texturing and coloring so as to get the retro costumes right.
This is what the Mahanati costume designer told the media:
"It is my debut act collaborating with a film of this scale. It gave me a challenging opportunity to showcase Indian saris with great pomp, yet with fantastic simplicity, it carries through the journey of legendary actress Savitri. I wanted to ensure that we don't go wrong in capturing the director and his vision of being absolutely authentic in recreating the magic of Savitri in her biopic film Nadigaiyar Thilagam. It was a perfect project for my debut in creating costumes for a beautiful biopic." 
"It was a beautiful journey even for me and my team capturing different moods and sequences in the film. Recreating the sensibilities of the actress including elements such as the choice of fabric types and the textures were immensely satisfying for me as a textile designer."
"Choosing the right textile, weaving, texturing, and coloring to lend reality to the look of actress Savitri took many months. Over 100 artisans worked relentlessly to ensure the weaving process was uninterrupted as the whole progression took more than a year and a half from the inception of the costumes to the conclusion of the last shoot."
Celebrating Vintage Charm With Mahanati Costumes
Gaurang Shah who has several celebs admiring his inventive textile craftsmanship using jamdani weave, added, "It was a challenge right from the beginning, what excited me the most was a perfect opportunity to showcase Indian saris in its fullest grandeur, with utmost simplicity through the journey of the legendary actress Savitri on the big screen."
Explaining further designer Gaurang Shah says,
"From Mangalgiris and Kotas with prints for her growing days to heavy brocades, silks, organzas, handwoven sateens and chiffons for her golden era to subtle rendition for her later life, my team traveled extensively to museums and recreated the textiles of that time. Each and every detail of the textile, design, texture, and color were studied and artisans were guided to recreate it."
In short, Gaurang Shah designer sarees as showcased in the film are nothing less than a fashion inspiration for generations of budding designers and desi divas.
Any clue about the costumes that were sourced?
[sc:mediad]
Mahanati costume designer said,
"We sourced heavy silk fabrics from different parts of India like Kanchipuram and Benares, which were enhanced with Kota, Mangalgiri and block prints that were then handcrafted in our looms by a dedicated team of more than 100 local artisans."
"While we used tones that carry a lot of radiance and associated with the feminine character (sic), we also had to balance it with traditional at-that-era of colors, since Savitri outfits were all about simplicity and opulence."
The textile designer-and-now Mahanati designer said,
"The director wanted me to make satins for specific scenes, but since I wanted all her looks to be pure handloom, I recreated the satin on the handloom, and so for the chiffons and georgettes. For instance, I replicated Savitri's look for Maya Bazaar- which was a heavy Kanjeevaram lehenga and blouse with an organza dupatta itself. It took us three months to get the color, design, and fabric woven."
That's why designer Gaurang Shah as a man, his vision, his penchant for perfection, and execution of handlooms and weaves is truly unmatched.
The film producer of Mahanati adds:
"Gaurang has a unique knack for capturing ancient traditions of craft, antiques, and architecture to create his own signature which is a beautiful blend of past and modernity using jamdani weaving technique. This skill lent beautiful synergy and made things seamless."
Hope you got impressed and spellbound by the sheer dedication and perseverance Gaurang Shah and his team put in the film Mahanati to make it a larger-than-life costume drama.
Have you seen the film? Did you note how Gaurang Shah-designed costumes spell vintage charm? How did you find them? Don't forget to share your views in the comments box below.