He is an Indian fashion designer from Kolkata and an NIFT-alumni. Designing bridal wear is his forte. As goes the news, he is a strong contender for designing the bridal outfit for Deepika Padukone when she ties the knot with actor Ranveer Singh in November this year. He sold his books to pay for the admission form of NIFT – much to his parents' disapproval who were not eager with the idea of him taking to fashion designing. Once he graduated, he opened a workshop and started his career thereafter. The story of Sabyasachi Mukherjee is quite inspiring.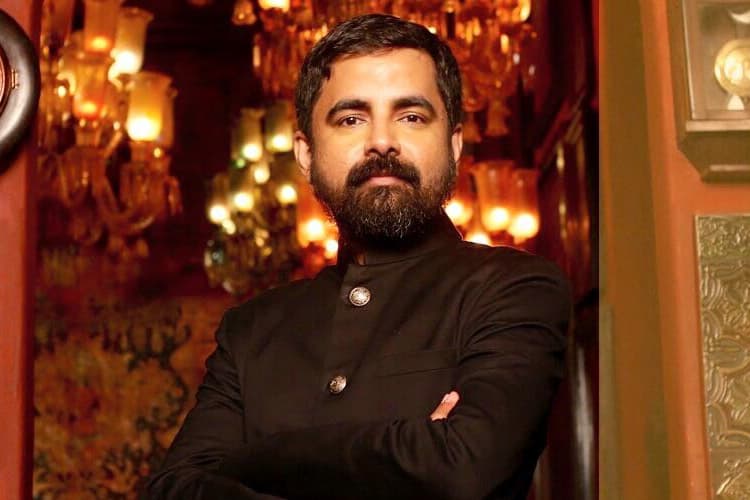 Take a guess of the design philosophy of Sabyasachi? It is unconventional – deserts, gypsies, and prostitutes to antique textiles and cultural traditions of Kolkata, therefore fantastic. That is why his Designs are unusual and out of this world. His design philosophy according to him is "personalized imperfection of the human hands".
About Sabyasachi Mukherjee:
What are the family details of Sabyasachi Mukherji? Sandhya Mukherjee, his mother worked at Government Art College and was devoted to handicrafts. Shukumar Mukherjee, his father (a refugee from Bangladesh) lost his job (when he was working in a Jute mill) when Sabya was just 15 years old. It is his sister Shingini Mukherjee (Payal) – seven years younger to the fashion designer – who manages the business part of the label.
Eager to know about Sabyasachi Mukherjee Wife? Am afraid, details are not available.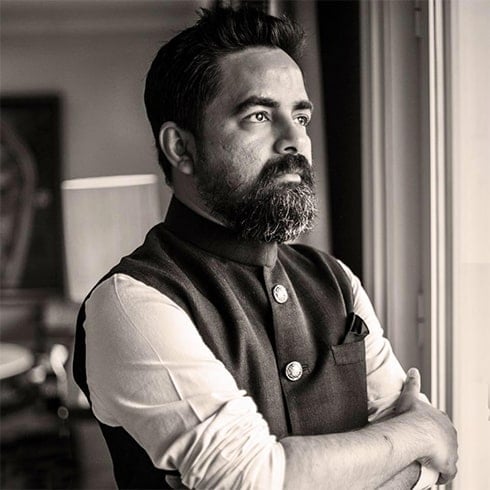 Sabyasachi Mukherjee Biography:
How many of us know that Sabyasachi has designed for films like Black, Baabul, Laaga Chunari Mein Daag, Guzaarish, Raavan, Paa, English Vinglish and No One Killed Jessica. What about Sabyasachi Mukherjee birthday? Keep reading.
Date of birth: 23 February 1974
Birth Place: Manicktala, Kolkata, West Bengal, India
Zodiac Sign: Pisces
Education:
Schooling from Sri Aurobindo Vidyamandir, Kolkata.
Graduation from National Institute of Fashion Technology (Kolkata).
St. Xavier's College, Kolkata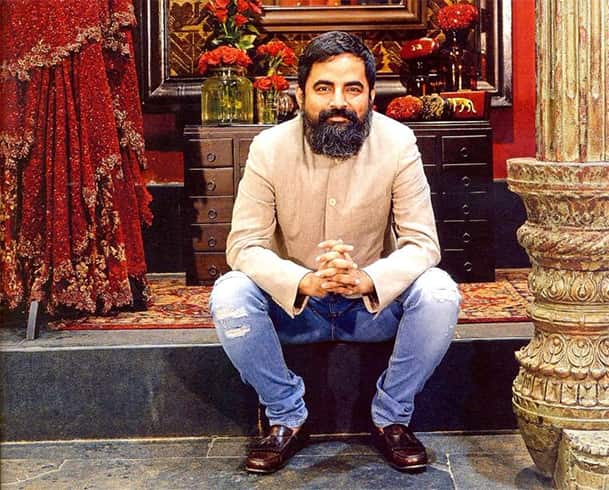 Career Accomplishments:
Won the Femina British Council's most outstanding Young Designer of India award in 2001. This took him to London for his internship with an eclectic designer Georgina von Etzdorf based in Salisbury (London).
Upon his return to India, Sabyasachi took to retail store presence in India in a major way.
During Spring 2003, he won the Grand Winner Award at the Mercedes Benz New Asia Fashion week in Singapore.
In 2004, Sabyasachi participated in Kuala Lumpur Fashion Week and The Miami Fashion Week.
In 2005, Sabya was requested to showcase his collection at the Oxford University black tie charity dinner fashion show held annually.
In 2006, his debut Spring Summer collection'07 at New York Fashion Week got him crucial acclaim. As a result of which, his label started to sell worldwide.
In August 2012, Sabyasachi closed the 3rd edition of PCJ Delhi Couture Week.
At the Vogue Wedding Show 2016, Sabya launched his jewelry line (designed by himself in 2008), in association with the GAJA brand.
At the Grand Finale of Lakme Fashion Week Spring Summer 09, Sabyasachi launched his menswear collection of Kurtas, Sherwanis and headgear.
Such is the power of Sabyasachi Designs that he started kids wear under the label Chota Sabhya.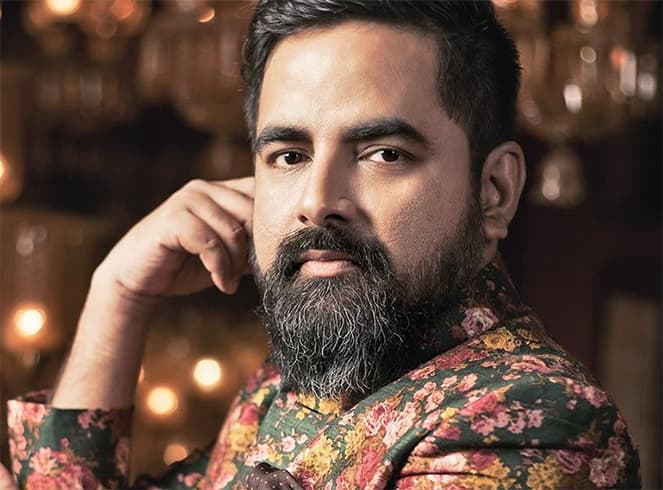 Fashion Collections:
What is so special about Sabyasachi Mukherjee Collection? He uses Banarasi fabric majorly and is one of the designers to have brought Khadi on the international platform. Let us browse through some of his best designer pieces.
Presenting Sabyasachi Mukherjee collection 2018 especially curated for you.
1. Sabyasachi Lehenga:
A Sabyasachi Mukherjee lehenga has made ordinary to B-town brides nothing less than jaw-droppingly beautiful. From lush florals to monochrome magic, the Sabyasachi lehenga creations look extravagant to the core.
'Virushka' took the internet by storm last year when Anushka Sharma tied the knot with Virat Kohli. What became the bridal dress of the decade was the heavily embellished bridal lehenga of Anushka accompanied with glittering jewelry.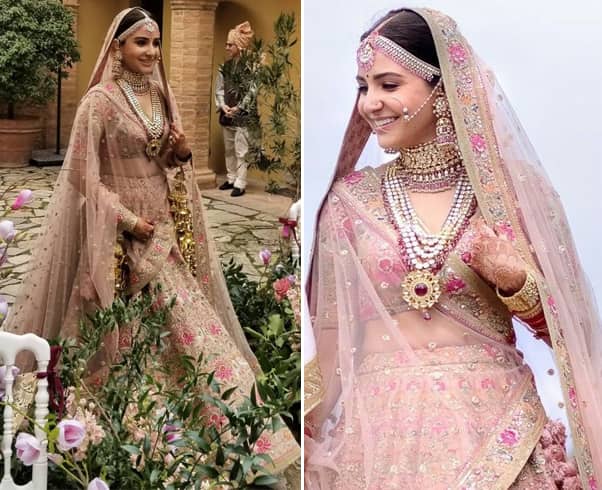 Regale in this pink bridal lehenga done in silk with zardozi embroidery all over. The golden colored dupatta has four-sided embroidered border.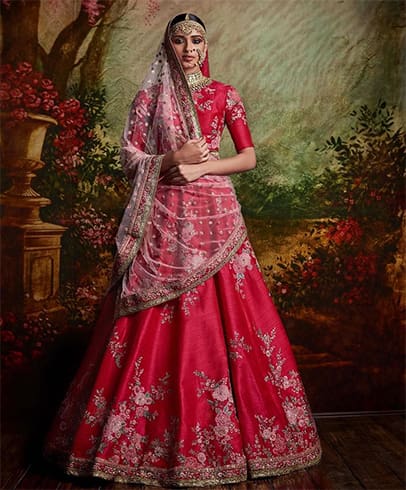 2. Sabyasachi Sarees:
Up your style quotient by wearing Sabyasachi Mukherjee sarees. They are the ones to make you look gorgeous as ever and overnight!
Here is Karisma Kapoor in a Sabyasachi saree for Lakme Fashion Week 2016.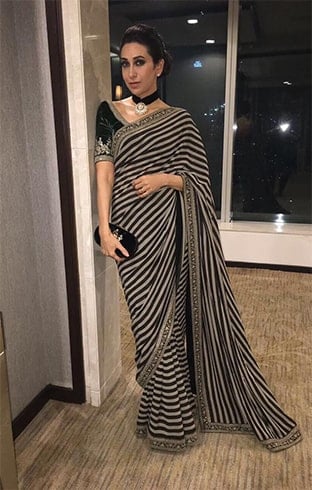 Catch a glimpse of Sabyasachi net sequined and embroidered pastel saree.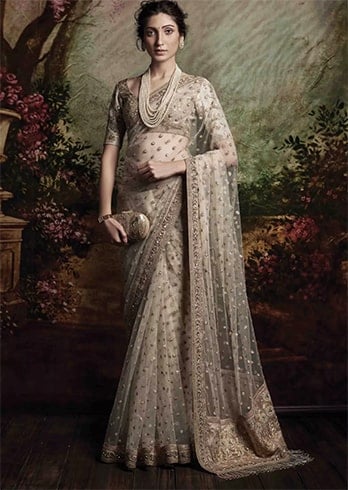 Prints inspired from Shikargarh, the Sabyasachi Mukherjee sarees below depict flora using the silk screen printing style from West Bengal. Created on organza silk and paired with south Indian style blouses in pop colors. Embellished borders add reasonable amount of sophistication.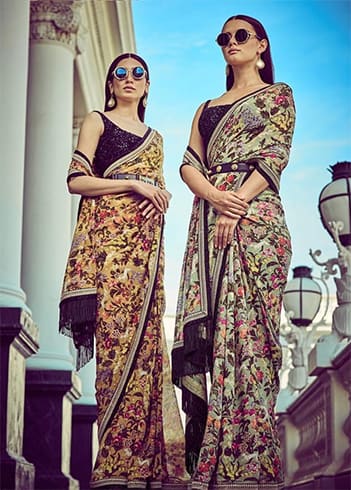 3. Sabyasachi Dress:
Stunning is the word for Sabyasachi Mukherjee dress. The play of colors and the traditional workmanship literally transports one to an era where nothing comes in the way of perfection. Let's find out how.
Fascinating thy name is Deepika Padukone. This cobalt blue anarkali done by Sabyasachi with fish scale gold embroidery on the sleeves and on dupatta is enough to take one's breath away.

In this full-sleeved ivory kalidaar, the tulle fabric and embroidery all over is enough to leave one spell-bound. As for the accessories, there is the printed dupatta draped across the shoulder and no ordinary belt but embellished one. Price – INR 3,45,000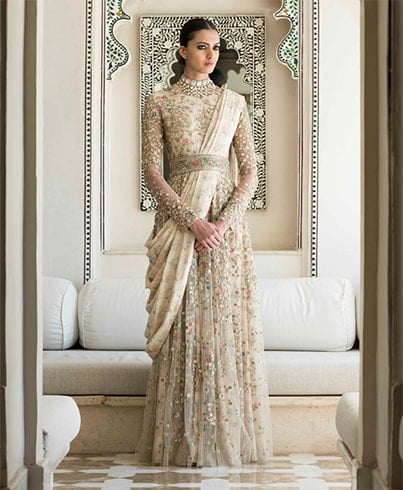 4. Sabyasachi Anarkalis:
If you need the right amount of oomph in your outfits for celebrations, then go in for a Sabyasachi Anarkali without a second thought. It will surely make you look dazzling and breathtakingly beautiful.
Check out this Sabyasachi white red floor-length Anarkali on Anushka Sharma. Looks supremely elegant for day wear and cocktails, in fact for all possible occasions.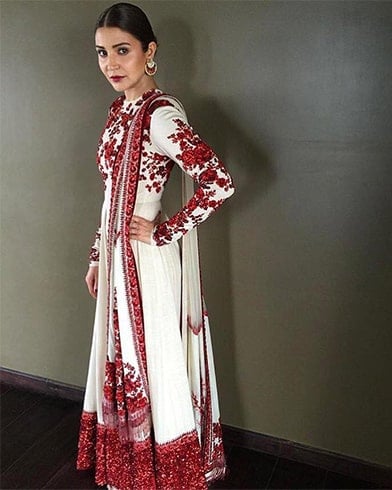 Sheer eye-candy this is in floral Anarkali which is just perfect for bridal wear. It gives you an organic feel in the bridal outfit, at the same time opulence.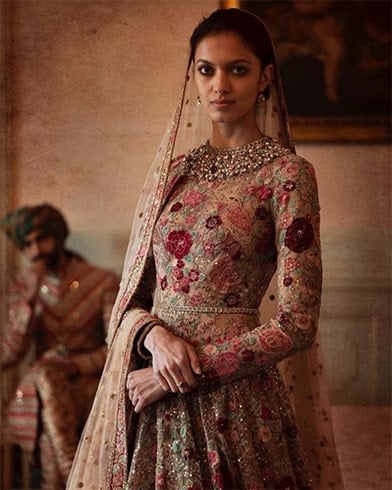 5. Sabyasachi Mukherjee Gowns:
When you want to go beyond sarees, anarkalis and lehengas, then there are Sabyasachi Mukherjee gowns for you. Sabyasachi couture gowns have all the sartorial details to make you shift from the bridal Indian couture to western craft.
Deepika Padukone looking truly stunning in this white Sabyasachi gown at the IIFA Awards held in Madrid. The outfit inspired by Spanish bull fighters comprised of a short blouse, a Godet skirt and a cape.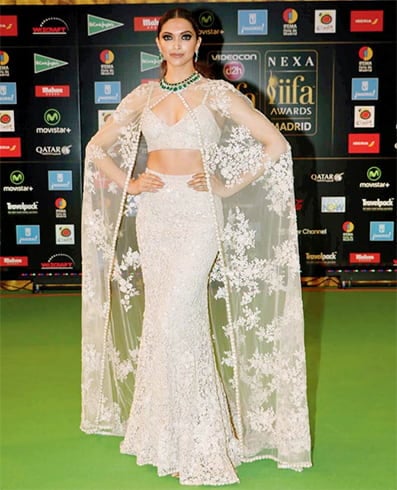 Sabyasachi announced the launch of an International Wedding collection with retail chain Lane Crawford, Hong Kong leading to the world of couture gowns such as the ones below. The delicate veils, flapper style dresses white gowns are for your eyes.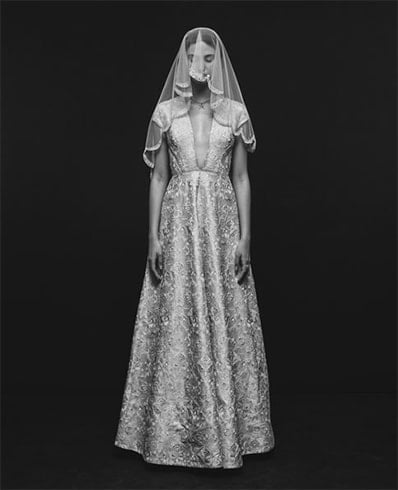 6. Sabyasachi Bridal Collection:
His ode to craftsmanship and maintaining the traditional touch is the signature of Sabyasachi's work. That's why brides across the world dream of wearing a bridal outfit designed by him.
[sc:mediad]
Being a Sabyasachi bride has its own charm. Like for instance, Bipasha Basu who in her wedding wore a Sabyasachi Mukherjee bridal outfit along with jewelry from Kishandas & Co.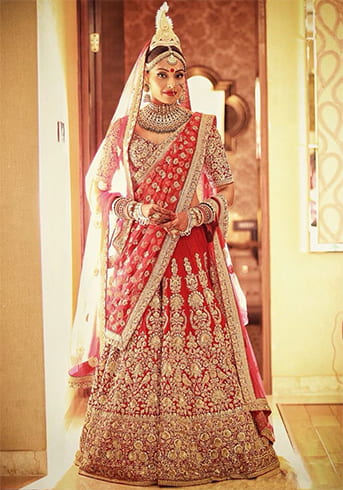 Using multi-fabric weaves and fabrics in one garment is one of Sabya's favorite techniques. Example – this bridal kurta which has kantha work, textured brocades, kalamkari and vintage borders. The patchwork shawl, Benarasi odhna complement this look so well.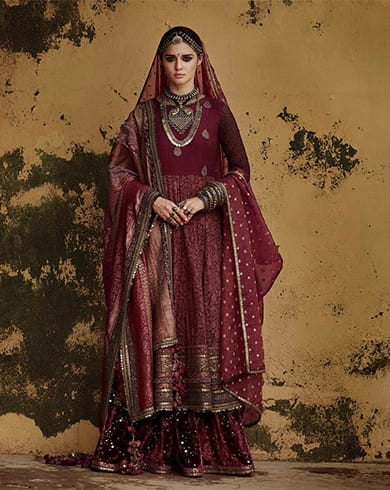 7. Sabyasachi Jewellery:
According to Sabysachi "I'm very fond of jewelry, maybe a tad sentimentally so. Growing up, I spent hours rummaging through my mother and grand-mother's jewelry cupboards. Their taste was simply exquisite". Now we know what motivated Sabyasachi in fulfilling his ambition for jewelry designing.
Meet Deepika Padukone, the modern-day princess in an off-white Sabyasachi saree and a gorgeous-looking emerald choker from the Sabyasachi Heritage Jewelry collection. Padukone herself looks vintage in this jewelry piece.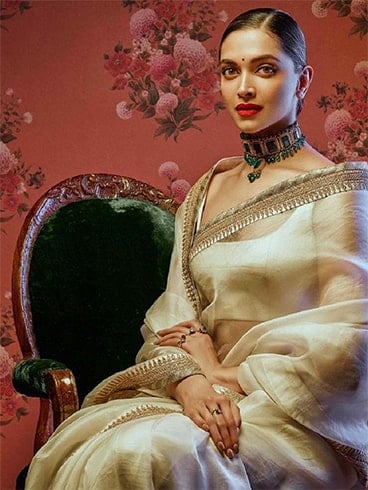 Speechless is what you will be looking at this traditional polki bridal jewelry with detailing done out of Zambian Emerald. The signature matha patti and pahadi nath complete the awesome effect.
So how did you find this piece on Sabyasachi Mukherjee? With such an in-depth knowledge that he has on Indian crafts and artistry, he is certainly a caretaker of our heritage. How did you find this article? Have you ever shopped for a Sabyasachi outfit or jewelry or plan to do it now? Tell us through your comments and share it in your social network too.
facebook.com/sabyaofficial