If you ever question an Indian bride about the designer she will love to adorn on the most important day of her life, the answer did be a unanimous, Sabyasachi Mukherji.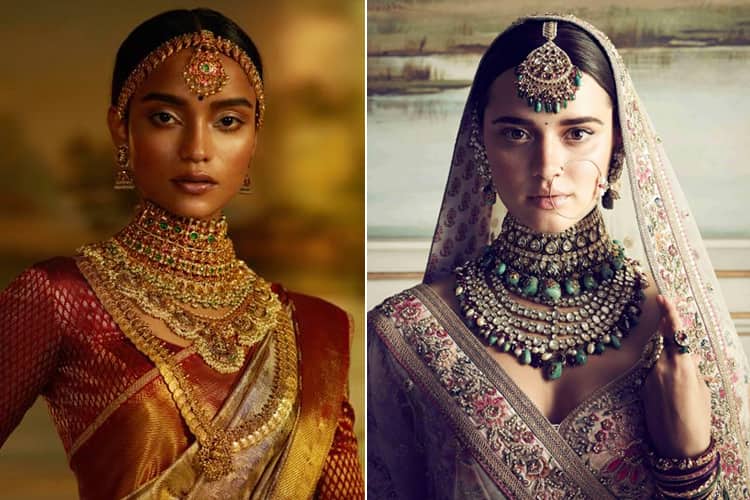 Sabyasachi is a label that breathes Indian heritage and culture into its fineries and the absolute USP of the brand lies in it's Indianness. It is only fitting to say that each piece created at Sabyasachi, validates the richness of our culture, almost forcing us to accept the sheer genius India was, back then. The man strives to evolve the industry towards the abandoned arts, textiles and techniques and merges them with urban design aesthetics most beautifully.
The reason the designer enjoys such an uncontested authority, when it comes to bridal wear, is simple. No one understands royalty better than Mr. Mukherjee. With every bride willing to look like a queen on her D-Day, Sabyasachi becomes an obvious choice.
After wooing the brides with his spectacular lehengas, the man, most-recently, deep dived into the bridal jewellery sector. Focussed on giving the Indian staples a Sabya touch, the mastermind had his eyes set on bringing about a whole new era of uncuts, kundans, pearls, and jadaus.
For this season, the designer has whipped up an exotic collection filled with statement pieces that are sure to enhance the beauty of both rustic and contemporary bridal ensembles
Here is all that we loved from the Sabyasachi Heritage Jewellery for the to-be brides this season.
Multi-coloured Drops
With the bridal couture pieces getting a bright makeover, Sabya fittingly decided to incorporate a dash of brightness to the bridal jewellery as well. Sounds like a fiasco, but looks fascinating.
For all those who love to wear multicolor jewellery pieces, but are unsure of their grandeur and elegance, this set is sure to relieve you of your myths that surround the usage of multicolor stones in a bridal set. A stunning uncut diamond necklace, strung together with emeralds, tourmalines, Japanese cultured pearls, turquoise, and coral beads, is indeed a head-turner.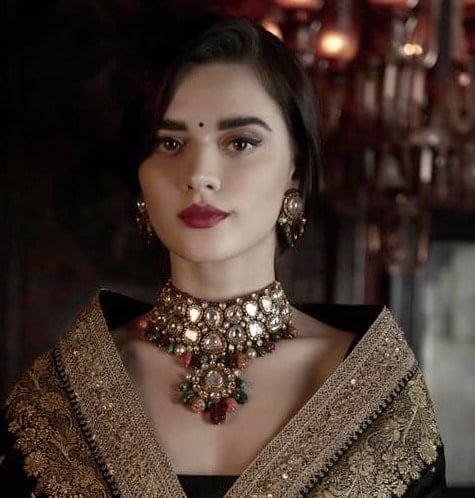 For all those muted neutral and golden lehengas craving for a dash of sparkle, Sabya has just the perfect jewellery. This vintage uncut diamond set highlighted with emeralds, yellow sapphire and corals, is an absolute delight for brides to defy neutrals, and are willing to take a color dip.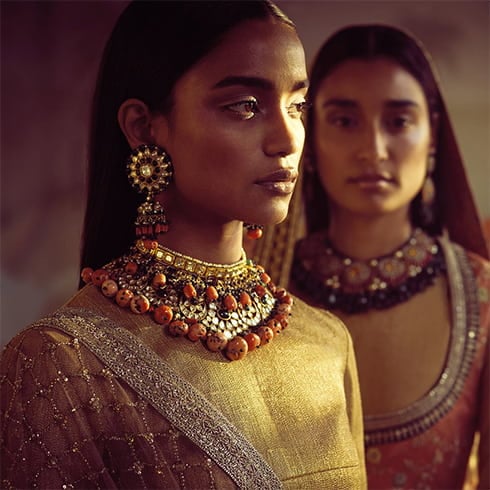 A classic uncut diamond necklace, strung together with emeralds, turquoise, tourmalines and pearls, is sure to add all the oomph to your red bridal lehenga. Together with the desi meena accents, this piece grabs all the eyeballs.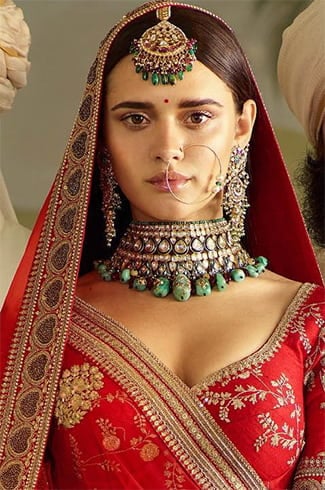 A Whole Lot Of Pearls
Pearls have always been associated with aristocracy. Bringing the old world glamour back in trend, the mastermind worked his way into creating pieces that spell the magnificence of these beauties.
An intricately hand-crafted rose-cut necklace can be worn with matching chandelier earrings. The additional embellishment with South Sea pearls add all the highness feels.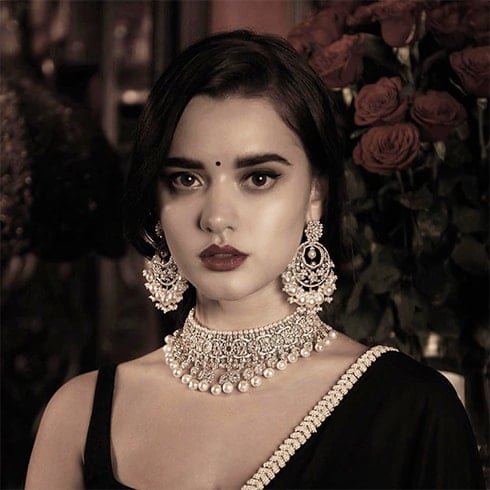 Binging on the choker trend, is this stunning emerald teenmani, strung together with rose-cut diamonds and basra pearls. Adding to the oomph factor are the uncut diamond, emerald and ruby chandbalis, in 22k gold, strung together with baroque Japanese cultured pearls.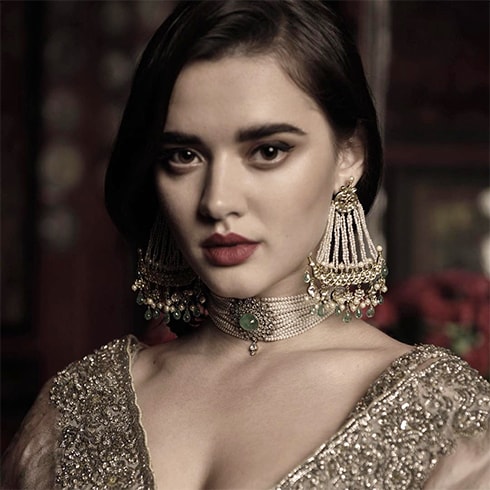 A stunning jewellery set, made in 22k gold, embedded with emeralds, rubies, and pearls worked wonders for the bridal lookbook. Giving the traditional emerald and rubies a striking pearl hanging touch up, observed all the due attention. The cluster of pearls taking over the edge of the necklace was a master move by the ace couturier.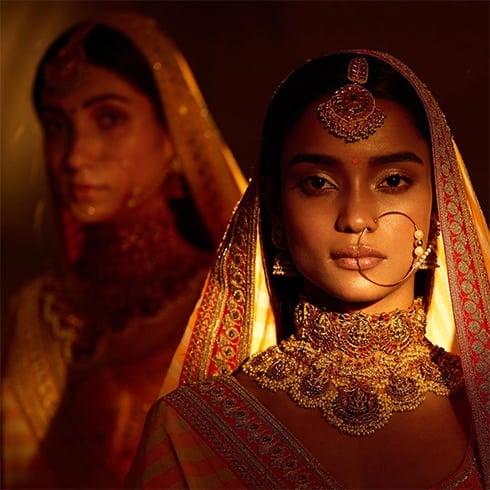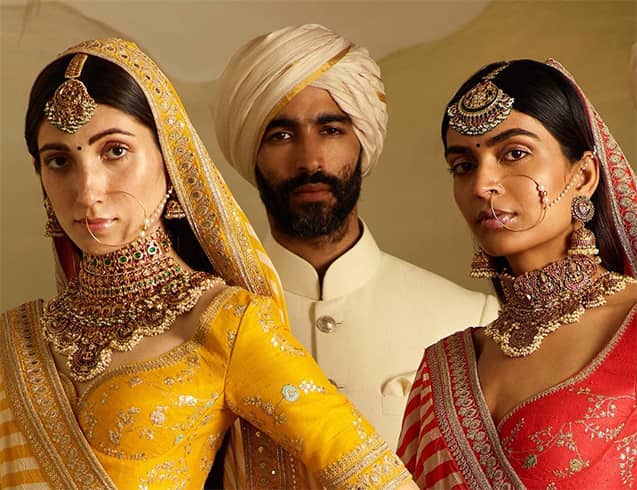 Chokers With Statement Zamibian Emeralds
Taking the choker trend to an all-new high, was Sabyasachi's versions that boasted of chunky emeralds in all their might, emerging as showstopper pieces.
This one is sure to make the cut for a definite heirloom courtesy – the humongous size of emeralds. An emerald and diamond choker, featuring a layout of 565 carats of Zambian emeralds, perfectly graded in size and colour.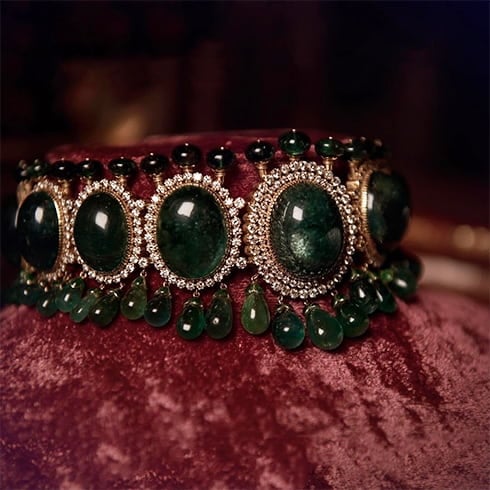 For the more sophisticated soirees, we suggest you opt for a statement choker just like this classic rose-cut studs and a 'Tinmania' necklace, crafted out of rose-cuts, Colombian emerald, and basra pearls.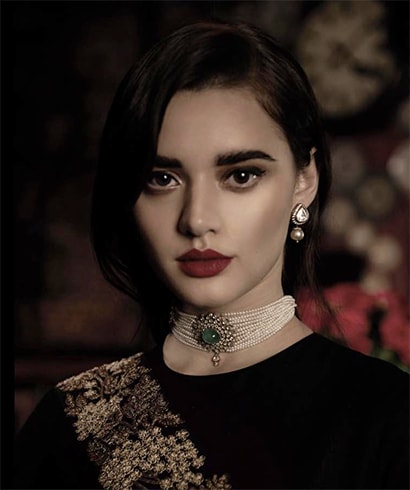 Our love for chokers has heightened seeing this stunner, a heritage choker featuring a gigantic 146 carat Zambian emerald. Adding to the glamour are the Zambian emerald and diamond studs.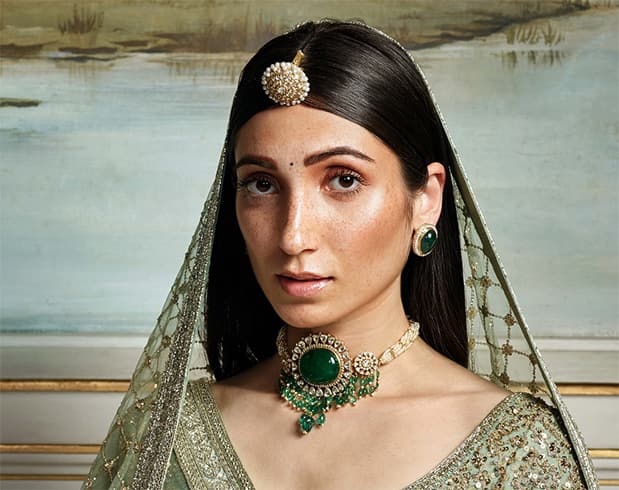 Classic Uncuts With Sabya Twist
A favorite among brides, uncut diamonds are deserving of the positioning they enjoy in the Indian bridal market. Sabyasachi rendered his masterstroke to bring to life a range of bridal classics.
[sc:mediad]
Sticking to the roots, was this hand-crafted syndicate uncut diamond jewellery, profusely detailed with pearl that surely completes the look.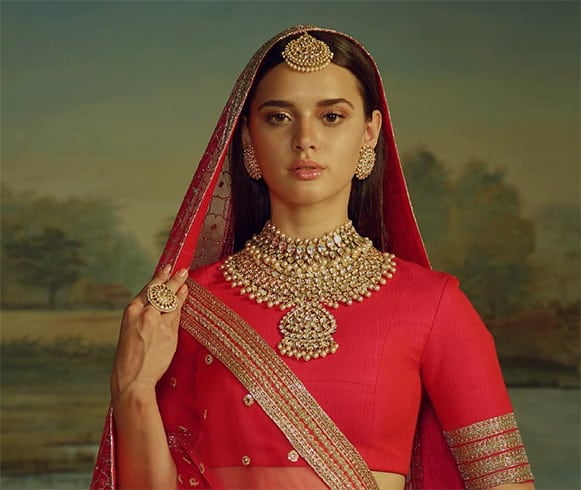 A keepsake for sure this syndicate uncut diamond jewellery is, strung together with spinel beads and pearls and worthy of much appreciation.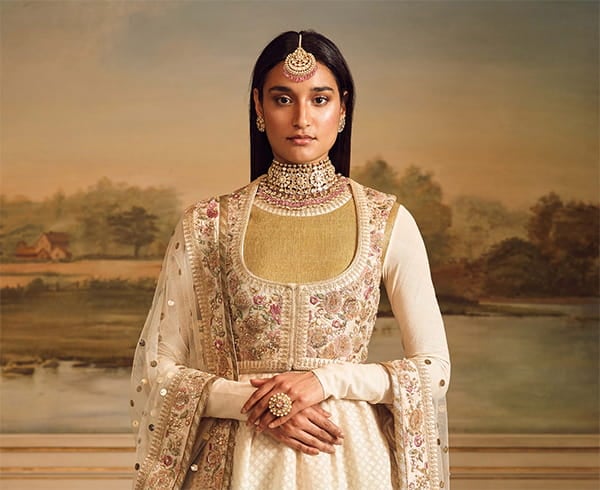 A rare antique classic rose-cut 1920s necklace, with old mine Colombian emeralds, detailed with 'Batti' finish.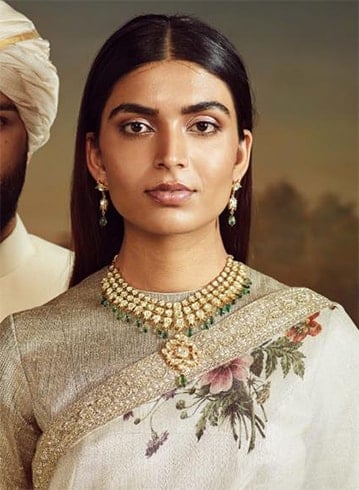 Completing her red bridal look, was this uncut diamond bridal jewellery, strung together with baroque pearls, making it powerful.
OTT Necklaces
A few over-the-top necklaces have bestowed our faith in the master couturier.
This is a statement number in uncut diamonds, strung together with faceted and cabochon emeralds in different hues and colours. A combination of Zamibian, Russian and Colombian emeralds added the much-needed charm.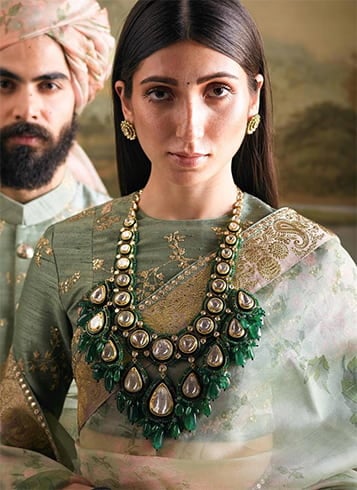 Meant for the queens, was this extraordinary necklace in uncut diamonds and pearls. The stacks of uncut, glass and enamel bangles, this jewellery furthered the look notches higher.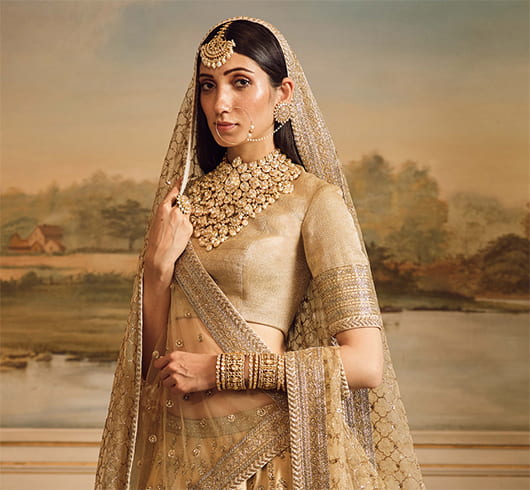 For a bride who loves getting attention,this set boasts of uncut diamonds, rubies, emeralds, phiroza, yellow sapphire, and Japanese cultured pearls.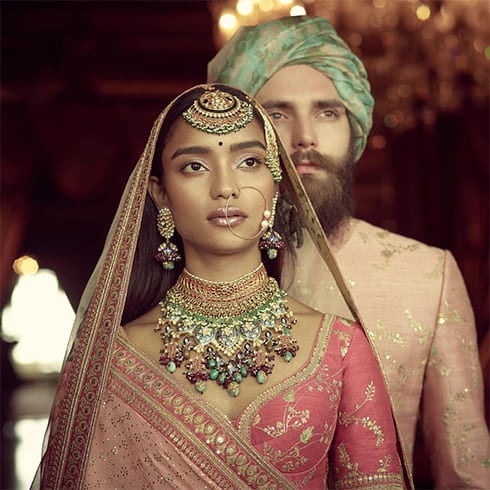 With these pieces in our vicinity, we can truly feel a to-be-bride's excitement and confusion for which piece to pick from such an extravagant collection.
Images Source: instagram.com/sabyasachiofficial/