It's time to upgrade your mangalsutra choices you've been wearing forever. We're here to convince you to try mangalsutra accessories ranging from bracelets, bangles, and earring sets. Besides that, we have versatile neck pieces that you can wear daily or even to workplaces. For that reason, we've rounded eight stylish pieces to check off your wish list box. These pieces can cater to anyone who desires style and durability.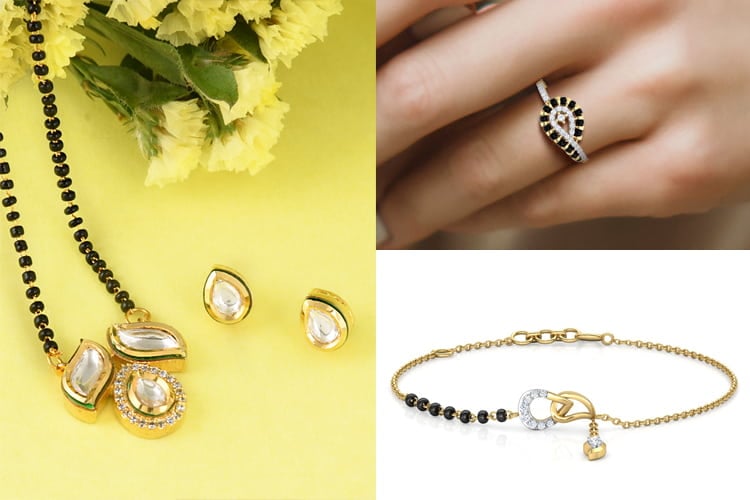 A mangalsura need to carry you from work to home duties, and also last through every adventure of your vacation. Luckily, the designs ahead can fulfill all this and more. So make your picks soon before they completely sell out.
The Most Versatile Mangalsutra Accessories Of The Season:
Ahead, the best mangalsutra accessories you'll want to add to your jewelry collection immediately.
1. Neck Mangalsutra:
For those seeking a non-stark neck mangalsutra, you'll love this design. The gorgeous tones give it softness and the diamond dropping offers a feminine feel. Despite the coloring of your attires, it'll pair easily with anything in your overall seasonal wardrobe.
2. Mangalsutra Bracelet:
It was only a matter of time before newer versions combined the mangalsutra designs with something like this. The mangalsutra bracelet can allow you to show off your tenderly hands and present a beautiful spin on the hand accessory look. Meanwhile, the outer design on the exterior gives the bracelet a royal quality.
3. Mangalsutra Bangles:
While these mangalsutra bangles clearly look irresistible and stunning, it will look more exquisite when worn. Give these a try after you decide that you absolutely need more bangles. Upgrade with a designer pair like this one that will take you through 2020.
4. Mangalsutra Rings:
We can't say enough good things about this piece. These designs prioritize on its attention to detail. Every time you wear the mangalsutra rings, shown here, you are bound to get many compliments-for the design and the quality.
5. Mangalsutra Earring Set:
Wedding called, and it wants you to wear this mangalsutra earring set all season long. This piece is equal parts modern and vintage. And talk about the luxe treat for yourself.
6. Long Mangalsutra:
This long mangalsutra will liven up and blend with any attire, making it the perfect investment. Besides they are a classic piece that will stand the test of time.
7. Mangalsutra for Office Wear:
If you wish to take the mangalsutra to the workplace, try this fresh take. This piece below is an imaginative twist in comparison to the classic pieces worn.
8. Simple Mangalsutra:
A simple mangalsutra always wins when it comes to the ultimate test. With such an iconic representation, there is no need for added adornments and sparkle.
These are the best mangalsutra accessories that you can go for this season. Select one suited to your personal choice and tell us in the comment section below.