Dicey over choosing the trusty matha patti designs? Well, you can bid farewell to your worries, and introduce the jewellery piece for a considered yet classic look. Matti patti designs are seen popping in and out of bridal catalogues. Well, it just happens that our stars have aligned and its' back with newer designs to make our wedding dreams come true. One look at our top ten picks below will have you starry-eyed.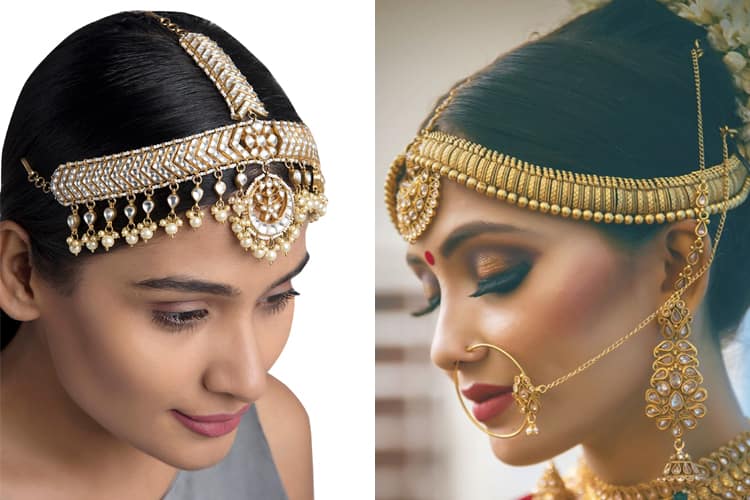 Matha Patti Designs for All-Brides-to-Be:
Here are the best designs:
Diamond studded matha patti designs are an ideal choice for most brides, and we are here for it. Whether you go for a delicate or a mini garden of leaf motifs for your head, this is one style that will have you feeling like royalty.
This wedding season, take your idea of matha patti with borla and crescent shaped piece to the next level by pairing it with matching earrings, necklace, and also warm up the idea of taking into account precious anklets, fancy belts or body chains.
Take your bridal accessory look for a wild ride with matha patti designs like the one below to grab everyone's attention. Everything you know about this jewellery piece should be thrown out the window as there are sleeker versions of this too.
The modern matha patti designs are picking up steam this wedding season, and most brides are picking up similar pieces. What does it mean for you? Your bridal jewellery wish list will continue to be expansive with unique and playful styles.
Mathi patti designs in traditional styles will always remain a timeless classic for most brides all over. Our personal favorite of the same is thicker versions of chaandbaali design featuring pearl layering.
There is no doubt that gold matha pattis will let you down. It can literally turn you into quite the spectacle, in a good way.
[Also Read: Gorgeous Maang Tikka Designs]
We are into this more minimal shape-never worry that you matha patti has lost its form. This is perfect if you're the whimsical bride-to-be and you know it.
A neck piece with polki droppings with bridal wear would be classic on its own, but a matching matha patti will bring the ensemble together.
So you like a little drama? We adore the idea of a matha patti with crescent-shaped hanging-it feels like the melding of Indian bride-meets-modern style.
Similarly, we're also on board with double-layered matha patti with pearls and tourmaline detailing. The unique hanging lends an edge while sustaining a feminine feel.
Wouldn't you like to add any of these stunning matha patti designs to your bridal checklist? Tell us in the comment section below.