With your calendar chocked full with festival and wedding dates, you just have to get real with the style department too. For that reason, we are sharing this dazzling, elaborate, and beautiful mirror work lehengas you have *ever* come across. Even if you don't like the fussy mirror work (seriously, we know for a fact those people exist), there are several low-key looks. But luckily, if anything shiny and gleaming is your bag, you've landed on the right page.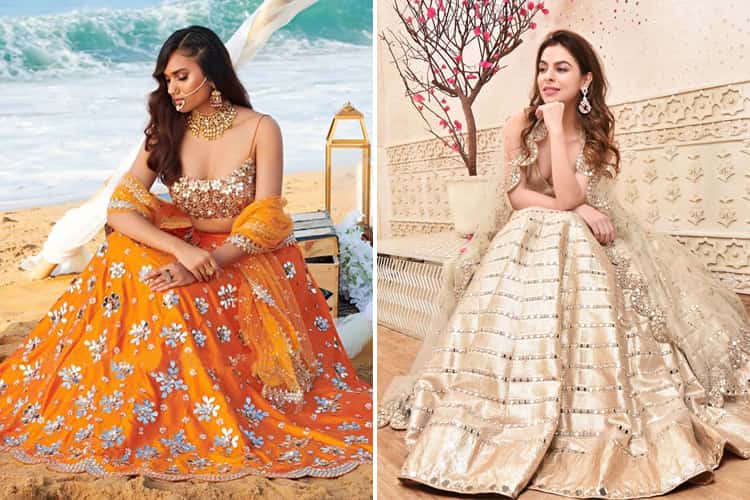 Your Next Event Plans: Recreating Any One of These Mirror Work Lehenga Looks:
Here are all the looks that will blow your mind off. Literally!
Heading to a function and looking to make a statement? Set your eyes upon this bedazzled look. You don't need to bring it to life with body glitter, highlighter, and falsies. The mirror work lehenga will get the job done. Recreate a similar look, but give it your own spin with a mix of ethnic jewelry that fit your personality.
OK, we know you might feel this is a tad dramatic to wear to a regular event, or let's just say, the small gathering, but you have to admit that it's pretty damn blazing. For a BFF wedding activity when you have to look glam and have a lot of tasks at hand, give this look a try.
This mirror work lehenga is complete in itself with the vibrant hue that's so pigmented and beautiful, we can't look away. Select your favorite hair and makeup look if you're going for something similar and makes sure it's done with precision. This look is too pretty to go wasted.
Who said mirror work lehengas has to be all over the place? This look below proves that it can be sharp and chic even with the heavy depictions.
Mega event looks is whatever you make it. If you are looking for ideas, then this red lehenga with matching blouse is a good start.
This sunny disposition makes a case for autumnal hue palettes. One look at this lehenga by designer Akanksha Gajria- we seriously ready to head out the door.
Feed your inner diva moment with a simple wash of aquamarine lehenga. It won't magically turn you into (we cannot take names-you know who), but what we do know is you'll look rad.
If mirror-work is involved in your lehenga, then it automatically becomes the center of attention. So for that reason, keep the base relatively low-key.
Full dreamy look wish list: mirror-work lehenga with the slightest pop of glittery eyes and matching set jewelry.
Speaking of sparkly eyes, we have another eye-opening style hack. All you need is a subtle hint of everything. Think-glittery eyeliner and lehenga with small mirror depictions!
The best match for plunging neckline blouse? According to style experts- matching mirror work lehenga! And a lehenga piece looks this pretty; a little risqué is worth it.
We always knew mirror work lehengas to be magical, but this purple piece is on another level. When mirror detailing looks this good, we just have to shut down.
So do you have a favorite out of our selections of 12 mirror work lehengas? Tell us in the comment section below.