While there are tons of classic, traditional earrings you would probably wear to impress. But a seemingly popular choice is the prevalent choice of jhumkas. The below list of latest jhumka designs are not your regular selections in the slightest, but wow, is it worth it. If this is the part you start assuming that you are quite updated, trust us when we say that somehow, you need to brush up. We think you'll be easily drawn to the below pieces because, for the most part, they're actually quite classic. So to see all the 15 jhumka designs, just keep scrolling.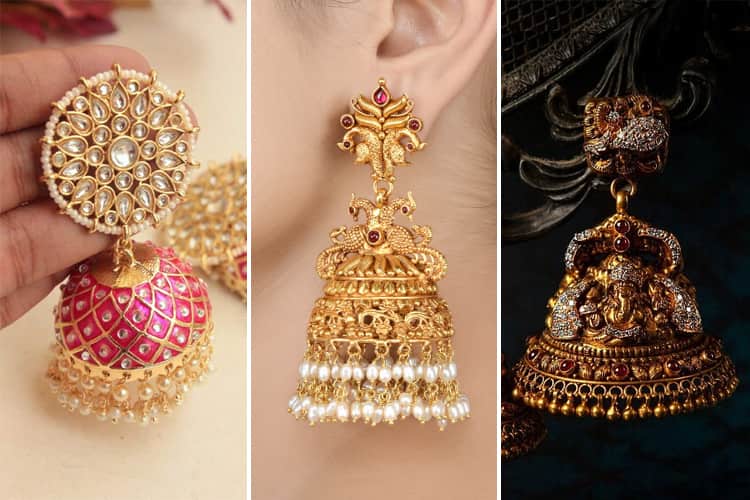 Exactly Which Jhumka Designs To Choose This Season:
And your wait is finally over. We hope you find your best match.
1. Kundan Bridal Gold Jhumka Earrings:
Note to self: Pair bridal jhumka earrings with a resplendent traditional silk saree. Translation: you can never get enough of this match made in heaven.
2. Square Style Jhumka Earrings:
Square styled exaggerated earrings are the subject of Instagram and Pinterest style inspiration and predicted to stay on for years to come. No doubt-this can easily create a regal and memorable look.
3. Yellow Gold Jhumka Design:
This yellow gold jhumka design is understated and complimentary especially when matched with temper border Kanchipuram silk saree. You can also create this stunning look in a really modern, simplistic way.
4. Antique Style Ruby and Gold Jhumki Earrings:
Clearly, antique style jhumkas will remain the trend forever. And this ruby and gold piece looks good in every aspect. Also of note is how elegant it'll sit on your ears while framing your face.
5. Heritage Bridal Jhumkas:
Statements are abounding with this heritage bridal jhumkas, from the pearl and green polki work juxtaposed with the gold knot. Also, the jhumki droppings and pearl hangings give it a royal touch.
6. Jhumkas with Kundan Work:
This exquisite pair has to be one of our luxe jhumka designs as it has been refined with rich kundan work. Just look at the way this pair is balanced-very clever.
7. Jhumkas With Heavy Stonework:
We love everything about this heavy green stonework jhumkas. The key in it being a sensation lies in the textural contrast between the pearl hangings and colorful stone assembling. The color combination is another winning factor and makes it looks so expensive.
8. Temple Jhumkas:
Temple jhumkas may sound like a traditional style, but it works like a charm, nonetheless. In fact, a unique pair like this can look easy with a matching set of attire. Perfect for weddings and family gatherings!
9. Antique Gold Jhumkas:
Everyone loves antique gold jhumkas perhaps because they are the ultimate steal and pulled-together choice. Wear a similar pair like this with minimal adornments: an anarkali or a salwar suit will do.
10. Jhumkas With Pearl Details:
Take it from us: The best way to take your Indian attire from so-so to appealing is finding a great pair of jhumkas. We promise that this pair with pearl detailing below will be well worth the buy.
11. Stonework And Golden Jhumka:
It pretty much goes without saying, but saving up for a statement jhumka is crucial for every woman. If this one doesn't make you hit the buy button, we don't know what will.
12. Square And Hanging Jhumka Earrings:
Earlier we mentioned about heritage jhumka earrings. This square and hanging jhumkas has similar knockout factors. Plus the golden depictions just add the classical punch.
13. Floral Colored Jhumkas:
There are few other jhumka designs that work like magic such as the ones in floral depictions. From finding the perfect pairing to actually wearing it on a special day, this style should be sealed and reserved.
14. Round And Circle Patterned Jhumkas:
The chicest, modern jhumkas we've seen in a minute. This look proves that jhumkas are not altogether traditional. So glad to see how the round and circle patterned pieces have worked here.
15. Jhumka With Moti Work:
This is the kind of jhumka design that interests all sorts of women. It can easily grasp attention and add instant charm to any look.
Which jhumka designs captured your attention in a second? And which one would you like to add into your jewelry collection? Tell us in the comment section below.