Novelty and boldness are what most of us haute ladies seek – whether it is in fashion, menu, mobiles, travel destinations, cosmetics or the art of living. Year after year, so many trends leave us hungry and asking for more. We are humans after all, so our wish-list is never-ending.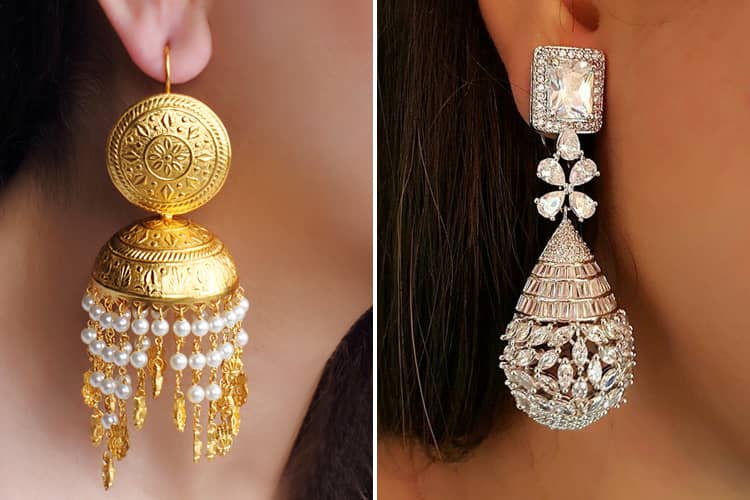 Who told you to change your habits and aspirations?
Stay that way.
And check out yet another latest in the list of wants – the earrings 2019 trend.
It is time for all eyes to be fixed on fashion earrings 2019. The latest earring trends which double up as trendy earrings 2019. After all, modern-day "ear candy" is so stylish a statement to watch and wear – be it on the runways or on occasions and boring office days.
Fashion Earrings 2019 Trend:
Here are the 'flames' in earrings of 2019.
1. Hoop Earrings With Fringe:
You chase-and-make trends, don't you? This is one of the hottest trendy earrings 2019 – oversized bejeweled hoop earrings that have colored gemstones, and long fringe. Wear these, night or day, with sweatpants or a gown, whichever you wish. If you are a quirky fashionista, then wear one earring at a time. That will get you an uber fashion-forward look.
2. Miana Tassel Earrings:
Store these trendy earrings 2019 on a Jewellery stand. Thread-wrapped studs, a gold trim, and soft tassels make these drop earrings your new, go-to pair. And black is always in style.
What's the 'it' thing about Tassel earrings?
They are created with simple and colorful threads or beads yet look ultra chic.
3. Rosie Pearl Drop Circle Earrings In Gold:
A string of pearls can never be ignored for the sense of completeness it brings. These pearl drop earrings give you a classy look; at the same time add a modern funk.
4. Rhinestone Duster Earrings:
Literally, take the term "duster" to a new level, this is one of the most sorted earrings 2019 trend. Such is their WOWness that they barely rub your shoulder, yet go well past it. What greets you is a fringe design with rhinestone trim and post-back closures.
5. Kenza Stone Tassel Earrings In Light Turquoise:
Boho-chic is your fav style, isn't it? I mean you are part of the – maxi dress, ankle boots, floppy hat, and round sunglasses brigade. But you need a bit of sparkle. And these earrings are God-gifted. They have the multi-colored fringe and the rhinestones to add the sparkle you need.
6. Beaded Metallic Earring:
Asymmetrical/solo earrings are in the now. And knowing how bold you are, they are the perfect accessory to nail your look. Put a small stud earring on one side of yours and bring your hair to the side to show it off.
Not ready for a single earring? Buy two of these and wear them together. You have got to show (and dictate) fashion, right?
7. Tubular Wire Studs With Gems:
This is one of the coolest earrings 2019 trend and no prizes for guessing that they are designed in the Fashion capital of the world, Paris. These tube-shaped gold-toned oversized earrings go with literally anything, even the jeans, and T-shirt look. The decorative gems and a push-back closure complete the diva look.
Now for the HOTTEST EARRING TRENDS for women in 2019…
8. Studs:
The all-time favorite for most women! Preferred by divas who avoid OTT jewelry, but like to make subtle style statements! Studs are available in pearl, gold, silver, ruby, sapphire. The price of stud earrings is determined by the size and the stone quality. Whatever it is, once these trendy earrings 2019 are worn, they will surely make you look like a head-turner. And yes, they look fab when worn with a saree.
9. Hoops:
Quite popular since the 1960s when they evolved, hoops add a retro effect to your overall look. Circular in shape, they compliment your jawline perfectly. They also define your facial features without much of makeup.
10. Drop:
Call it a "dropping" just below the earlobes. Whether casual or festive occasion, drop earrings can be tagged as the latest earring trends. They come with any of these – gemstone, charms or beads attached to the base of the earring. Hence, the swinging trinkets will definitely add a swing in your stride!
11. Danglers:
Though they are similar to drop earrings, a dangling earring moves more freely than the drop ones. Attached they are to the ear through a small wire and then connected to the hook at the back of the ear. Dangling earrings come in different shapes, sizes, and designs that you can think of.
[sc:mediad]
12. Huggie Earrings:
This is no Huggies diaper business, silly. Just Huggie earrings which hug the earlobes when worn. They come with a hinge at the top which lets it open into two halves. Though they are small they look magnificent and hard-to-miss. Huggie earrings come in many sizes and can be made out of diamond, gold, pearl, sapphire or rubies. Anything that suits your pocket and fashion needs.
13. Moon-Shaped Balis
Popularly called chand balis, moon-shaped balis meant for traditional occasions are a festive treat for the eyes. Amazed how they can be taken as one of the most popular trendy earrings 2019? They are moon-shaped, that's why. Well, chand balis can be crafted with many forms of jewelry – either with pearls, stones, crystals, Kundan work or meenakari work. The idea is to make you look drop dead gorgeous as also complete your ethnic look.
14. Clip Earrings:
Also known as CLIP-ON earrings, clip earrings are not inserted into the pierced hole (which is a common way) but screwed onto the outside of your earlobe. That is why; it emerges as fashion earrings 2019 – since it is a good choice for girls/ladies who haven't pierced their earlobe. They come in various sizes and shapes and have multiple backing options.
15. Ear Chains:
They have a chain attached with the earring which extends up to the cartilage. The good part about ear chains is that they do away with the need of piercing the ear cartilage.
Why cool?
Because it fills the entire ear and makes a good choice for casual outings.
16. Needle Earrings:
Hey, no needle and thread this time! You aren't stitching any clothes, silly. Funky and light-weight, needle earrings deserve to be trendy earrings 2019. It is a long needle-shaped chain which goes through the earlobes, making you look smashing. Needle earrings evolved after molding of the basic hoop earrings.
17. Feather Earrings:
This is another popular earring style which is on the rise. Comes in varied styles, patterns, and colors. You just need to pair it with an apt summer dress to look boho-chic.
18. Pearl Earrings:
These earrings never fail to give you a stylish timeless and vintage appeal. Wear it as a stud or as a dangler and your style statement will never fade away. When it comes to parties, weddings or social events, go in for long dangling style pearl earrings. For any casual or office look, go in for geometric shaped single earrings.
19. Lace Earrings:
Meet this contemporary accessory. All you need to do is make good use of lace (lying in your dressing table drawer) and turn it into beautiful-looking delicate earrings. For an added finish, attach some colorful beads or pearls. This will make your earpiece look ramp-ready.
20. Ethnic Earrings:
These are very much trendy in 2019 when it comes to getting the festive or wedding look RIGHT. Go in for long heavy blingy earpieces to get that mesmerizing look. They are perfect for every occasion, actually.
21. Ear Cuffs:
This is yet another addition to the list of trendy earrings 2019 – glam, cool and quite a hit among the fashion-conscious females. Wrap around your ear like a bobby pin. And come embedded with precious or semi-precious stones.
22. Chandelier Earrings:
Available in stones, pearls, and beads, chandelier earrings are supremely classy, stunning and versatile.
23. Jhumkas:
A popular choice for any traditional or festive occasion, Jhumkas go well when paired with simple kurtas or with heavy ethnic wear. When you are going for heavy jhumkas, skip wearing a necklace as it will look too loud.
24. Cartilage Earrings:
There is another cool trend doing the round these days –getting the ear cartilage pierced and filling your ears with multiple earrings. Though they are made out of beads, stone, plastic, and metal, be careful as cartilage piercing is painful and takes longer to heal than the earlobe.
25. Double-Sided Earrings:
They are edgier than your regular studs (since they expand all over your earlobe). The most common double-sided earrings are crystal balls filled with flowers or the round pearls in the front or the square stone at the back. These trendy earrings 2019 are being loved by one and all.
26. Statement Earrings:
These types of earrings have made a major fashion comeback. Normally, they are big and brightly colored. Pair it with any white tee, or any off-shoulder top or a jump-suit, and you will be the center of attraction.
OMG! Earring trends 2019 were huge and upscale!
Darling, drop in your comments in the box below and tell us which latest earring trends listed above look super-se-upar as trendy earrings 2019.