Do you want to know how your favorite celebs feel about jewelry? From Padma Lakshmi to Sofia Vergara, hear the glitterati confess their love for all things dazzling. Curious already? Go ahead and check out our list of the top jewelry quotes.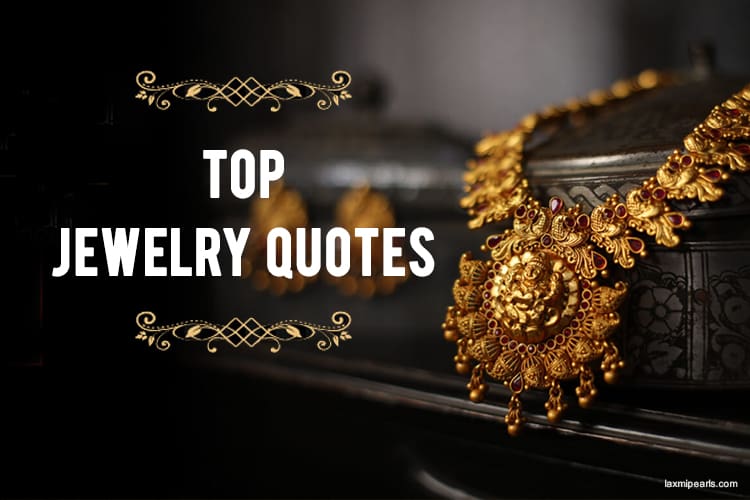 An expensive and intricate piece of jewelry can make any woman on the planet go weak in the knees. Read your favorite divas reveal their penchant for jewelry.
List of Top 23 Jewelry Quotes Of All Times
Check out our list of top jewelry related quotes to inspire your next indulgence.
1. Coco Chanel:
Coco Chanel lived a spectacular life. She didn't just create one of the most iconic fashion brands in history but her quotes on career, fashion, and life are awe-inspiring till date. Here she wittily talks about love for jewelry that is a universal phenomenon for women.
She rightly says,
"A woman needs ropes and ropes of pearls."
2. Nikki Reed:
Nikki Reed's quotes are all about feminism which indicates she's unapologetic about her own awesomeness. The actress is confident and self-assured about who she is. She wants her jewelry to reflect her personality.
She clearly says,
"I like for jewelry to tell a story and to be able to talk about what I'm wearing. That's more important to me than a name, brand, or label."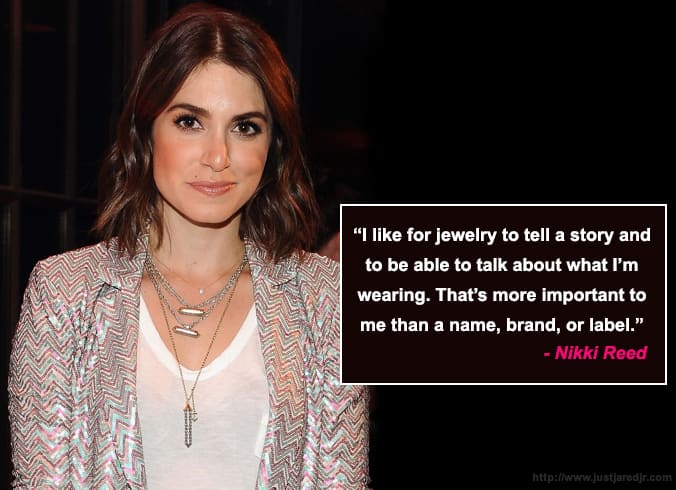 3. Jackie Kennedy:
The popular former FLOTUS had a way with words that was just as unforgettable as her personal style.
For the classy style icon,
"Pearls are always appropriate."
4. Mae West:
This is our favorite jewelry quote from the diva who coined YOLO.
She states her love for diamonds as she says,
"No gold-digging for me: I take diamonds! We may be off the gold standard for someday."
5. Grace Kelly:
Grace Kelly was a beauty who went on to rule hearts. Here she reveals her preference in jewelry as she says,
"I favor pearls on screen and in my private life."
6. Zsa Zsa Gabor:
Hungarian-born socialite and actress Zsa Zsa Gabor was known for her rich taste and glamorous personal style. She wasn't afraid to speak her mind. Here is one of her quirkiest quotes that give us a glimpse of her fetish for all things blingy.
"I never hated a man enough to give his diamonds back."
7. Elizabeth Taylor:
Ahead, we've revealed one of her best quotes on jewelry, women, and being a total badass. You are likely to be inspired. Sage advise you should live by it.
This jewelry quote reflects her rock star attitude,
"You can't cry on a diamond's shoulder, and diamonds won't keep you warm at night, but they're sure fun when the sun shines."
But she also surprises us with a mature take on jewelry as she says,
"I've never thought of my jewelry as trophies. I'm here to take care of it and to love it, for we are only temporary custodians of beauty."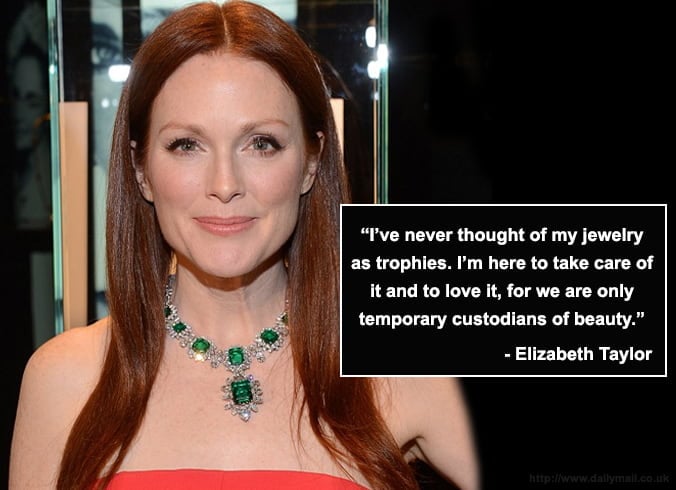 8. Lady Sarah Churchill:
Here is one of her more memorable quotes on jewelry,
"I feel undressed if I don't have my pearls on. My pearls are my security blanket."
9. Marilyn Monroe:
Marilyn Monroe was a head-turner even when it came to sharing her take on life. Take note of Monroe's style quotes and lessons in being happy. Her jewelry related quote is iconic like her,
"Diamonds are a girl's best friend."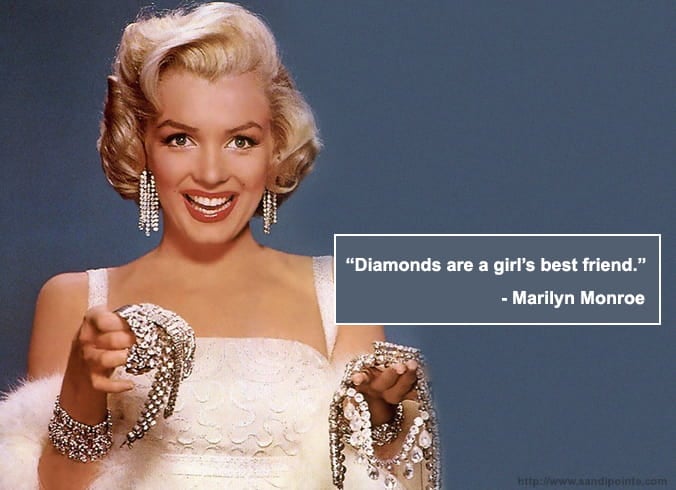 10. Sofia Boutella:
This quote by Sofia Boutella will help you appreciate jewelry better.
"When I was little, I went to the Sahara desert and met an older woman with beautiful earrings that came all the way down to her stomach. She told me, 'For us Tuareg, jewelry is not meant for decoration. It absorbs negative energy that comes your way.' So think twice when you buy a vintage ring!"
11. Colette:
A French novelist with a free spirit, Colette's writings were mostly inspired by her life. Her take on jewelry was as path-breaking as her novels.
"Don't ever wear artistic jewelry; it wrecks a woman's reputation."
12. Monica Bellucci:
We are smitten with Monica's ethereal looks. The Italian actress does not shy away from making a candid confession of her fetish for jewelry as she says,
"I love jewelry-gold and diamonds. I'm a woman."
[sc:mediad]
13. Jennie Kwon:
The fine jewelry at Jennie Kwon Designs is for the modern and minimalist woman. Each jewelry piece is handcrafted and unique.
The jewelry designer strongly believes,
"Jewelry has the power to be this one little thing that can make you feel unique."
14. Ann Demeulemeester:
The fashion designer is popular for her collections based on the poetic theme of shadows and light. Her take on jewelry is rather romantic as she states,
"Jewelry is something that has to do with emotion. That aspect of jewelry really interests me."
15. Kate Reardon:
The British journalist, author, and former editor of Tatler magazine has this to say about her love for jewelry.
"My favorite thing in my wardrobe is my jewelry."
16. Padma Lakshmi:
Padma Lakshmi wears many hats-she is an actress, cookbook writer, jewelry designer, and model.
The diva reveals her style mantra,
"Jewelry should not upstage you. I pick one hot point on my body that I'm going to highlight. Let one area do the singing- you don't want to hear three songs at once."
She goes on to advise you to choose jewelry with discretion, "You don't want your jewelry to make you look fat. A lot of what's out there now does: you just wind up looking like a Christmas tree."
17. Sonja Henie:
Sonja Henie was a Norwegian figure skater and actress. Her career took off at the Olympics when she was all of 11 years old. Her famous quote on jewelry will always remain relevant.
"Jewelry takes people's mind off your wrinkles."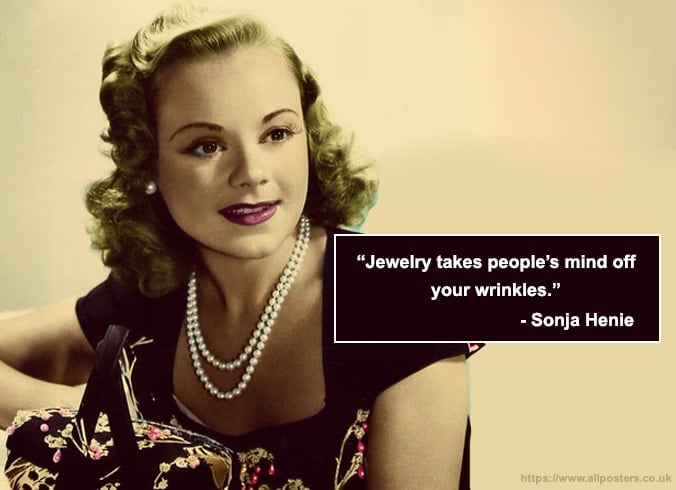 18. Donatella Versace:
The iconic designer toes the conventional line as she considers jewelry as a way of investment.
"Some say the economy means that you have to persuade people to invest in clothes, to buy fewer things but more expensive things. I disagree! Invest in jewelry, or a house, maybe, but not in fashion."
19. Alexander McQueen:
Let's revisit Alexander McQueen's unfiltered take on celebrating individualism.
He strongly recommends,
"Clothes and jewelry should be startling, individual."
20. Jada Pinkett Smith:
Married to Will Smith, the American actress is all for jewelry and high heels.
"If I had my way, I'd wear jewelry, a great pair of heels and nothing else."
21. Dylan Lauren:
Dylan Lauren is an entrepreneur and the owner of the world's largest candy bar. She is also the daughter of the iconic designer, Ralph Lauren. In this quote, she is describing herself as a jewelry person. Her take on jewelry is rather sweet,
"I'm not so much a shoe or bag person as jewelry, and I think it's because jewelry is like candy."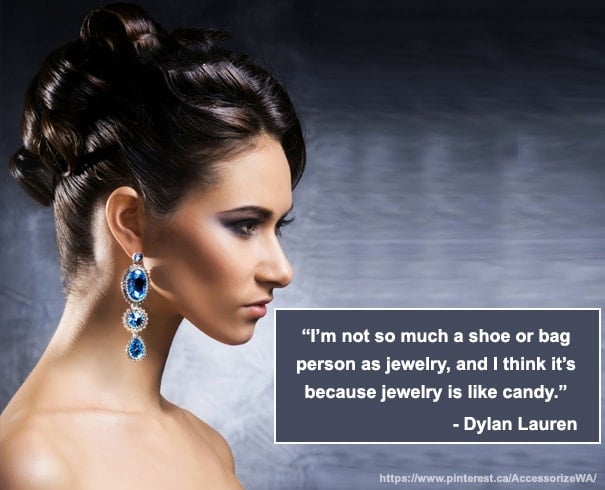 22. Sofia Vergara
The Colombian actress is head over heels in love with jewelry as she confesses,
"I love jewelry- rings, earrings, bracelets, necklaces, you name it."
23. Taylor Swift:
The award-winning singer is known for writing her own songs and has three platinum records to her credit. She has a huge fan following and this is how the singer shows her appreciation for them.
She shares,
"A lot of the jewelry that I wear is fan gifts because they're so awesome, and they give me great presents."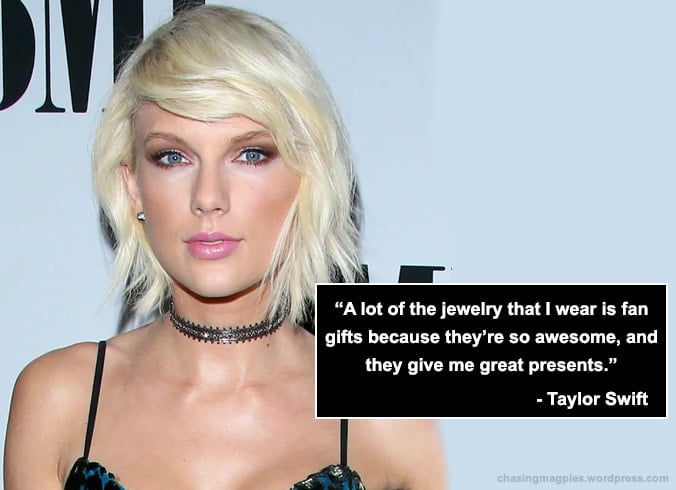 Hope you enjoyed reading our collection of jewelry quotes from celebrities.
Tell us your favorite jewelry quote from the above list in the comments box below. Go ahead and share any other quote you like with other jewelry-lovers here. We would love to hear from you!