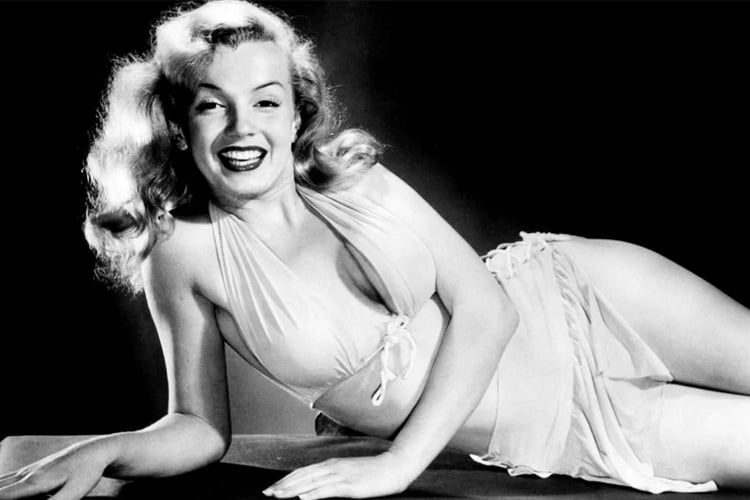 She was a classic pin-up girl. She was a top-billed actress not for few years, but for a decade. Her films grossed $200 million by the time she died of a drug overdose on August 5, 1962 (at the time of her death she was 36 years). She had a difficult childhood. But her trademarks were unique – platinum blonde hair, lisp breathless voice, voluptuous cheeks and a BEAUTY SPOT on her left cheek. She was Playboy's first "Sweetheart of the Month" in December 1953. In 1995, she was voted Empire's (UK) "sexiest female movie star of all time". Come 1999 and she was voted "Sexiest Woman of the Century" by People magazine.

Marilyn Monroe Height | Marilyn Monroe Age | Marilyn Monroe Boyfriend | Marilyn Monroe Family | Marilyn Monroe Professional Career
In the last years of her life, she had become an alcohol addict. On 5 August 1962, she was found dead in her home by her psychiatrist Ralph Greenson. The cause? "Probable suicide" by drug overdose.
Personal Details
| | |
| --- | --- |
| Name | Marilyn Monroe (born as Norma Jeane Mortenson) |
| Birthday Date | June 1, 1926 [celebrity_age_calc data="1926-06-01″] |
| Birth Place | Los Angeles, California, United States |
| Sun Sign | Gemini |
| Eye Color | Blue |
| Hair Color | Natural Brown (dyed Blonde) |
| Nationality | American |
| Religion | Christian |
| Education | Schooling from Van Nuys High School, Los Angeles, California. MM did not attend college. |
| Occupation | American actress, singer and model |
| Marital Status: | Married and divorced |
"When I was five I think, that's when I started wanting to be an actress. I loved to play. I didn't like the world around me because it was kind of grim, but I loved to play house. It was like you could make your own boundaries… When I heard that this was acting, I said that's what I want to be… Some of my foster families used to send me to the movies to get me out of the house and there I'd sit all day and way into the night. Up in front, there with the screen so big, a little kid all alone, and I loved it."
—Monroe in an interview for "Life" in 1962
Family Details:
| | |
| --- | --- |
| Father | Identity not known |
| Mother | Gladys Pearl Baker (née Monroe) |
| Siblings | Berniece Baker Miracle (sister), Robert Kermitt Baker (brother) |
| Spouse | Three of them – James Dougherty, Joe DiMaggio and Arthur Miller and divorced to all |
| Children | None |
Gladys, Marilyn's mom had developed psychiatric problems, and was put in a mental hospital. It means Marilyn Monroe spent much of her childhood and growing years in foster care and in an orphanage.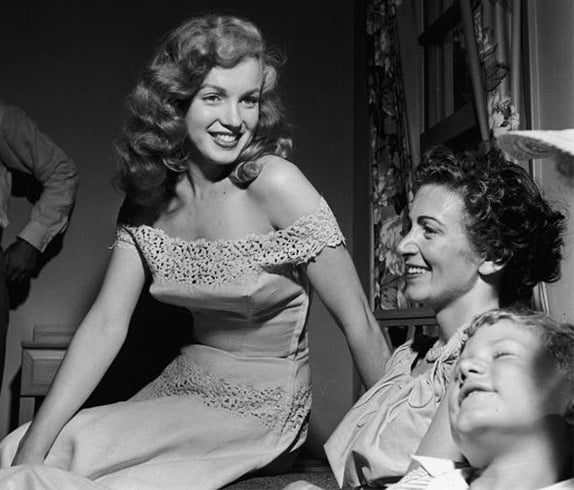 Past Relationships
James Dougherty – He was a neighbourhood friend of Marilyn. They got married. He went into the military, MM did her modelling and they split and divorced in 1946.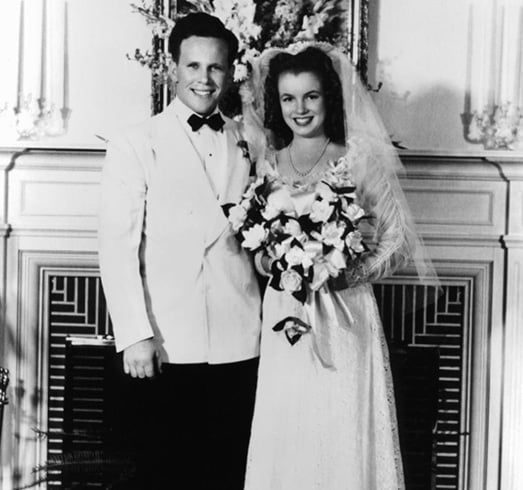 Joe DiMaggio – MM went for a supper (meant to honor her for her performance in the 1955-film The Seven Year Itch where her white subway dress is clearly etched in our minds). The very same year MM got married (and divorced) to famous baseball player Joe DiMaggio.
Arthur Miller – Post the success of The Seven Year Itch, MM got the itch to get into serious acting and do away with her sexpot image. She went to New York's Actors Studio. Sometime later, MM married playwright Arthur Miller. As it so happened, the usual fighting between the couple paved way for MM taking to pills and alcohol. What followed were 2 miscarriages and a gynaec surgery for MM. They got divorced in 1960.
According to rumours, Marilyn Monroe had high-profile affairs with John and Robert Kennedy.
Body Status
| | |
| --- | --- |
| Build | Hourglass |
| Height | 5 ft 5 1/2 inches |
| Weight | 53.5 kg |
| Waist Size | 23 inches |
| Hip Size | 36 inches |
| Shoe Size | 7AA (US) 38-39 (European) |
| Dress Size | 12 |
| Body Measurements | 37-23-36 inches |
Do you know the history behind Marilyn Monroe's name? On July 23, 1946 Norma (her real name) signed a contract with Twentieth Century-Fox Studios. She selected her mom's family name Monroe. From then on, she was known as Marilyn Monroe to all her fans.
Favorite Things and Hobbies
| | |
| --- | --- |
| Color | Black, White, Beige, Red |
| Food | Italian cuisine |
| Place | Bloomingdales in New York, Romanoff's restaurant (in Beverly Hills). |
| Sport | Horse-back Riding |
| Brand | Chanel No. 5 perfume, Dom Perignon 1953 beverage |
| Actor | Charlie Chaplin, Marlon Brando, Clark Gable, Charles Laughton, Will Rogers, Cary Grant, John Barrymore, Tyrone Power and Richard Widmark |
| Actress | Jean Harlow, Greta Garbo, Ginger Rogers, Marie Dressler, Joan Crawford, Olivia de Havilland |
| Film | The Asphalt Jungle (1950), Don't Bother to Knock (the breakdown scene) |
Professional Career
First Debut: MM's first acting assignment came in 1950 in "The Asphalt Jungle" for which she got favorable reviews (even though the role was tiny). If you ask what her first break was like, it was when a photographer for the 'Yank' magazine saw her and thought of using her for the shoots. She started to get modelling assignments and became a popular cover-girl of many magazines.
Brand Endorsements: Max Factor, MAC Cosmetics, Rayve Creme Shampoo, Tru-Glo Liquid Make-Up, Lustre-Creme Shampoo, Louis Vuitton
Career Achievements: Marilyn Monroe got the Golden Globe Henrietta Award: World Film Favorite Female in 1953. She was also presented the Golden Globe Best Motion Picture Actress in Comedy or Musical for 'Some Like It Hot' in 1960.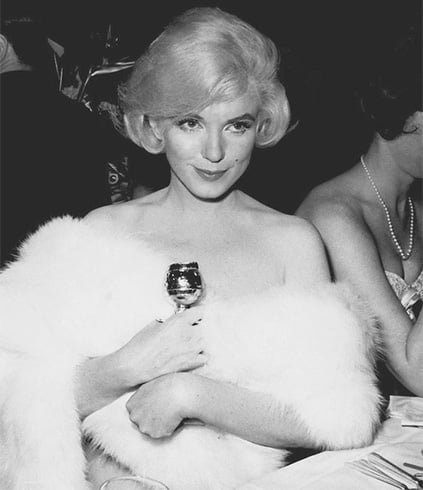 Remuneration: MM's salary for her unfinished film Something's Got to Give was $100,000.
Net Worth: Between $17 million to $ 27 million
What is her best known film? The comedy 'Some Like it Hot'. Such was the commercial success of the film that it was listed as the greatest American comedy film of all time by the American Film Institute in 2000.
MM's final appearance in films was in 'The Misfits' in 1961 in which she played a divorced woman.
Marilyn Monroe Weight Loss
What did she do to maintain the enviable figure she had? Let's find out.
Workout Plan:
Just 10 minutes is what MM spent each morning doing workouts with small weights. Other active pursuits of hers included:
MM's workout formula never had any special trainers, nor room for heavy lifting or sweaty workouts. She was clear in her mind how to get a bod which becomes a legendary example for the rest of the world.
Diet Plan:
Without a doubt, Marilyn Monroe was considered one of the most beautiful women in the world. So what did she eat to maintain her curvaceous figure?
Breakfast – MM whipped 2 raw eggs into a glass of warm whole milk and drank. Skimmed milk or for that matter egg white omelettes wasn't her cup of tea. Eggs and milk was her favourite morning fare no matter where she was.
Dinner – MM could afford the best restaurant food, but she chose to stop by at a market near her hotel and pick liver, steak, or lamb chops for dinner.
MM enjoyed eating raw carrots immensely. She ate several raw carrots along with the meat she had bought for her evening meal.
Treats – Ice cream sundaes.
MM's diet was nutrient-rich and devoid of grains or starchy foods (such as bread, pasta, bagels, cereal, crackers, cookies and other refined carbs).
Facts About Celebrity
Monroe was the maiden name of Marilyn Monroe's mother.
Marilyn Monroe (MM) was a big time reader and avid music lover. She had (owned is a better word) about 200 books (which included Tolstoy, Whitman, Milton), listened to Beethoven records, studied acting at the Actors' lab in Hollywood, and took literature courses.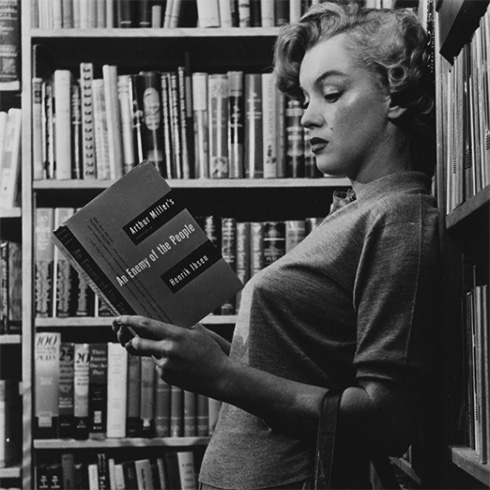 Her first modelling job got her only 5 dollars.
The passport to her iconic skin? Nivea moisturiser which MM frequently used.
To mark her 90th birthday, Vanity Fair put Marilyn Monroe on the cover of the special issue. The prestigious thing about this issue is that it features MM's photos for Vanity Fair and stories about her as well.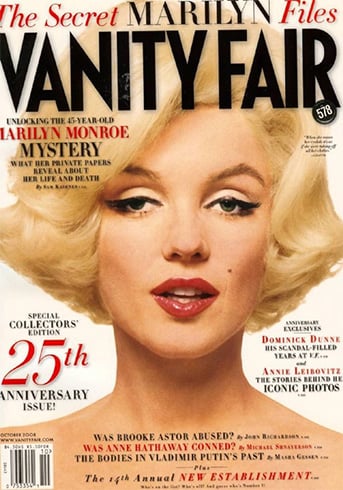 Marilyn Monroe was poorly paid as compared to her contemporaries. But when she died, she was a million-dollar movie star. Her estate makes about 5 million dollars a year.
In "Some Like it Hot" for which she got the Golden Globe award, she found mugging the lines so difficult that it took her 60 takes to deliver the line "It's me, Sugar".
Even in burial, the enigma of Marilyn Monroe stood out. Hugh Hefner owns the burial vault next to Marilyn Monroe's. And the burial venue? Westwood Memorial Park in Los Angeles. Guess the price he bought it for in 1992? For £50,000.
MM converted to Judaism. That was before her 1956 marriage to Arthur Miller.
Guess the sale price of her beaded Jean Louis gown that she wore when she sang Happy Birthday to President Kennedy? It was £820,000 and was sold in 1999.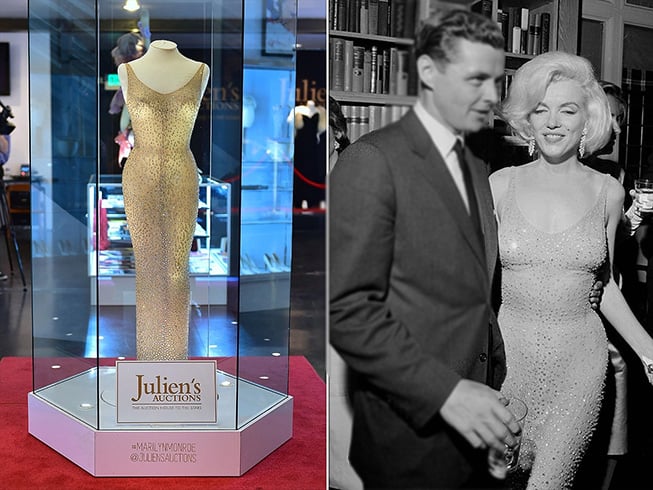 MM was the proud owner of many dogs during her life span; her last dog was a Maltese terrier which Frank Sinatra had given to her. This dog was named by MM as "Maf" (short form of Mafia Honey).
In 1953, it was the Advertising Association of the West that named Marilyn Monroe "The Most Advertised Girl in the World". Some of the brands that Marilyn had represented were American Airlines, Kyron Way Diet Pills, Pabst Beer, Tan-Tan Suntan Lotion and Royal Triton Oil.
MM was an early devotee of yoga. Proof? She was taught by Indra Devi, a Swedish-Russian Bollywood film star (who had also taught Greta Garbo and Gloria Swanson).
On the "men" front, Marilyn had some sort of a fixation on Clark Gable (he was then her co-star in The Misfits). When she was a young girl, MM had a funny dream – that Clark Gable was her father. When he died, she cried for two days.
Really sad that Marilyn Monroe didn't have any kids to leave her fortune to. Her beauty is indescribable, and her aura is iconic for many more years to come.
[new_royalslider id="366″]
Do write in and tell us how you found this small presentation on Marilyn Monroe.
Images Source: pinterest