Even if you're a traditional or a non-traditional bride, there are plenty of diamond jewelry designs suggested below. From classic diamond cut to heirloom-inspired designs, to modern, marquise shaped settings, we have the entire scoop on what's trending in bridal jewelry. Whether you're set to say I do with a fancy cut solitaire or simply drawn towards the intricacy of a diamond armlet, or simply want to go all maximalist style in a full diamond set, check out our 12 styles that will prevail in the coming months.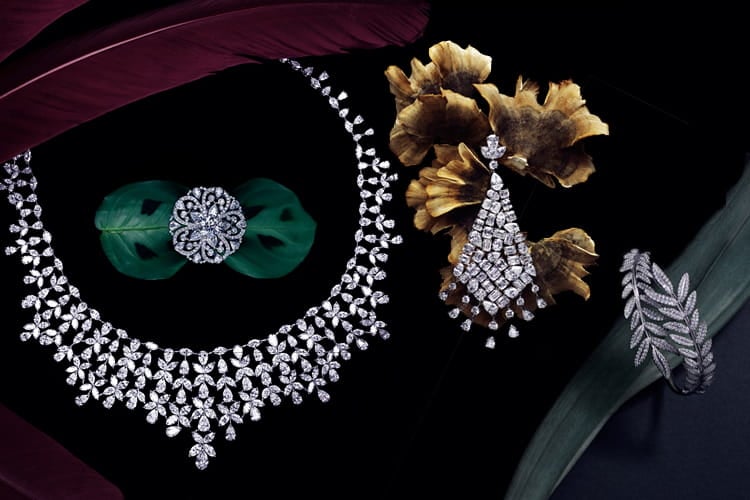 The Best Diamond Jewellery You Need To Buy:
We've rounded our top diamond jewellery pieces if you're looking to splurge in. Here are the best of them:
1. Round Cut Diamond Rings:
A forever favorite is the round cut wedding rings. And the good news is that not only fancy shapes are starting to trend-but also classic round. All the more you can't go wrong with diamond rings with an heirloom quality. This is both timeless and glam.
2. Marquise Shaped Diamond Necklaces:
If you still want a unique shaped diamond necklace, jewellery designers are coming up with creative setting pieces that incorporate trends like marquise shapes. It's twice as stunning and gives any diamond necklace a more architectural feel.
3. Special Diamond Cut Bracelet:
You don't have to shell out for an over-the-top diamond bracelet that makes an impact. A delicate bracelet set in a simple diamond setting feels dainty and girlish.
4. Diamond Bangles:
Set a fresh twist on the classic diamond bangles by choosing a more geometric design. The brilliant rose gold band feel instantly modern but still making the diamond cut stones take center stage.
5. Diamond Nosepin:
A full set diamond nath is becoming one of the most popular stone designs. While the pear-shaped and cut-round diamonds are making a comeback. The pros of these beautiful cuts: They instantly add charm to your face.
6. Pear Shaped Diamond Earrings:
Oblong cuts like pear-shaped has witnessed resurgence in 2019. The diamond earrings below are a subtle spin to the traditional ear accessory design. This pair can be perfect to express your personal style.
7. Necklace with Drop Diamonds:
Hot Tip: necklace with drop diamonds gives the illusion of a fuller diamond set. Wear this diamond necklace alone to show off a regal look or pair it for an ornate feel.
8. Diamond Armlet:
If you're a traditional bride going the traditional route, a diamond armlet/vanki can add interest to your look. At the same time it won't distract with the rest of your jewellery set.
9. Diamond Waistbelt:
If you've been eyeing after a diamond vaddanam/Waist Belt this is a great choice. This waist belt comes in an array of white cut diamond and a pearl at the peak. And the subtle, smaller diamond selections are perfect for those who least care about the size.
10. Classic Diamond Bracelet:
For those who are indecisive some bracelets incorporate the most traditional diamond cut. With the classic stone peeking through, the jewellery piece looks subtle and adds uniqueness.
11. White Gold Diamond Ring:
If you're considering a colorful center stone, you can go for this aquamarine set in white diamonds. The shift towards the two stones can be all about personal preference though. These can be perfect as engagement rings as they simply give out faithfulness vibes.
12. Diamond Chain and Pendant:
Versatile and modern, a diamond chain and pendant can be worn as a daily wear in lieu of chunky ones. Best of all, the unique design looks good even as a stand-alone piece.
These are the best diamond jewellery designs that you can invest in if you are a bride-to-be. We hope our round-ups are a great match, for you.