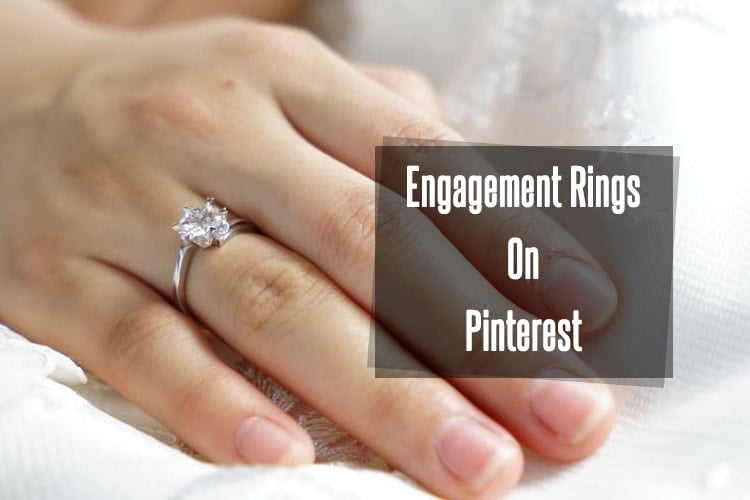 Any clue what brides the world over are busy checking out on the social media platform? It is not just clothes and cosmetics. Not even diamonds and solitaires which score the most when it comes to engagement rings. There is something far better and priceless. Well, Pinterest searches proved it! Well, how many of us know it is one of the best places for engagement ring inspiration. Get close to your computer screen for an awesome treat as I show you most wanted engagement rings on Pinterest. You are gonna LOVE It. It's Cinderella approved (I have reasons to think so), as much as celebs and I am not kidding.
Okay, now what is this most beautiful engagement ring which called for some deep digging on Pinterest? This ring is actually made of an incredibly rare stone called moissanite.
According to The Sun, A UK based newspaper, Moissanite rings have become the most popular rings on the internet!
What Is Special About MoissaniteRings
We need to thank the French scientist Henri Moissan. In 1893, he first discovered the moissanite stone in a meteor crater. How explosive it sounds, never mind.
Because this gemstone moissanite is so rare, it is created in a laboratory. This makes it eco-friendly too!
Hold your breath, the best part about these rings is that the Moissanite rings have often been referred to as an "affordable" alternative to diamonds!
Strange, but why?
Because moissanite looks like a diamond. Also, it is strong and even sparkles like a diamond (somewhat). It is another thing that moissanite's sparkle captures a wide spectrum of color.
Moissanite rings are the most popular Pinterest search among future brides-to-be as they just can't have enough of this gorgeous form of jewelry. You will be shocked to learn that searches for the moissanite ring increased by 294% in the last year alone on Pinterest. And there is no stopping this trend. Not until such time another Moissanite-look alike is discovered.
Rose Gold Engagement Rings:
The moissanite ring is not the only ring from Pinterest which is grabbing attention. Rose gold engagement rings with a diamond solitaire have come up to be the most beautiful engagement rings on Pinterest for 2017. This ring graces the fingers of Blake Lively, Leighton Meester, and Lauren Conrad.
Think bridal and you will notice the rose gold trend on the rise. Pinterest's 2017 Wedding Report mentions pink (to be specific "dusty rose") as the IT color of the year.
This custom-made engagement ring has a 1.22-carat diamond solitaire encrusted on a two-millimeter rose gold band. That's not just all. It has been saved over 103,900 times as reported by The Daily Mail.
And who is the owner of this ring? Art Deco in style with a rose gold band, the ring belongs to Sylvia Billone.
Don't you think this band adds just the right amount of twinkle on the finger?
Though Sylvia did not reveal the price of the 1.22 karat solitaire ring, she went on to explain that she had the ring custom-made after getting due inspiration from other images she had spotted on Pinterest.
Sylvia requested millgrain around the smaller diamonds and chose a rose gold band.
Since deciding on an engagement ring is a huge decision, this precious symbol of love invariably reflects one's personal style just like Sylvia's ring. It's not surprising that young fashionistas spend hours doing extensive web research on Pinterest, Instagram etc for some engagement ring inspo.
More from Pinterest, "We're seeing an increase in non-traditional engagement rings this year, as Pinners want to opt for more unique styles that are also budget-friendly."
Here are six more stunning solitaire designs to capture your heart.
David Yurman Petite Single Cable Engagement Ring in 18K Rose Gold, Round:
The Tiffany Setting 18K Rose Gold
Promise Ring with a Diamond in 10kt Rose Gold
Timeless Elegance, PANDORA Rose™ & Clear CZ
Birks 1979 Emerald Cut Solitaire Diamond Engagement Ring
1895 Solitaire Ring, Platinum With a Pear-shaped Diamond
Still, want to have a look at some more breath-taking engagement rings?
Here are the top ten most loved engagement rings on Pinterest.
1. Forever Classic Moissanite Engagement Ring with Diamonds in 14K Rose Gold Halo-Style Setting Size 7
2. This step cut hexagon is not only lovable for the step cuts it has but this cut is very rare!
3. Pear cuts have always been the subject of love and attention but this round-bottomed pear with diamond pave underneath is the juiciest thing you could set your eyes on.
4. Here is another pear cut favorite. Spectacular example it is of quality cut and shape.
5. Looking at it will convince you why this eye candy is a favorite on Pinterest.
6. Check out this stunning engagement ring.
7. Three stone emerald cut diamond engagement ring with a pink diamond halo. Want it?
8. Check out the stunning engagement rings that are a go-to for inspiration. This amazing shot is one of the most popular Pinterest searches.
9. Celeb followers will agree this vintage ring is very similar to Pippa Middleton's engagement ring.
10. Yet another gorgeous rock – the pear cut diamond engagement ring is awe-inspiring!
Now stop ogling at the most wanted engagement ring on Pinterest, honey. Add it to your fingers instead after showing the ring – Moissanite rings or the other options from Pinterest to your favorite jeweler (preferably leading one) and getting it customized. Which of the blings shown above are you smitten with? Tell us in the comments box below. Cheers to the perfect, beautiful and incredibly special rocks.