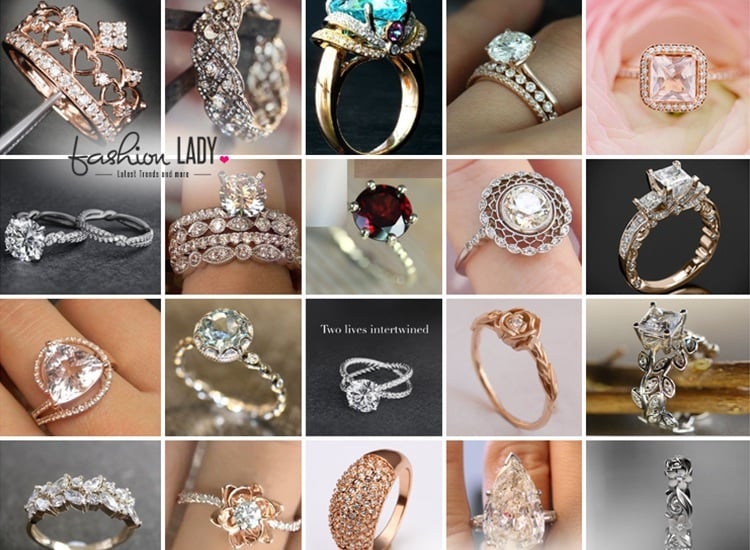 It is but the moment of truth at the roka or the engagement ceremony when he puts a ring on your finger, promising eternal loyalty, love and a world of happiness, companionship and more to you, for a lifetime! But wait, we girls can be a demanding lot and wouldn't have qualms making it very clear to have the biggest rock embellished on that chic engagement ring. Need ideas to drop a hint to him, as he goes shopping with future MIL for the ring?
[Also Read: Most Expensive Engagement Rings]
Here are 10 best and very trendy engagement rings you could draw inspiration from! Hold your breath ladies!
A Floral Touch
Exquisite and cute, the engagement ring in all its vintage and chic touches, is a floral delight to wear on your finger. Embellished with an 8x8mm cushion cut natural aquamarine, with 14k to its name in pure solid, make him get this one for you!
Vintage and Solid
Denoting the longevity of the happily married saga ahead, an engagement ring is a symbol of love and companionship for two. A diamond cut and pure vintage touches thus should be the gift he has for you from Tiffany & Co, no questions asked!
[Also Read: Gemstone Engagement Rings]
Vintage Inspired and Super Haute
Make him get something old and something blue, a diamond vintage cut inspired engagement ring for you is what should be on his mind. Take note of the intricate designs, so meticulously cut and lovingly shaped for the symbolization of love!
[Also Read: How to make Your Engagement Ring Solitaire Look Larger]
A Single Solitaire Vintage Diamond Precious Ring
It's the thought that counts and should you make leeway for his choice, allow him to pick up a single solitaire diamond vintage inspired engagement ring for you to be blessed with! Take note of the trendy band and curves embellished on the sides of the ring, and that ROCK!
Ken & Dana Design Vintage Engagement Bbeauty
The Ken & Dana Design vintage beauty is a must-have or must-wear at your engagement, and he should have this precious sparkling baby on your finger when the elders pour their blessings on the two of you at the ceremony!
[Also Read: Vintage Jewelry for the Modern styles]
Cartier Vintage
Nothing says "I LOVE YOU AND I WANT TO SPEND MY LIFE WITH YOU", like the vintage 2013 Cartier gorgeous diamond engagement ring- get ready to be super-floored dear lucky ladies, when he puts this precious rock on your finger!
[Also Read: Promise Rings For Women]
[sc:mediad]
Leafy Vine and 14k Gold
A fourteen carat gold with leafy vine touches and very antique to look at yet chic, he has to have this ring placed on your finger while he makes the solemn promise of being your companion for life!
[Read More: Knuckle Rings]
The Glamorous Tacori's Royal T Collection
Glam and glitz would always be part and parcel of the big fat Indian wedding, and doing it in style from the roka onwards should be your aim. If he's really into you and would want to woo you leaving no stone unturned, the Tacori's Royal T collection with glamorous engagement rings is where he should look at.
From the 1930s
Bring back the days of elegance and pristine glam fashion, with the 1930s rose-gold diamond studded engagement ring! He wouldn't have to try too hard to ask your hand in marriage, not when you'd be willing to let him put THIS ring on the finger!
[Also Read: How to Buy a Great Diamond Engagement Ring]
Very Royal and Fit for the Queen
He ought to treat you like a queen, for you shall now rule the palace you build from scratch for the two of you. Let him get you something special, one that would sweep you off your feet- a glamorous vintage rock-studded and diamond cut crystal for sure is what you should demand for!
[Also Read: Diamond Engagement Rings]
"Any engagement ring would do" said no lady of dignity ever, and one shouldn't compromise on the bling factor too! Make it worthwhile and grab the rock dear PYTs!