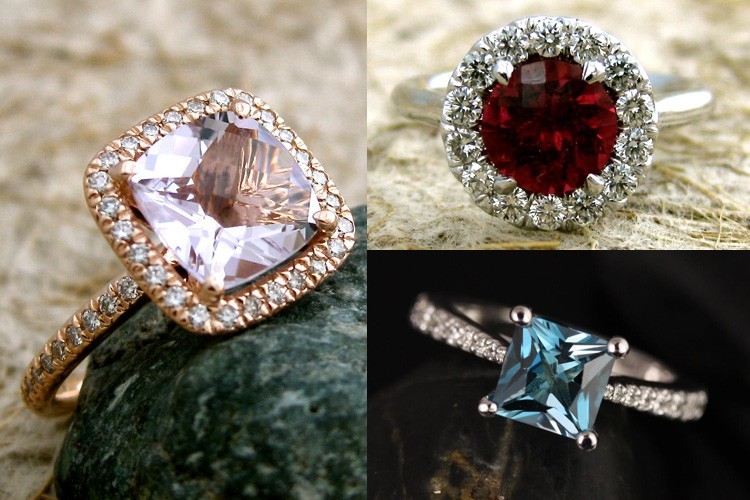 Kate Middleton has been in the news for all the right reasons, one of them being her marriage to Prince William, Duke of Cambridge. What most of us would love to know more is the stunning sapphire ring she wears that was once worn by Princess Diana.
[Also Read: Classy Yet Affordable Engagement Rings On A Budget!]
From fiery orange, swimming pool blue to pretty violet or pink, it's a rainbow of choices when it comes to picking Gemstone Engagement Rings.
Let's Talk About Coloured Stone Engagement Rings
There is always the classic white diamond solitaire but there is something mesmerising about coloured stone engagement rings that makes the diamond look pale when compared.
Whenever your heart has chosen a colored gemstone engagement ring, make sure you select the one that is capable of wear and tear. After all, you are not going to remove it often from your finger. Let's go through some of the popular Colored Gemstone Engagement Rings. This will help you make the right decision to own a piece of rock.
1. Sapphire
This Colored Gemstone Engagement Rings is marked by its blue colour. But sapphire colored gemstone engagement rings also come in other hues such as yelllow, orange, pink and purple.
Seen as one of the 'big three' coloured gemstones, the blue sapphires shine bright on the fingers of world's leading celebs and prominent ladies. Sotheby's New York created a world record of sorts for the highest and whopping price of over $ 5 million it paid for a 28.18 carat Kashmir sapphire ring at an auction in New York.
2. Aquamarine
Named after the Latin word that stands for "water of the sea", Aquamarine is a colour that varies from transparent greeny blue to deep sea blue. This blue gemstone is supposed to bring in good luck, which is why it makes a favourite gemstone for a couple about to tie the knot.
3. Amethyst
The most beautiful of crystal quartz, an amethyst can be a transparent lilac to deep purple. When paired with yellow gold, this Gemstone Engagement Rings looks just as regal and appointed as traditional gold, diamond or Swarovski.
Bulgari, renowned for its fab colour combinations, has valued the amethyst tremendously. This could be one reason why elite jewellery labels are turning to this purple coloured quartz. All in all, this coloured stone engagement rings has an ethereal romantic feel to it.
4. Garnet
The birthstone for January born, garnet has been popular since the time of pharaohs who started wearing jewellery.
[Also Read: Diamond Engagement Rings For The Indian Bride-To-Be]
The word "garnet" refers to more than 10 different gemstones, all of which have a similar chemical composition. Garnet comes in a wide range of colours and varieties that will surprise you.
5. Tourmaline
This emerald-like green "gemstone of the rainbow" is a popular one of the Colored Gemstone Engagement Rings.
Chopard has encashed on these coloured stone engagement rings by creating a 41.57 ct oval-shaped tourmaline ring which has been unveiled at the Paris Couture Week.
6. Emerald
Emerald as a part of Colored Gemstone Engagement Rings has a rich green tone that cannot be ignored. Not only is it beautiful, precious and luxe, it makes a popular stone for engagement rings. Chic and timeless, they can be your best companion forever.
[sc:mediad]
7. Turquoise
Turquoise as a trendy stone has copper and aluminium as its composition. Such is its flexibility that this Colored Gemstone Engagement Rings can be paired with small diamonds to give a luxe finish.
8. Morganite
Feminine and pretty as you, morganite set in a diamond halo is one of the popular choices when it comes to wearing coloured stone engagement rings.
9. Topaz
The dazzling colours and clarity of topaz makes it an all-time favourite among Colored Gemstone Engagement Rings. A topaz ring differs in its mineral content.
10. Ruby
Simply irresistible this blood-red precious stone is. Ruby is one of the popular and precious colored gemstone engagement rings that has the capacity to survive wear and tear.
[Also Read: Sapphire and Emerald Engagement Ring Designs]
Now that we have given a sneak peek into Gemstone Engagement Rings, let us know which of them happens to be your favourite. We will be happy to hear your opinions and loves when it comes to Colored Gemstone Engagement Rings.