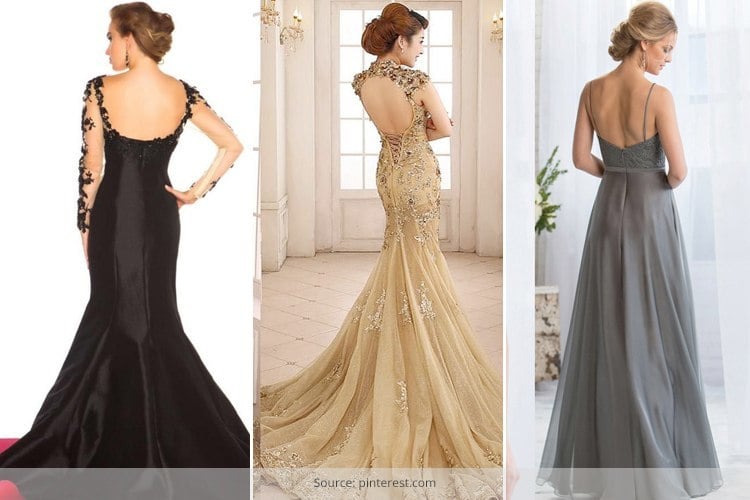 There is so much to explore and play with, when it comes to dolling up for your BFFs or your sisters wedding. Now finding the right backless wedding dresses and gowns could be a tough thing, but not an impossible one per se.
[Also Read: Bollywood Movie Wedding Dresses Waiting to Be Worn Again]
What you need to wear with this gown, is left to your imagination. Since it is backless and the winds are a little too nippy at this time of the year, you could throw over a chic pashmina shawl or wear cowboy jackets too keep warm.
Backless Winter Wedding Dresses – It Is About The Elegance So Precious
Be it a gown so sexy or something quite charming and delicate, a lacy touch like those of the lingerie range we see or a satin backless number, the main aim is to flaunt your beauty quotient without being uncomfortable doing so.
[Also Read: Wedding Color Palettes For Spring]
Remember, it is your bestie's wedding, her big day and yet there would be many eyes on you. There would be many who would want to know where you picked the backless winter wedding dresses from, what material it is made off and then you have the elders looking at you with the most critical eyes too.
Couple that with the shutterbugs and wedding photographers galore, clicking away. Your photographs would hold your fashion sense, frozen as testimony for life. This is one of the backless wedding dresses, which you would be sporting and the much-talked about, when you wear it right. Do so in style!
[Also Read: What To Wear Under A Wedding Dress]
Your Options
Backless wedding dresses aren't meant to steal the thunder off the bride in question. As her bestie, you wouldn't want to ruin moments for life. There are other options with backless gowns to doll up in, and here are some of them to look at.
[Also Read: Best Wedding Dresses]
Low Cut Plunges
There are low cut wedding dresses and backless wedding dresses to wear, which brings about an equal dose of sensuality and allure. If you would like to flaunt some skin with utmost decadence and glam, pick the right bra to go along with it.
[Also Read: The Famous Alessandra Rinaudo Wedding Dresses]
You may also try a bodysuit underneath, one that would provide plenty of support to the breasts. The best thing about wearing bodysuits is that the silhouette you wear would be smoothened out.
We would also look at low cut bras for plunging necklines to wear. Some times searching for the right bra can be a daunting task, but if you speak to a specialist at the store, they could help you find one.
Just incase, you aren't comfy with a body suit or a low cut bra, opt for the sew cups. Get the sew cups customized and to your size, inside the backless winter wedding dresses, you plan to wear and flaunt at your BFFs wedding.
[Also Read: Inaugural Gowns Worn By The First Ladies]
Keeping It Trendy
With the coming of age, women now are very confident about their bodies – all shapes and sizes. Thanks to the plethora of designers out there, double taped fashion and adhesive bras would help keep things in place wearing backless wedding gowns.
[sc:mediad]
Women who are petite on the bust line, or full chested, would have to speak to a seamstress to get their bespoke and very customized fitting done. It is what you wear underneath the backless wedding gowns that matter the most.
[Also Read: Bridal Lehenga For Reception]
Mermaid / Trumpet Silhouettes
The trumpet or mermaid silhouettes are closest fits to the body, flaring at the hem from the knees.
While choosing such styles of backless wedding gowns, please ensure that the fitting is right and apt for the curves on you.
[Also Read: Celebrity Weddings]
Backless wedding gowns, which don't flaunt too much of the bra line or the panty line should be chosen, and if you are too heavy on the thighs or the hips, please steer clear of such designs.
[Also Read: AMA 2015]
Halter / One Shoulder
Most one shoulder or halter backless wedding dresses have low-cut necklines or higher necklines to flaunt. And should you be wearing one of them for the BFF's big day, what you should think of wearing underneath would be a convertible bra or a strapless one. These are bra types that help fit well underneath the backless winter wedding dresses.
Final Thoughts
When picking one shoulder dresses, picking up a regular strapless bra is fine. What we would suggest is to do your fitting with your undergarments on, which would tell you how comfy the look and the feel would be.
[Also Read: Most Expensive Celebrity Wedding Dresses]
And while that happens with the seamstress, do show her the range of backless wedding gowns we provided here. She may just find the right style and design for you to flaunt at your BFF's wedding!