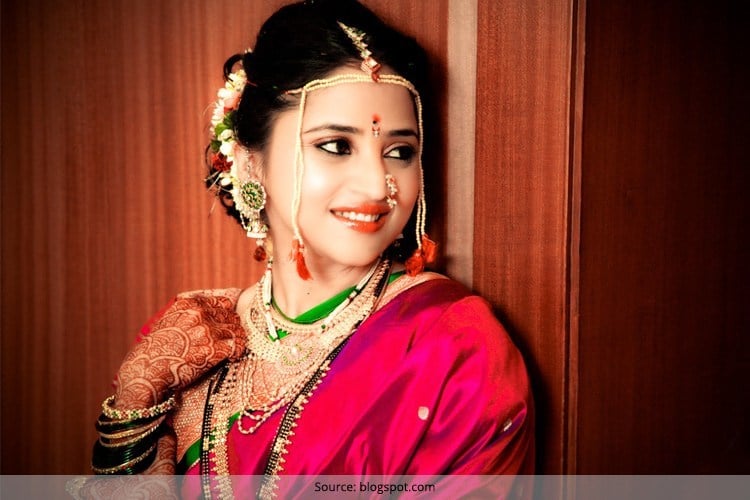 Amchi Mumbai has so many things to offer. There is fashion, Bollywood, glamour, bhel puri, BB creams, dreams and visions, beaches and local trains, Gateway of India. But what can't be missed out is the jewellery worn by the gorgeous Maharashtrian brides.
A Maharashtrian bride is quite different from the ones belonging to other states. While red is the core colour worn by brides of other Indian communities, the Paithani saree worn by a Marathi lass comes in typical golden yellow, leaf green or aubergine.
[Also Read: Kerala Jewellery Designs]
But when you learn about the Traditional Maharashtrian jewellery names you will fall in love with it for the fun, tradition and happiness it brings to a Marathi bride.
Let's look at some jewellery including Maharashtrian bridal jewellery
1. Nath
This form of Maharashtrian bridal jewellery is worn by the woman at the time of her wedding or in a puja ceremony. Woven with pearls, a nath has pink or white stone in the middle. This nose ornament is typical and unique of traditional Maharashtrian jewellery and is different from other nose pins worn by Indian brides. A nath as a part of bridal jewellery comes in different styles.
Brahmani nath is popular for its basra pearl and emerald. This 22-karat curved nath has an uncut diamond surrounded by rare Basra pearls. What adds colour to this nose pin are rubies and green emeralds that have been famous since the Peshwa rule.
[Also Read: Nose Rings: Nose Rings You Will Love]
2. Thushi
A 22-carat gold choker style neckpiece, Thushi is a part of bridal jewellery that originated in Kolhapur. It comes with gold beads and comes with an adjustable dori. The jowar gold seeds in it indicate that the bride's new home will always be blessed with food. The simplest way to remember this Traditional Maharashtrian jewellery names is its rhyming with the word 'khushi'.
3. Kolhapuri Saaj
A beautiful rendition of Maharashtrian jewellery names is Kolhapuri Saaj. Famous in Kolhapur, Belgaum, and the southern belt of Maharashtra, it is as good as mangalsutra.
[Also Read: Wooden Jewellery]
The Kolhapuri Saaj depicts 10 avatars of Lord Vishnu. This traditional Maharashtrian jewellery is a long necklace that has 21 leaves carved. Out of the 21 pendants that you see, 10 pendants represent the ten avatar of Lord Vishnu, 2 pendants have ruby & emerald stone, 8 pendants depict ashtamangal ('ashta' means eight & 'mangal' means good happenings) and the last pendant is taviz.
[sc:mediad]
4. Vaaki
Chattai Vaki is yet another part of Maharashtrian jewellery list. An armband or baajuband it is crafted with 23-carat gold wire and embellished with stones. The gold band does not go through soldering except at the centre where the ruby-set floral motif is placed. While the ruby depicts the sun, the red colour as always, is seen auspicious for Hindu brides.
5. Putli Haar
When you have few round gold coins stringed together on a silk braided patwa cord, you get Putli Haar. Coin necklace or temple necklace is its Maharashtrian jewellery names. The coins have Lakshmi motifs, which symbolises the goddess of wealth. Putli Haar has been an integral part of Maharashtrian bridal jewellery since the 17th century.
[Also Read: Kamarband – The Saree Belt]
6. Ambada Veni Phool
This hair ornament that you see is made in 22-carat and worn on the hair bun of the Marathi bride. There are different motifs in this traditional Maharashtrian jewellery but the most popular one is the sunflower with jowar beads. Lac and ruby are used in the making of veni phool. The die which is used to make this hair bun ornament is almost 150 years old.
7. Kudya
In a Marathi bride's ears, you will see lovely ear cuffs that are studded with pearls. They can also be golden in order to further beautify the ears.
8. Tode
Wouldn't it be irresistible wearing 23-carat kadas, handmade gold of 250-300 gms each? This ornament in Maharashtrian jewellery list is interlinked without any soldering. Looking at the weight, these heavy bangles almost take a month to be ready.
9. Chooda
The chooda worn by a Maharashtrian bride is green bangles in glass, and not red which is worn by the Punjabi brides. Green is a symbol of fertility for the bride. They are worn in odd numbers in both the hands.
[Also Read: Blouse Designs For Silk Sarees]
10. Belpaan
This necklace is inspired by the bel leaves that are thought to be sacred and offered to Lord Shiva.
11. Mundavlya
A unisex ornament, Mundavlya is worn by Marathi bride and groom across their forehead. This traditional Maharashtrian jewellery is a string of pearls or gold beads that frame the face.
12. Mohan Mala
Simple and elegant, mohan mala comprises of round gold beads stringed beautifully in two or three layers. It is a stunning neck piece of Maharashtrian bridal jewellery.
[Also Read: Top Mehendi Artists in Mumbai]
13. Tanmani
This ornament involves pearl strands which are attached to a stone studded pendant. A tanmani is a choker that has 3 to 4 pearl lines sitting firmly onto it.
14. Jodvi
A jodvi or silver toe ring is given to the bride by the mother-in-law and symbolises the bride's entry into a new household. It is a must for any Marathi wedding.
15. Mangalsutra
The traditional strands of black and gold beads are a part of Maharashtrian jewellery list too.
[Also Read: Mehendi Artists in Mumbai]
Now that you know the Traditional Maharashtrian jewellery names at the back of your hand, make the most of it while shopping for the bridal jewellery.