The Solah Sringar, without which a Hindu Bride's look is incomplete, comprises of kamarband, which is one of the most seductive ornaments in the Indian tradition. This must-have accessory for Indian brides dates back to time immemorial.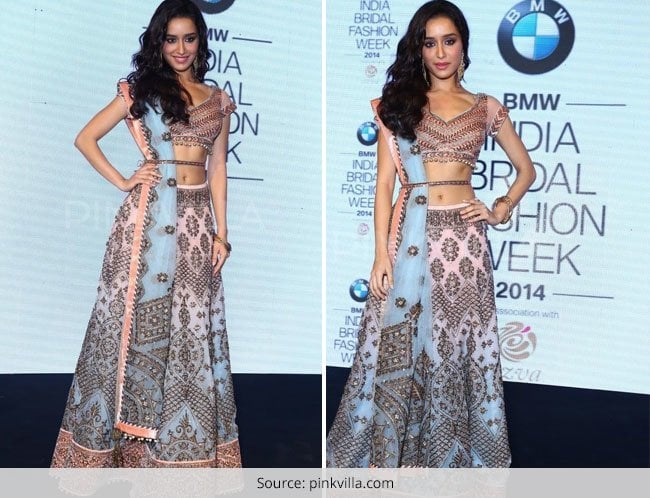 This waist band, which is known as sash, patka, phenta, girdle etc. is a long elegant ornate strip that used to adorn the noble waist of elite baroness in India as well as in South Asia.
The patka or kamarband was considered high and one of the finest and sumptuous embellishment during Mughal era. The history of Indian waist band is certainly long and enduring. It has always been strongly associated with Indian classical dance forms such as Odishi, Bharatnatyam and Kathak.
[Also Read: Know Your Bridal Jewellery – Kalyan Jewellers Makes It Easy For You]
This exquisite piece of jewellery, somethimes also a simple chain, is usually worn around the waist, resting elegantly on the delicate waistline. An elaborately designed kamarband especially looks great on slim waistlines, thereby highlighting the figure. It looks great, when it's worn with low waist sarees and lehengas. The fashion of kamarband came back with a bang, especially when Shipla Shetty started flaunting this piece on her seducing waistline.
Trendy Saree Belt Or Kamarband
The waistband is usually made up of stones like amethyst, ruby, kundan, Swarovski, polka depending upon one's preference. These days, the new-age fashionista wear this traditional accessory on ethnic tops paired with pencil-fit jeans. Not just brides, but girls seem to be head turners when they flaunt sleek waistbands on their A-liners, cocktail dresses and even use them as belt for their trousers.
Kamarband Jewellery Online Shopping
Check-out some elegant and awesome sari belts or kamarbands, as you say! You can either buy them online or go to your nearest jeweler to get a gold kamarband design for yourself.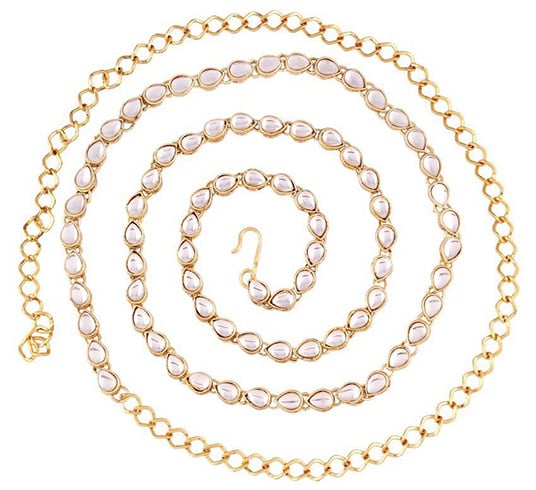 One can either opt for kamarband online shopping or buy them across the counter from any jewelry store in your city.
[sc:mediad]
Designer Waist Belts For Sarees
As a part of the traditions South Indian brides also wear the gold kamarband with their kanjeevaram or silk sarees on their wedding day along with elaborate bridal jewelry and hair accessories. Although now it has become more of a fashion statement, ideally they were worn to keep the saree in place during the long and elaborate wedding rituals that are packed back to back during the day.
Let's look at some Kamarbands styled with traditional South Indian Bridal Sarees: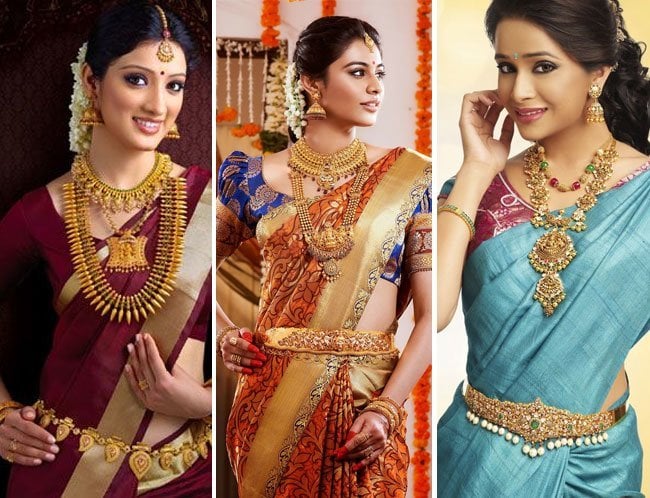 There are many ways that you can use this accessory to style your outfits with – Traditional, Indian or Western. Let's see some ways to use this jewellery as a styling accessory.
Trendy Ways To Wear The Kamarband
Kamarband With A Colorful Lehenga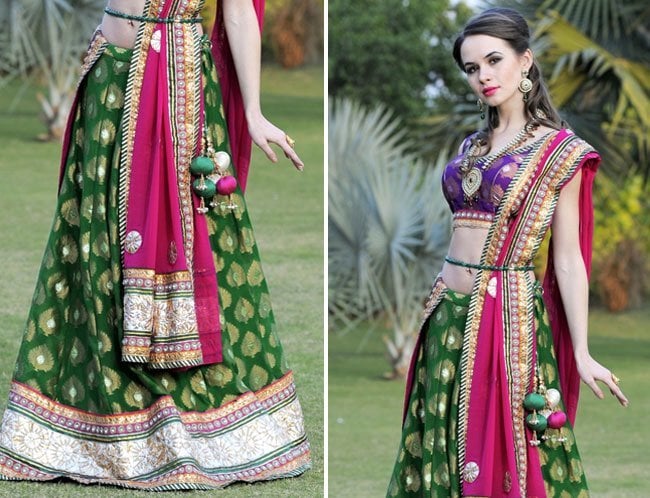 Kamarband With A Designer Saree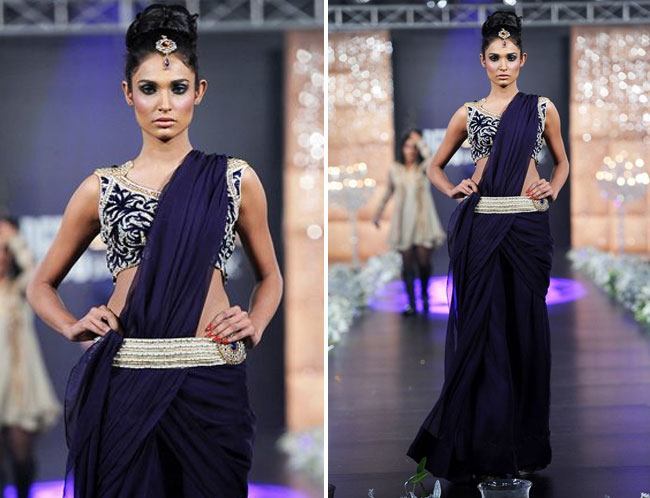 Kamarband With A Lehenga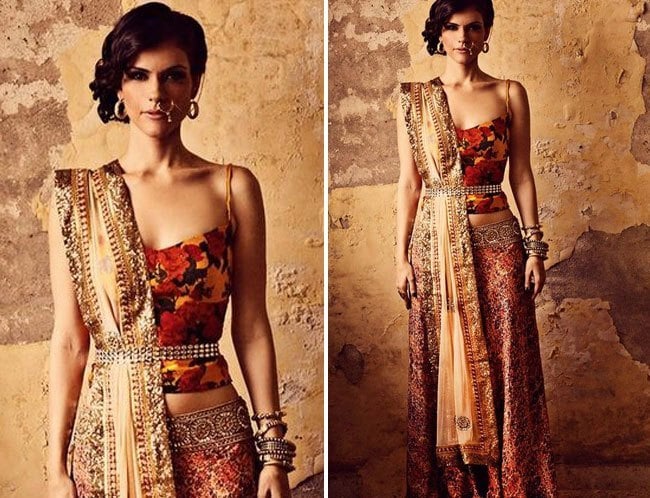 Kamarband With A Gown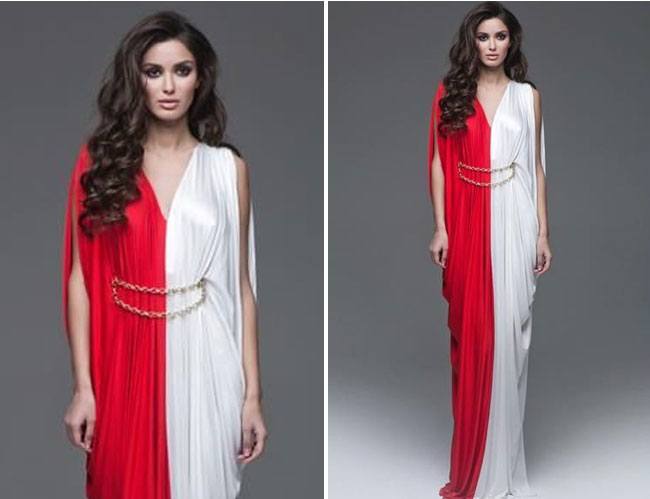 Kamarband With An Asymmetrical Anarkali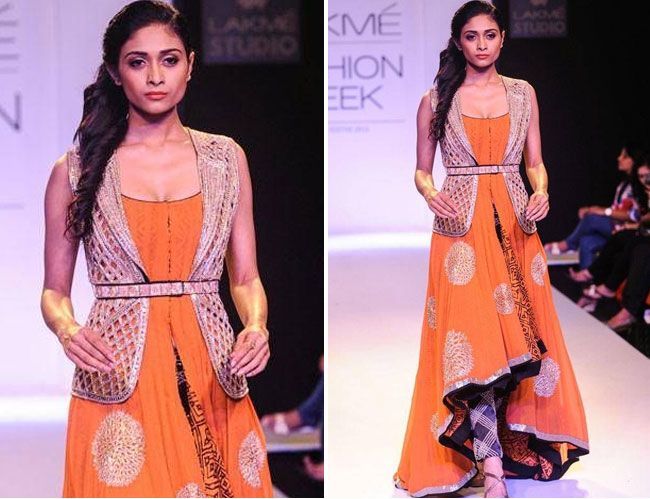 As A Statement Jewellery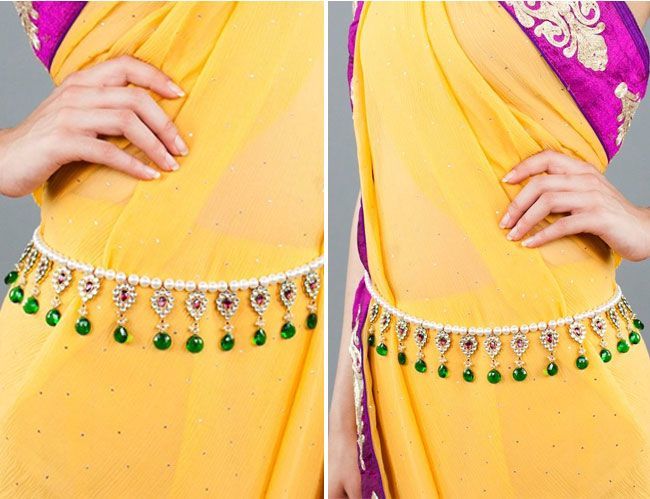 Let's look at a few celebrities spotted in kamarband:
Spellbinding Collection Of Kamarbands
Scroll down as we show you some more unique and exquisite kamarband/saree belt/hip chain designs.
Sleek And Stunning Kamarband
If you are a guest at a wedding, the it wouldn't do good to steal the bride's thunder by wearing an OTT waist chain. Opt for a simple waist chain like this.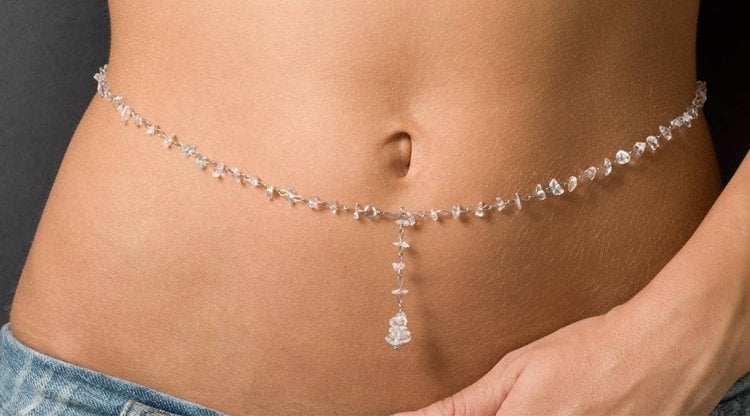 Eyelet Style Hip Chain
This belly chain caught our attention simply because it was quiet different from all the other chains that we have seen. The ring-type design makes for a great accessory for sarees.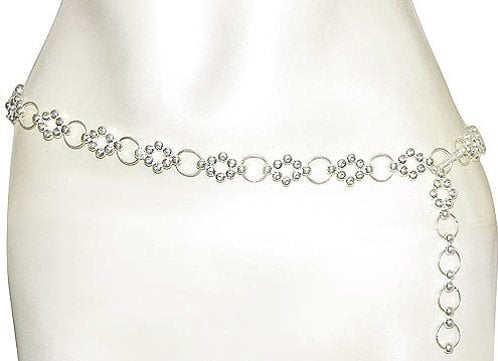 Trendy Thin Waist Belt
You should always invest in a pair of good thin hip chain jewelry. The reason being that these can not only be worn as a waist chain for saree but would also look great when you wear a crop top with shorts or skirt.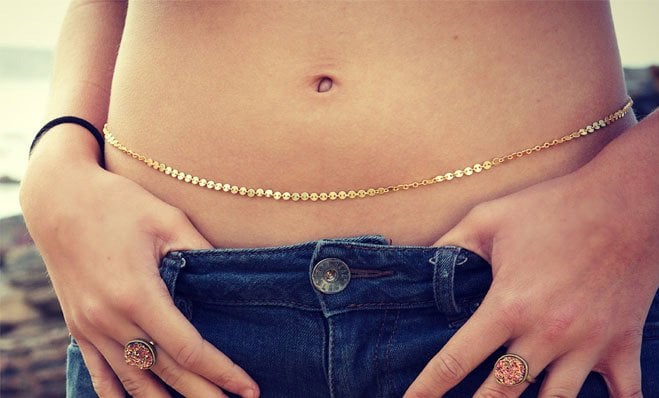 Royal Kamarband Style
A waist belt jewellery in gold kamarband designs look absolutely royal. You can invest in a gold kamarband with diamonds. You will not be able to take your eyes off this stunning piece.
Kamarband As Fashion Statement Piece
Did you know that you can amp up your style with your saree waist chain? The fashionista Sonam Kapoor showed us a different and stylish way of wearing a saree waist belt.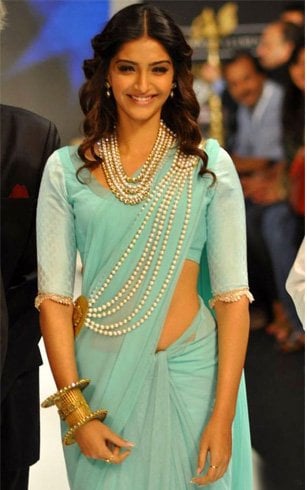 Stoned Kamarband
If you thought that sexy and traditional cannot be combined together, then you are definitely wrong! Use your hip chain jewellery and drape it across a low waist saree. This low waist saree waist chain look will instantly make you the center of attraction.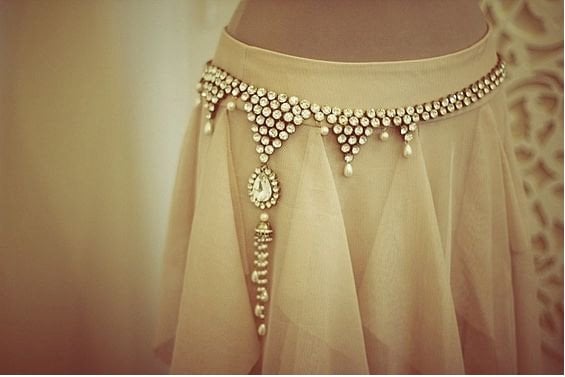 Chain Kamarband
Though a chain waist belt has always been part of our culture, it has only recently started trending as a fashion accessory and one glance at this belly chain for saree will prove why it has become the in thing now.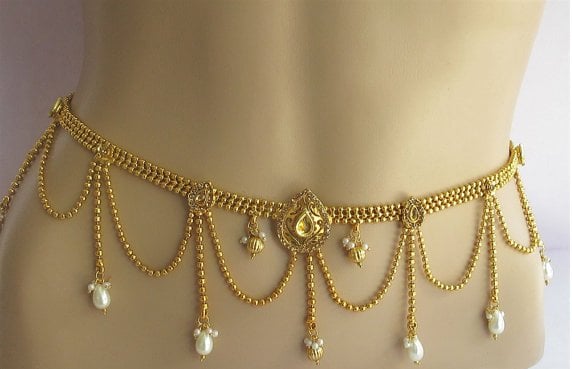 Modern Pearls Kamarband
Young girls don't really like to wear the traditional gold plated kamarbands. If you are one of them, then you would surely want to own this beautiful pearl kamarband.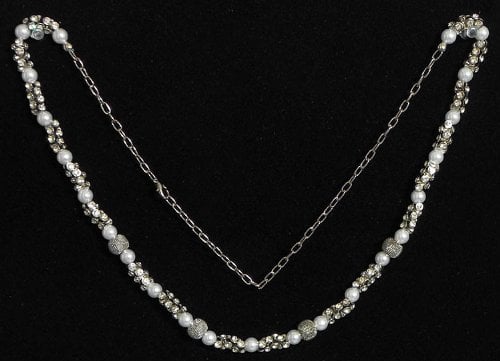 Kundan Kamarband
If pearl doesn't excite you then the next best option would be to pick up a kundan kamarband like this.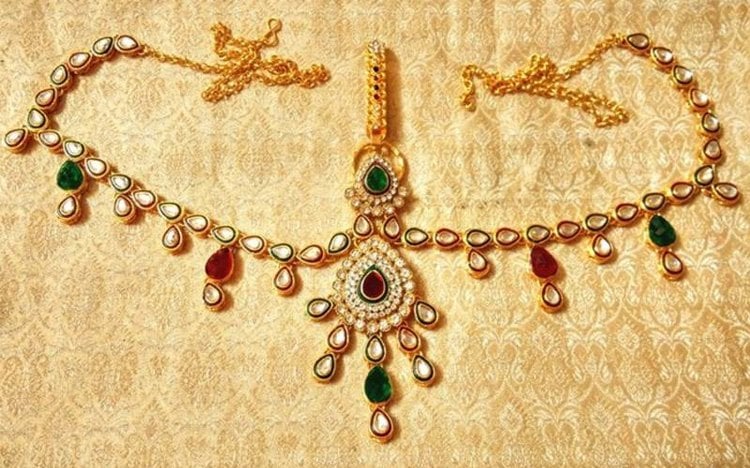 Jewelled Bridal Kamarbands
Finally, we would like you to feast your eyes on these stunning bridal kamarband. With wedding as the occasion, you don't have to worry about anything being OTT.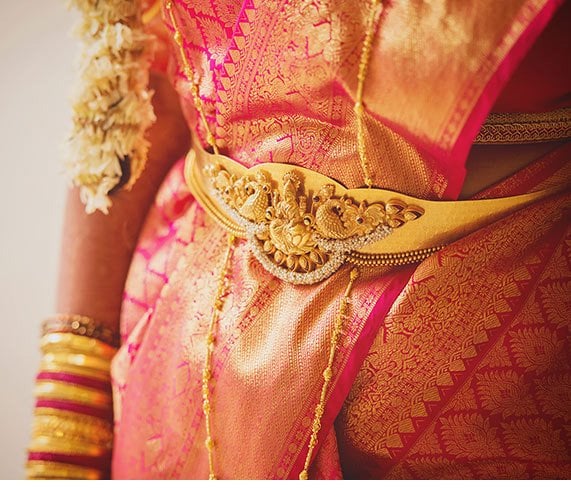 Hope you enjoyed this post on kamarband or sari belt!
Images Source: pinterest