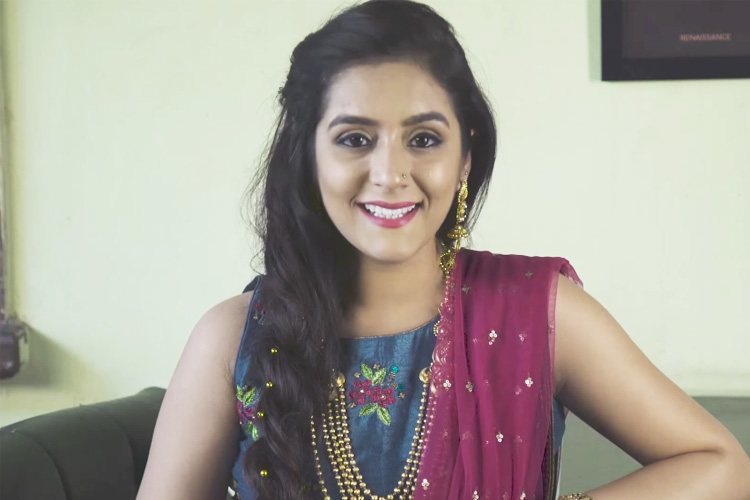 Remember all those years when you would rather run around in your jeans and tees and cringe seeing the elder sisters loaded with tonnes of gold – mothers and aunts would predict, "Someday you will realise the value of these."
[Also Read: Truly Bridal By Kalyan Jewellers Gives The Perfect Bridal Diamond Jewellery Suggestions]
Now that you have found your way into this article, it is safe for us to infer, you have finally realised that your sister wasn't burdened with gold chains, she was in fact adorned with those ornaments. But not every necklace is a chain, and not everything around your wrist is a wristlet. Hence, Kalyan Jewellers is here to provide you with a jewellery handbook; you can refer to anytime anywhere.
Compliment Your Neck With A Rani Haar
So long we were satisfied with that sleek chain and a contemporary pendant, but now the heart craves for so much more. Well, praise yourself with the varied options you are served with, opt for a chunky choker, a bib or a Rani Haar as per your taste. While the Rani Haar extends to your bust or beneath, the bib or choker stays close to the collar bone and neck. However, Rani Haars have become really big this season, so why not take a try? Pair up a Rani Haar with a Bib or wear it alone, it will never fail you.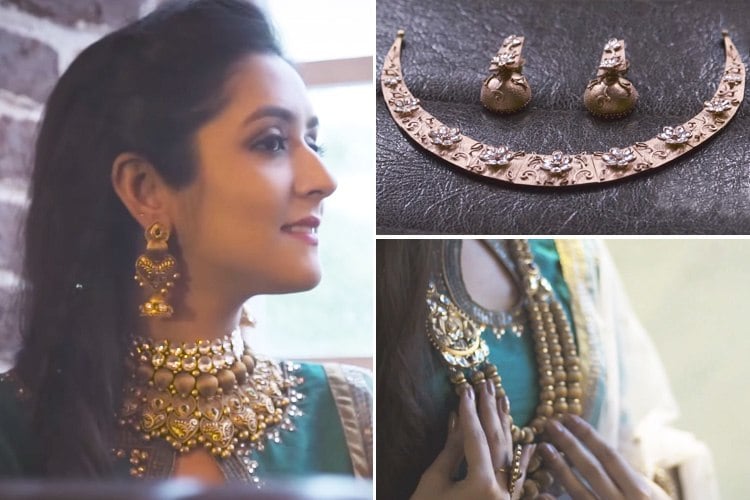 Pampering The Delicate Wrists
It's a blessing that India has such abundance of festive occasions, and you can always alter your jewellery options. For a more subtle look, say for the engagement or sangeet, go for a couple of bold kadahs instead of bangles. But if you want to go full-on with jewellery, in a major event like the wedding itself, nothing speaks celebration like a heavy silk saree completed with a golden border and complimented with half a dozen solid gold bangles.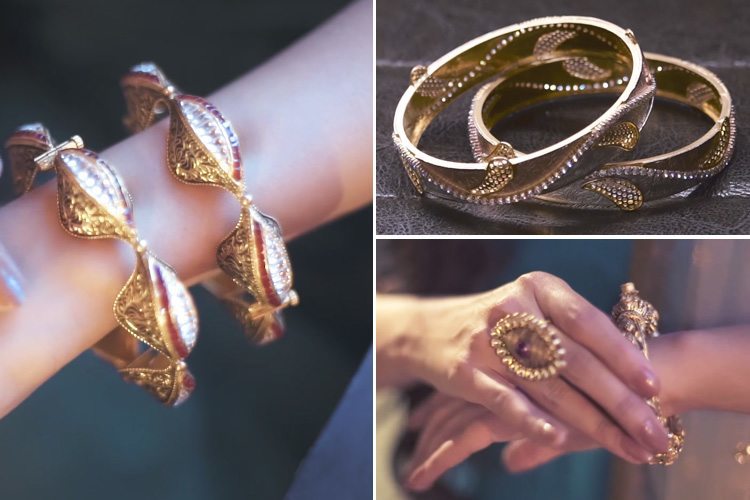 Guess Who's The Bride?
The one who is flaunting the 'Nath'! The nath is a staple piece of Indian Bridal Jewellery. Deriving its name from the Sanskrit word, that translates to 'Husband' the Nath is the symbol of 'Akhanda Saubhagya' meaning 'Eternal Bliss'. Though it was a tradition to wear the ornament throughout your married life, it has now been done away with, in modern India. But why not going back to the roots on your special day? It illuminates the face of any bride, and you are as it is so pretty, I can't even imagine what wonders it will do for you.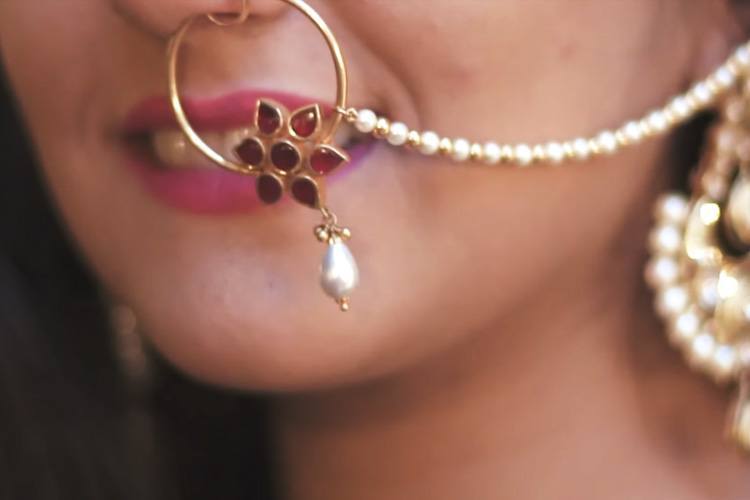 Illuminati, Thy Glowing Forehead
Only second to the Nath is the 'Maangtika' that forms a vital component of bridal ensemble. However, maangtikas are also worn by women and girls who are not the bride themselves. You may hence, select your maangtika thoughtfully so you may use in other junctures as well. A delicate maangtika will embellish a simple salwar kameez while a heavy one comes with the power to balance out a gorgeous lehenga.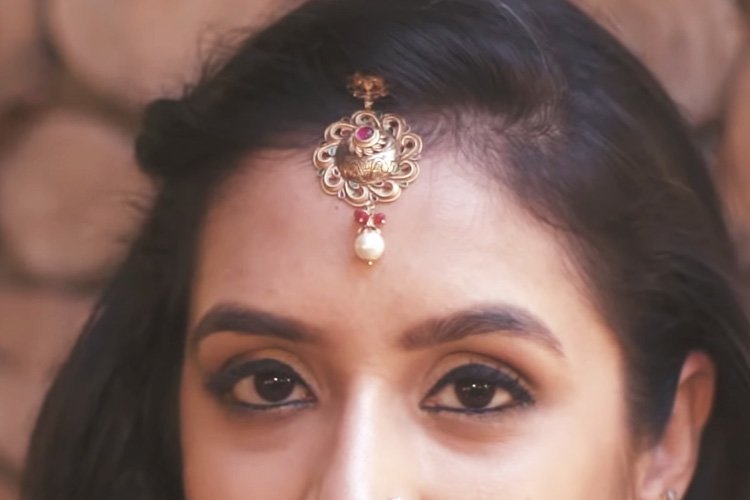 Who Whispers In Your Ears?
For today, let it be the jhumka, or may be a polki earring. A jhumka goes well with every Indian outfit with some accentuation. It makes a perfect piece for decking up the coy bride. Polki earrings are lighter than an average jhumka and can be used with any conventional attire. However, both these varieties of earrings are heavier than the regular rings or studs you are used to, so choose one that has a supportive string attached to it, so it doesn't hurt the ears.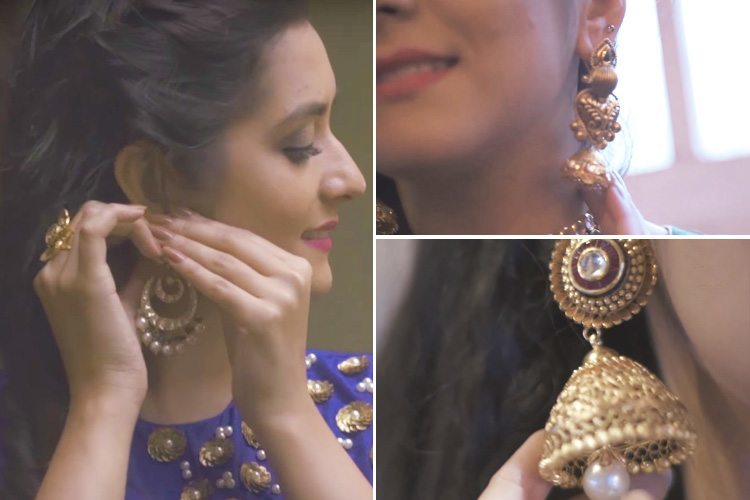 Put A Ring on It – Even On The Another One
Given that your ring finger is already occupied, we suggest you go for a large cocktail ring for your right hand. A big ring, bejewelled with ruby, emerald or detailed with meenakari or Kundan is one of the best options to make a signature statement.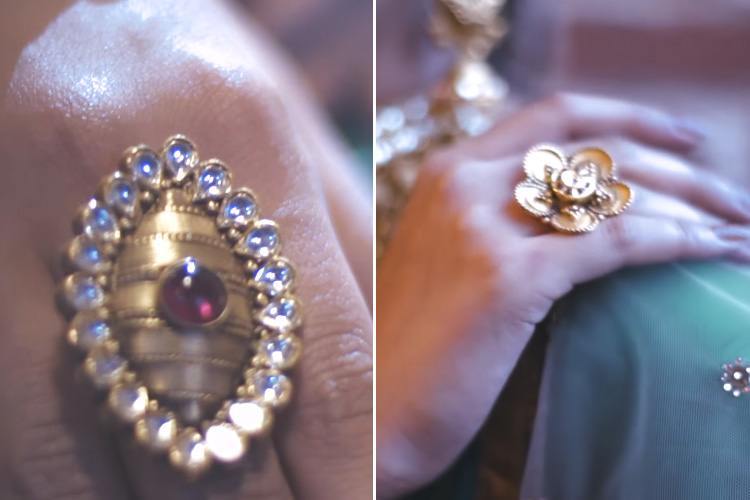 Let The Kamarbandh Do The Speaking
It's good if you have a tiny waist, and even if you don't have a tiny one, trust me when I say, you ought to flaunt it anyway. A statement kamarband builds on the elegance of your bridal lehenga. You may tie it around yourself, even if you are wearing a spangled sari on this special day. All eyes are going to be on you.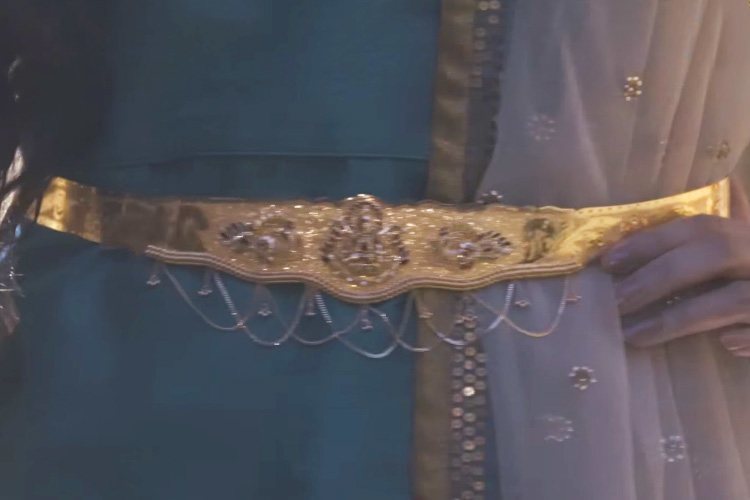 Make A Little Noise
Now that you aren't in your running shoes anymore, I am sure mothers and aunties have told you enough times to put some coyness into your tread. Now you may be all quiet and shy, but let your feet do all the talking. Don't leave them all bare, secure them with an accentuated pair of payal. Let people know, while you walk the timid way.
Now that you know your way through the jewellery box, we can't wait to see how magical you look with all these pieces sitting on that stunning frame of yours. Enjoy getting decked up, sweethearts! For more such information, you can like and subscribe to Truly Bridal by Kalyan Jewellers YouTube Channel.